Behind the scenes of the Erasing 76 Crimes blog
In 2013, the Erasing 76 Crimes blog has been busy behind the scenes trying (and, I'll admit, often failing) to improve the lot of LGBT people in some of the 76+ countries with anti-gay laws.
Depending on the country, these activities have included:
Helping to build support for victims of unjust laws. (For example, in Jamaica, "How to help homeless LGBT Jamaicans," and in Zimbabwe, some work on behalf of a man who is stuck in a legal nightmare because of a homosexuality charge.)

Pride marchers in Brighton, England, on Aug. 2 protested Russia's anti-crackdown along with 76-plus countries' laws against same-sex love. (Photo courtesy of The Brighton Sauna, which sponsored the protest)

Helping to publicize protests such as this year's BANNED events in Brighton and Norwich, England, which used 76crimes.com as a theme. For coverage of one of those protests, see "Pride protestors link Russia, 76+ countries' anti-gay laws" (Aug. 4, 2013)

Helping to raise money to send LGBT representatives to human rights meetings (in particular, Cameroonian activists who attended the African Commission on Human and People's' Rights in the Gambia. "Africans seek protection for LGBT Africans, and you can help").

Funeral of Eric Lembembe (Photo by Camfaids)

Helping to raise money for the funeral of activist/journalist Eric Lembembe in Cameroon. ("You can help pay for proper funeral for slain LGBT activist")

Conferring about strategy and helping to develop reports on LGBT human rights (especially with activists in Cameroon). For example, "Cameroon: 10 more victims of anti-gay laws, many tortured."
REALITY CHECK IN LIST FORM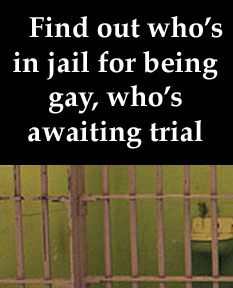 The blog also maintains and publishes several fairly depressing lists, which are shocking for people who haven't been paying attention to the plight of LGBT people in the 76+ countries with anti-homosexuality laws:

LOW POINT OF 2013: THE MURDER OF ERIC LEMBEMBE
This is dangerous work for those on the front lines.  LGBT activist Eric Ohena Lembembe of Cameroon was a frequent contributor to the blog until he was tortured and murdered in mid-July 2013.
Twenty of his articles from the first half of 2013 are here: https://76crimes.com/author/eric76blog/  (His 10 articles in French are near the bottom of that archive — dated as published in 2003 rather than 2013 in order to keep them separate.)
Coverage of the murder, funeral and police investigation of the death is here: https://76crimes.com/tag/eric-lembembe/ . Note especially:
COUNTRY-BY-COUNTRY
Coverage this year has included articles about Bangladesh, Belize, Botswana, Ethiopia, Ghana, Guyana, Iran, Jamaica, Kenya, Malawi, Moldova, Morocco, Nigeria, Russia, Senegal, Sierra Leone, Singapore, Trinidad, Tunisia, Uganda and Ukraine.  To read coverage of individual countries, use links from the list of 76+ countries with anti-gay laws.
WHERE THE ACTION IS
In this early review of this year, it's clear that we're far from the end of, and certainly not nearing a happy ending to, several ongoing controversies and injustices: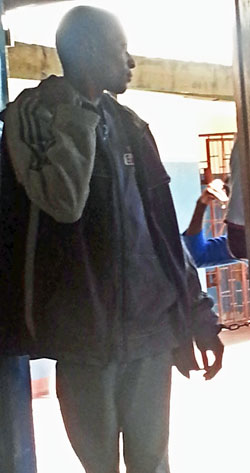 •    The arrest and trial of AIDS activist Paul Kasonkomona in Zambia https://76crimes.com/tag/paul-kasonkomona/
•    The ordeal of Philip Mubiana and James Mwape, who have been incarcerated for six months awaiting the outcome of an often-delayed trial in Zambia. If convicted, they face prison sentences of 15 years to life. https://76crimes.com/tag/philip-mubiana/
•    Caribbean activism reported by and often led by Maurice Tomlinson. https://76crimes.com/tag/maurice-tomlinson/
•    Attempts to overturn the Belize sodomy law. https://76crimes.com/tag/belize/
•    "Anti-gay propaganda" laws and related proposals in Russia and Ukraine. https://76crimes.com/tag/gay-propaganda-law/ and also https://76crimes.com/tag/russia and https://76crimes.com/tag/ukraine .
•    Uganda's worrisome but recently dormant Anti-Homosexuality Bill, the notorious "Kill the Gays" bill. https://76crimes.com/tag/anti-homosexuality-bill/
THE BOOK "FROM WRONGS TO GAY RIGHTS"
The book "From Wrongs to Gay Rights" was published in March 2013 as an additional method for spreading the news about what is going on for LGBT people in the 76+ countries. It includes highlights of the blog's coverage from 2012, with updates. For more information, see Amazon.com and/or
https://76crimes.com/buy-the-book-from-wrongs-to-gay-rights/ .
ENCOURAGING HIGHLIGHTS
Some relatively optimistic highlights of the blog's coverage in 2013 included:
DEPRESSING HIGHLIGHTS
Sadly, much of the blog's coverage remains downbeat. For example: