Nigerian activists seeking human rights for LGBT people want the full support of the Archbishop of Canterbury, but he has shied away from taking too strong a stand, for fear of provoking bloody retaliation.
"If the Church of England celebrated gay marriages," Archbishop Justin Welby said last month, "the impact of that on Christians far from here — in South Sudan, Pakistan, Nigeria and other places — would be absolutely catastrophic. Everything we say here goes round the world."
Welby explained the intensity of his feelings by recounting his visit to a mass grave in Nigeria of 330 Christians who were killed by neighbors who said the massacre was justified because "if we leave a Christian community here, we will all be made to become homosexual and so we will kill all the Christians."


The reason for attack, Welby said, was "something that had happened in America," presumably an event related to increased acceptance of LGBT people by churches in the United States.
Welby is the spiritual leader of the worldwide Anglican Communion, which counts 85 million members belonging to its various regional churches that trace their history back to the Church of England. In that role, Welby has the difficult task of trying to keep the communion from splitting apart at a time when many of its churches in the Americas are LGBT-friendly and many Anglican churches in Africa are anti-gay hardliners.
Last month's kidnapping of hundreds of mostly Christian school girls by Muslim Boko Haram militants in Nigeria may make it harder to support the idea that churches should moderate their support of equal rights for fear of provoking terrorists into acting unreasonably. But there is no sign that  Welby has changed his position.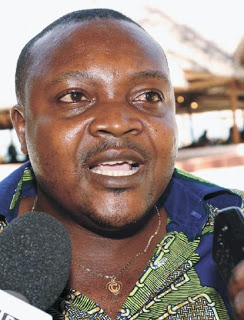 Davis Mac-Iyalla, a gay Nigerian Anglican who moved to the United Kingdom after receiving death threats at home, said that attacks in Nigeria had "no link with homosexuality at all. . . I was very shocked when the Archbishop tried to make that statement that rights given in the UK will affect Christians in Africa, and I think he is wrong in that statement or mistaken."
The Rev. Jide Macaulay, founder of the gay-friendly House of Rainbow Church in Nigeria, noted the role of  the Anglican Church of Nigeria as one of the world's most outspoken opponents of Christian hospitality for LGBT people. The Nigerian church was a strong backer of the country's recently enacted "Jail the Gays" law. He said:
"In my opinion, there is no threat to the Nigerian churches or to Christian on the issues of homosexuality. Factually, the Church of Nigeria is one of the leading sponsors of the anti-gay laws and the head of the church recently congratulated the President when the bill was signed to law.
"I believe the voice of the Archbishop Justin Welby is pandering to further scaremongering and discrimination against LGBT people in Africa. He should be telling the church leaders in Africa to speak out against all forms of injustice.
"The Bible tells us 'There is no fear in love. But perfect love drives out fear, because fear has to do with punishment. The one who fears is not made perfect in love.' "
Macauley, like Mac-Iyalla, has also moved from Nigeria to the U.K. for safety.
But Cheikh Traore, leader of an LGBT rights coalition opposing Nigeria's new Same-Sex Marriage Prohibition Act (the "Jail the Gays Law"), said Welby's position is not an issue in Nigeria: "This debate is largely seen as a UK internal debate. No one I know among Nigerian activist circles even noticed [Welby's] statement. Every comment I read on the issue so far is from Nigerians based in the UK."


The broader issue of LGBT rights, however, is a hot-button topic in Nigeria. After Nicholas Okoh became archbishop of the Church of Nigeria in 2010, he used his first press conference to speak against an "invading army of homosexuality, lesbianism and bisexual lifestyle."
Welby's position has drawn support from at least one Anglican church leader in an anti-gay African church and widespread criticism from priests and bishops in more gay-friendly Western churches.
The Church Times reported that in South Sudan the Rt. Rev. Justin Badi Arama, bishop of Maridi, said:
The Rt. Rev. Justin Badi Arama of South Sudan (Photo courtesy of DownAndDromore.org)


"Gay relationships in the Church of England would mean the people of South Sudan going back to their traditional religions … there would be continued violence against Christians [in the fear] that they would bring bad and shameful behaviour or homosexual practice, and spread it in the communities."
But although another bishop in South Sudan, the Rt. Rev. Elijah Matueny Awet, also urged Welby to reject same-sex relationships, Awet did not predict that it would lead to any reprisals against Christians in South Sudan. Instead he argued that it would result in increased support for Islam and traditional non-Christian religions.
The Rt. Rev. Marc Andrus, the bishop of California, said Welby's position would backfire:
"His proposed way forward — to continue to oppress LGBT people in the UK — will fail to keep Africans safe for this reason: if Africa is watching the UK as closely as the Archbishop would have us all believe, then they will not miss that the spiritual head of the Anglican Communion is on the side of continued second-class citizenship for LGBT people."
The Rt. Rev. V. Gene Robinson, the gay former bishop of New Hampshire, said in a commentary in The Daily Beast:
Bishop Gene Robinson (Photo courtesy of CambridgeBlog.org)


"It is absurd to buy into a group of murderers'  rationalizations for their actions, unintentionally giving legitimacy to the perpetrators' reasons for murder. The Archbishop certainly knows that the reasons behind such violence are complicated and numerous, including both religious and long-standing cultural conflicts. Surely, these Muslim extremists were looking for a 'reason' to murder their Christian countrymen, and as is so often the case, they used 'let's blame the gays!'
"The Archbishop should also know that you don't resolve the anger and violence of bullies and hostage-takers by giving in to them."
Welby said that people overreacted to his statement: "One of the things that's most depressing about the response to that interview is that almost nobody listened to what I said; they mostly imagined what they thought I said."  He added: "I'm not saying that because there will be consequences to taking action, that we shouldn't take action. What I'm saying is that love for our neighbour, love for one another, compels us to consider carefully how that love is expressed, both in our own context and globally."


Welby also has spoken out against homophobia in England:
"To treat every human being with equal importance and dignity is a fundamental part of being a Christian," he said. He said that he agrees with the statement that it is "completely unacceptable" for the church to condemn homosexual people more than adulterous heterosexual people — a position rejected by Anglican leaders of the Church of Uganda and the Church of Nigeria.
What position should Welby adopt? Robinson had a suggestion for what Welby should have said.  In Robinson's proposal for Welby, he suggested, in part:
"I have seen the graves of those who have suffered because of these unjust and irrational connections between LGBT people and murder, and it breaks my heart.
"Even so, we cannot give in to the violent acts of bullies and must discern and then pursue God's will for all of God's children. Violence and murder of Christians is deplorable, but so is violence against and murder of LGBT people.
"And as the spiritual leader of the world's Anglicans, permit me to point out, it is not helpful for some of our own Anglican archbishops, bishops and clergy to join in support of anti-gay legislation and rhetoric in their own countries, thereby fueling the hatred and violence against innocent LGBT people, who are being criminalized and murdered for who they are.  These are complicated issues, and with God's guidance, we will discern what is right to say and do."
Instead, Welby in recent days has issued different statements about same-sex marriage in England, which was legalized in March. He told Pink News that "we have to accept, and quite rightly, that the same-sex marriage act is law, and that it's right and proper, it's the law of the land, and that's great."
His office then issued a follow-up statement that Welby, who campaigned and voted against gay marriage last year, remains opposed to both gay marriage and homophobia.
In the statement, the archbishop's office said that Welby had been speaking about the right of Parliament to change the law when he used the word "great."
Related articles