Protesters to Commonwealth: Repeal anti-LGBT laws!
Protesters gathered today in London to urge leaders of former British colonies to scrap their anti-LGBT laws. They expressed anger at Commonwealth leaders' refusal to even discuss LGBT persecution.
Edwin Sesange from the African Equality Foundation reported:
More than 120 LGBT+ rights defenders protested today as the Commonwealth heads of government met in London. The protest was backed by gay Olympian Tom Daley. (See Tom's statement below.)
They condemned Commonwealth leaders for refusing to discuss the persecution of at least 100 million LGBT people who live in Commonwealth countries where being gay is a crime.
They also demanded decriminalisation in 36 of the 53 Commonwealth nations that still outlaw homosexuality. Nine of these Commonwealth countries have life imprisonment for gay sex. In parts of two countries, Nigeria and Pakistan, LGBT+ people can be put to death.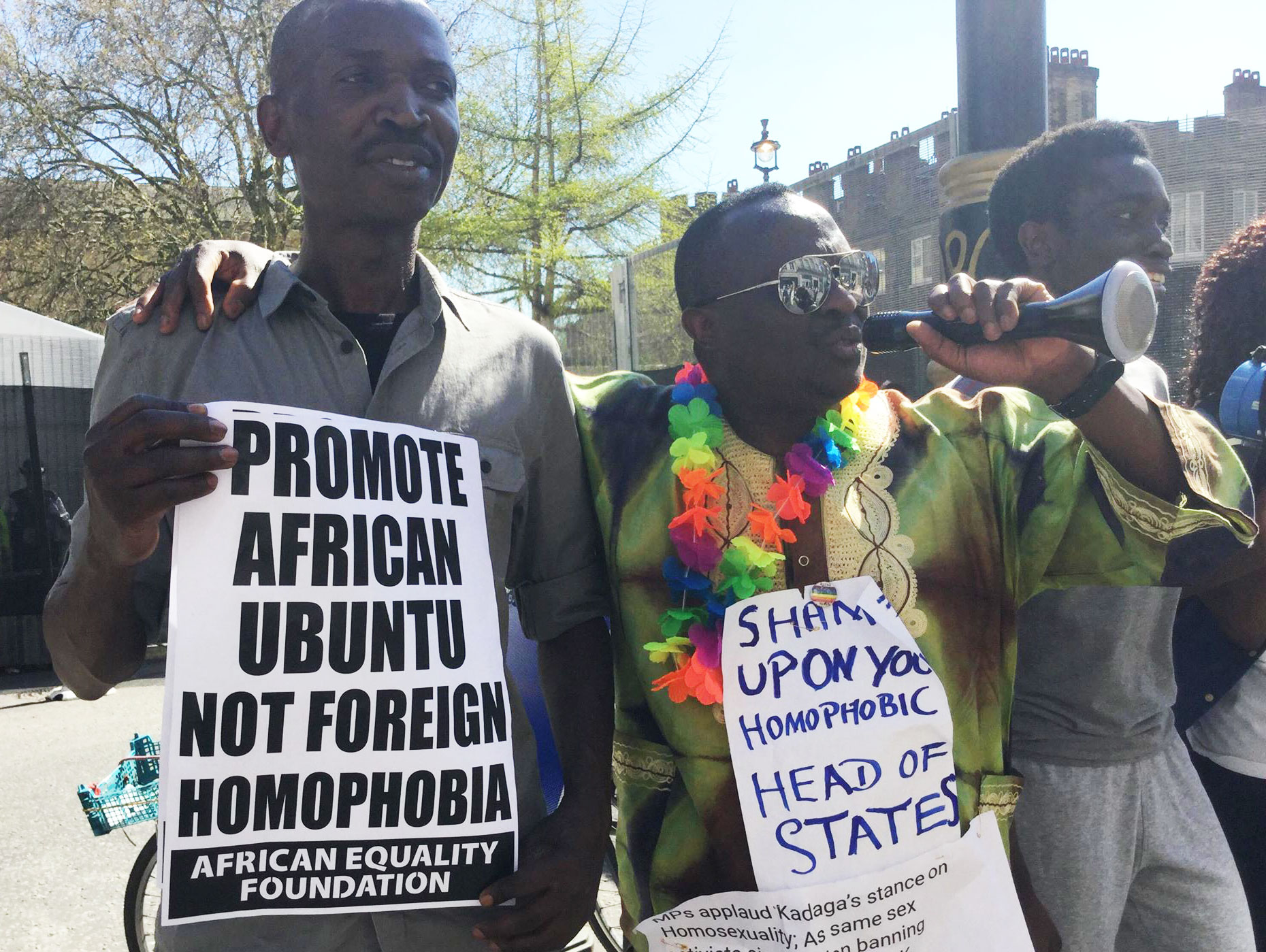 The protest outside Marlborough House, the Commonwealth HQ on Pall Mall in London, included LGBT+ people from across the Commonwealth and was coordinated by the Peter Tatchell Foundation working with 14 other UK-based human rights groups. (See list below).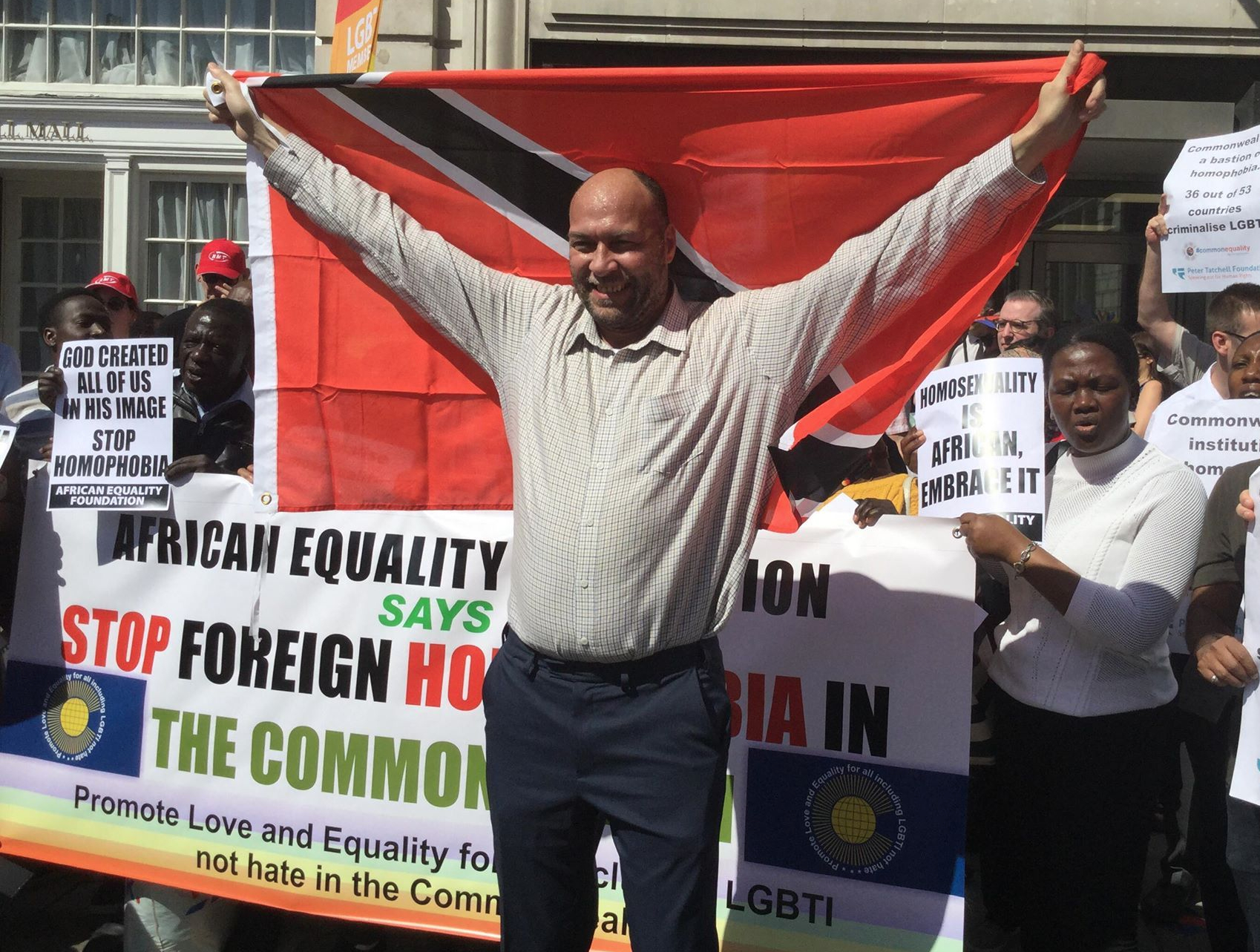 Protest organiser Peter Tatchell said:
"The Commonwealth is a bastion of homophobia. Seventy percent of the member states have anti-LGBT+ laws and fail to protect LGBTs against discrimination and hate crime.

"The biennial Commonwealth summit has for six decades refused to debate, let alone support, LGBT+ equality. This year is no different. Once again, LGBT+ rights have been excluded from the leader's agenda.

"We're saying to the Commonwealth: Time's up on blocking debate. Time's up on homophobic criminalisation, discrimination and violence.

"Surely in 2018 Commonwealth heads of government should end the state-sanctioned persecution of more than 100 million LGBT+ Commonwealth citizens?"
Today's protest included Commonwealth LGBT+ people who have been driven from their home countries after often violent persecution because of their sexuality or gender identity.
Hope Espoir from Cameroon said:
"When I was 18 I was caught with my girlfriend, beaten by neighbours and then arrested by police. My nightmare got worse as I was raped in prison. Upon being released I was forced into marriage with a violent man I did not and could not love, as I couldn't suppress my sexuality.

"Life got better when I fell in love with a local girl but the police came to arrest us one evening. Fortunately, I escaped with my life, but my girlfriend died after being beaten in police custody."
Abbey, who escaped Uganda, said:
"I came from hell, with cigarette burns in both my palms and on my legs, scars on my face which resulted from the constant beating. I went through every kind of human degradation."
Last week, LGBT+ campaigners delivered a petition to Commonwealth leaders signed by 104,115 people. The petition urged the leaders to:
Decriminalise same-sex relations
Prohibit discrimination based on sexual orientation and gender identity
Enforce laws against threats and violence, to protect LGBT+ people from hate crimes
Consult and dialogue with national LGBT+ organisations
Olympian and Commonwealth Games gold medallist Tom Daley sent a message of support to the protest:
Tom Daley (Photo courtesy of the Daily Mail)

"Shockingly, half the countries in the world that criminalise homosexuality are in the Commonwealth, which is why I am fully supportive of the Peter Tatchell Foundation and others who are trying to correct this terrible injustice."

"As I compete around the world, it's important that I can focus on my sport and not worry about the reaction to my sexuality. I believe the Commonwealth should be a forum that protects the rights of all its citizens and not support governments that make criminals out of at least 100 million people."
Tatchell added:
"At least 100 million LGBT+ people living in Commonwealth nations have no legal protection against discrimination in employment, housing, education, health care and the provision of good and services. This makes a mockery of Commonwealth values and the human rights principles of the Commonwealth Charter."
Edwin Sesange from the African Equality Foundation said:
"It is time these 36 Commonwealth countries accepted their LGBT+ citizens. Homophobia should be expunged from the Commonwealth. Anti-gay laws in Commonwealth countries are mostly the result of colonialism. They should be scrapped."
These organisations supporting today's protest: The Commonwealth Equality Network, KaleidoscopeTrust, Peter Tatchell Foundation, UK Black Pride, African Equality Foundation, Equality Network, African Rainbow Family, Movement for Justice, House of Rainbow, Out & Proud African LGBTI, Micro Rainbow, Africa Advocacy Foundation, Rainbow Across Borders, African Eye Trust and Manchester Migrant Solidarity.
Related articles: