Russian officials had been largely ignoring international appeals for a probe of last spring's round-up, imprisonment and torture of suspected gay men in Chechnya, pointing out that none of the victims had stepped forward publicly as a witness. But last month a Russian man spoke publicly about the extreme abuse he experienced in Chechnya after being abducted and imprisoned with other men.
In its Equal Eyes recap of the world's LGBTI news, UNAIDS reported the story, which originally came from Human Rights Watch and Novaya Gazeta: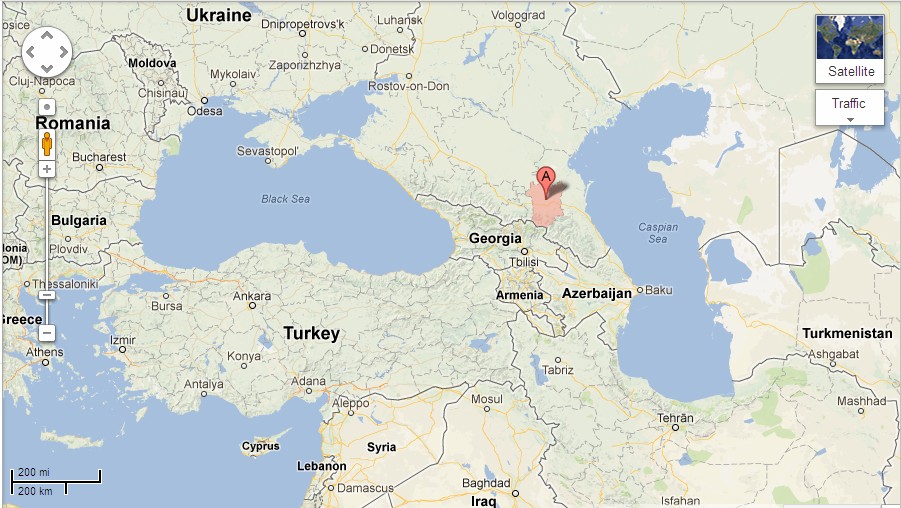 [During a mid-October news conference in Moscow] a man described how he was rounded up and tortured during Chechnya's anti-gay purge in the spring. One of dozens of victims of this large-scale "cleansing" operation against gay people in Chechnya, Maxim Lapunov, 30, is the only one who has dared to file an official complaint with the Russian authorities and then talk to the media, without hiding his face or real name. He is also the only non-Chechen local security officials had targeted because of his homosexuality.
As Lapunov spoke to a roomful of journalists, reliving the horrific experience of beatings and humiliation during his 12-day confinement in a dark, fetid basement, his hands shook and he had to stop several times to regain composure. On 16 March, security officials dragged him into a car in central Grozny, where he had been selling bright, festive balloons, took him to a police compound, pulled out several grisly torture devices, threatened to use them on him and to "tear him apart".
The officials forced Lapunnov to call a gay acquaintance and invite him to a "meeting" — in fact a set-up with security officials waiting. Lapunov slept on the blood-stained floor of a tiny basement cell. He was beaten, and witnessed and heard as security officials beat and tortured other men presumed to be gay with electric shocks. Close to 30 others assumed to be gay were held at the facility during his time there — along with other detainees who weren't part of the anti-gay round-ups.
Lapunov did not expect to survive. His legs, buttocks, ribs and back were all black and blue. When his torturers finally released him, he "could barely crawl". Six months later, he still wakes up in a cold sweat from the piercing screams of other detainees in his nightmares.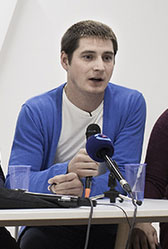 Facing a broad international outcry over the purge, the Kremlin gradually moved from shrugging off the allegations to pledging to conduct an effective investigation and opening a federal-level inquest. However, high-level officials repeatedly flagged that not a single victim had stepped forward. They did not acknowledge the depth and legitimacy of victims' fears about coming forward but rather used this to justify the investigation's apparent lack of progress.
Like the rest of the victims, Lapunov had every reason to fear retaliation by Chechen authorities, especially as the security officials who released him warned him to keep silent. But, as a Russian man from Siberia who had gone to Chechnya for work, Lapunov did not have to face what every Chechen man caught in the purge feared: being targeted by his own relatives for "tarnishing family honour" or exposing his entire family to overwhelming stigma because of his homosexuality.
For more information, read the HRW article "Victim of Chechnya's anti-LGBT purge seeks justice: But will the Russian authorities deliver on their pledges to investigate?"
Related articles:
Chechnya's long arm of retaliation against gay men (October 2017, 76crimes.com)
Canada welcomes 22 to 31 gay Chechen refugees (September 2017, 76crimes.com)
Many bash Russia for Chechen abuses; few help gay victims (August 2017, 76crimes.com)
Chechnya's anti-gay crackdown resumes, activist says (July 2017, 76crimes.com)
"They Have Long Arms and They Can Find Me" (May 2017, HRW)
$300,000 to rescue LGBT Chechens; next event: Hong Kong (May 2017, 76crimes.com)
Video: International protests oppose Chechnya repression (May  2017, 76crimes.com)
Chechnya investigators told: 26 illegal killings in 2017 (May 2017, 76crimes.com)
Protests, pressure seek to end abuses in Chechnya (May 2017, 76crimes.com)
Silence about Chechnya from 'family values' defenders (April 2017, 76crimes.com)
Chechnya — What can you do? (April 2017, 76crimes.com)
Chechnya: Where making a call could cost your life (April 2017, 76crimes.com)
Chechnya anti-gay violence: Newspaper fears 'retribution' for reports (April 2017, BBC)
No 'reliable information' on Chechnya gay persecution, says Putin spokesman (April 2017, The Guardian)
Chechens tell of prison beatings and electric shocks in anti-gay purge: 'They called us animals'  (April 2017, The Guardian)
Report: Chechnya opens concentration camps for homosexuals (April 2017, 76crimes.com)
Chechen leader Ramzan Kadyrov denies massacre of gay citizens saying 'such people do not exist' (April 2017, The Independent)
The State Department Issued A Strong Statement On LGBT Kidnappings In Russia (April 2017, BuzzFeed)
Russia leaves LGBT Chechen victims in danger (April 2017, 76crimes.com)
Report: Mass arrests of gays in Chechnya; 3 or more killed (April 3, 2017, 76crimes.com)
Russian LGBT Network seeks to rescue imperiled gay Chechens  (April 3, 2017, 76crimes.com)
Chechen police 'have rounded up more than 100 suspected gay men' (April 2, 2017, The Guardian)
Chechen Authorities Arresting and Killing Gay Men, Russian Paper Says (April 1, 2017, The New York Times)