Authorities in the Russian republic of Chechnya have reportedly detained more than 100 people suspected of being homosexuals. At least three were killed in the roundup and many more are believed to have died.
A report of the anti-gay sweep appeared in the opposition Russian newspaper Novaya Gazeta and was confirmed by human rights activists.
The newspaper stated that it "knows the names of the three dead, but our sources say that there are many more victims."
The reported mass arrests do not have any reported basis in law — merely intense homophobia. They come under the administration of Chechen President Ramzan Kadyrov, a strong supporter of Russian President Vladimir Putin, who in turn is a strong supporter of Russia's law against  "gay propaganda." Russia has no law against same-sex intimacy.
Followup reports came from many publications.
The Guardian stated that the report was by an author regarded as a leading authority on Chechnya, adding that "among those detained were well-known local television personalities and religious figures." It also stated that:
Chechen president Ramzan Kadyrov (Photo courtesy of Kremlin.ru via Wikimedia Commons)

Alvi Karimov, spokesperson for Chechnya's leader, Ramzan Kadyrov, described the report as "absolute lies and disinformation", basing his denial on the claim that there were no gay people in Chechnya. "You cannot detain and persecute people who simply do not exist in the republic," he told Interfax news agency.

"If there were such people in Chechnya, the law-enforcement organs wouldn't need to have anything to do with them because their relatives would send them somewhere from which there is no returning.'"

A spokesman for the region's interior ministry told the Russian newspaper RBC that the report was "an April fool's joke."

However, Ekaterina Sokirianskaia, Russia project director for the International Crisis Group, told the Guardian she had been receiving worrying information about the issue from various sources over the past 10 days. "I have heard about it happening in Grozny [the Chechen capital], outside Grozny, and among people of very different ages and professions," she said.
The Novaya Gazeta report said that "information about detentions" of gay men had been confirmed by regional Interior Ministry, Federal Security Service (FSB), and prosecutorial officials, as well as LGBT activists, according to Radio Free Europe.
Slate Magazine reported that "the latest sweep appears to have been motivated by an organized effort by a gay rights group to request permits to stage gay pride parades."
Novaya Gazeta reported that security services are participating in a "preventive cleansing" after anti-LGBT protests, and LGBT organizations in Russia are trying to evacuate gay men from Chechnya.
According to The New York Times, the men rounded up have ranged in age from 16 to 50.
"They have disappeared from the streets of Chechnya," reported The Times, adding that two television reporters and a waiter are among those who vanished.
Novaya Gazeta reported that among the detainees are "prominent, influential and religious leaders close to the head of the republic, as well as two well-known Chechen TV personalities."
The Russian newspaper also published a first-hand account with the news story, which said in part, "The youngest is 16 years old. He's from our village. Just a few days ago he was brought back all the beaten, just a bag of bones. They threw him into the yard."
"The newspaper claims authorities have been specifically seeking out closeted gay men by posing as men looking for dates on social networking sites. There is so much anti-gay hatred in Russia's predominantly Muslim North Caucus region that family members of those killed or detained are unlikely to ask questions or demand an investigation," Slate reported.
Heavy.com stated on the basis of various other reports: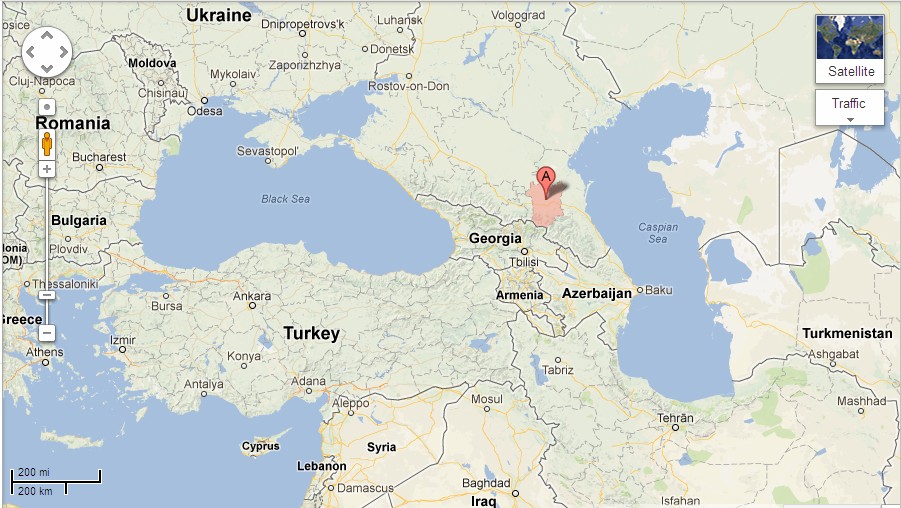 Panicked Chechens were closing accounts in social networks, reported [Novaya Gazeta], and some were taking great risks to "try to warn others about the threat."
According to the Russian newspaper, the attempts to organize gay pride parades sparked anti-LBGT protests in Chechnya.
"In the entire Caucasus, this news caused massive protests, where speakers demonstrated a high level of aggression. In social networks there were made with varying degrees of creativity videos and calls for the murder of people with unconventional sexual orientation," reported Novaya Gazeta. "It was at this time in Chechnya that a command was given to 'preventive cleansing' and it came to real murders."
The newspaper that broke the story is known as a "leading opposition newspaper," according to The New York Times. According to The Times, Chechnya's leader, Ramzan Kadyrov, is a "vocal supporter of Russian President Vladimir Putin."
Radio Free Europe called it a "leading Russian daily."
Slate reported that the mass arrests had been rumored for weeks.
Radio Free Europe reported that Chechen human rights activist Kheda Saratova, "a member of the presidential human rights council, told Russian state radio that the police and 'entire judicial system' in Chechnya treat the murders of homosexuals by their relatives 'with understanding.'"
Related articles