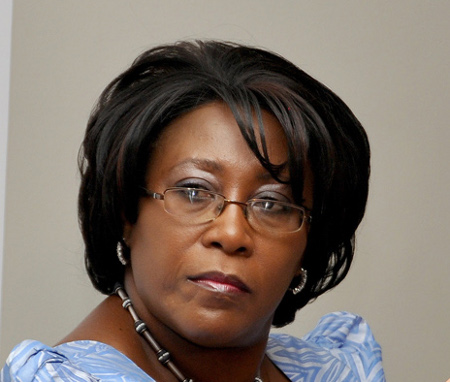 Dr. Christine Kaseba-Sata, the wife of Zambian President Michael Sata, has appealed for an end to discrimination against sexual minorities.
There was no word about whether her words will have any immediate effect on Zambia's ongoing wave of homophobic repression, which includes trials of four men in Kapiri Mposhi and in Lusaka who are accused of breaking a law against same-sex love, the trial of AIDS activist Paul Kasonkomona for proposing the repeal of that law, and threats to arrest LGBT rights activists.
[Note also that radically different reports have surfaced about what Kaseba said. See the bottom of this article for quotes from two Zambian media accounts.]
In an article headlined "Miracles do happen in Zambia," Richard Lee for the Open Society Initiative for Southern Africa reported on Kaseba-Sata's Nov. 5 speech at a UNAIDS event in Lusaka:
[She] said that the "silence around issues of Men who have Sex with Men should be stopped and no one should be discriminated against on the basis of their sexual orientation. Rather, we should address reproductive health issues around this issue."

And if this were not enough – and in Zambia, it would have been earth-shattering enough – she went even further to assure people working in the sexual and reproductive health sector of her and the president's support.

It is hard to overestimate the importance of what the First Lady said – in a country where the vast majority of people are opposed to gay rights. Indeed, where most people are totally opposed to even discussing the topic. …

And it's not just because she is the First Lady that her statement will carry real weight, although that guarantees headlines and media attention. She is also one of Zambia's most recognised specialists in obstetrics and gynaecology and has practiced as a physician at the University Teaching Hospital in Lusaka for more than 25 years, and lectured for the past 15 years at the University of Zambia School of Medicine. …

And the First Lady's remarkable – and potentially game-changing – statement comes just a few days after another renowned doctor and HIV activist, Manase Phiri, championed gay rights at Evelyn Hone college.
For more information, read the full article "Miracles do happen in Zambia."
See also the
vastly different accounts of her remarks in Zambian media:
She said there was also need to break the silence on homosexuality among men if the imbalance was to be corrected as men having sexual intercourse with fellow men was one of the factors that put a lot of women at risk of contracting HIV.

"I am concerned about the vulnerability of our women married or in intimate relations with men who are having sex with men.
"We have evidence that a lot of our college boys are being enticed to have sex with men but at the same time they have girlfriends," she said.

Dr Kaseba said even if talking about homosexuality made a lot of people uncomfortable, there was need to talk about it because if left unchecked, it could derail the positive strides the country was making in the fight against HIV/AIDS.

She appealed to cooperating partners to consider requesting the World Health Organisation (WHO) and the World Health Assembly to reinstate homosexuality as a health issue to allow open discussions on the matter.
The LGBT rights group Friends of Rainka has listed dozens of incidents of harassment and human rights violations against LGBT people in Zambia in the past six months.
Related articles