Gay Star News reports on the latest initiative by LGBT-friendly clergy in Kenya, including New York-born and -based Pastor Joseph Tolton and Kenyan Michael Kimindu:
Pro-LGBTI Christian pastors say homophobia goes against God's love.
Gay-friendly church services start in Nairobi
Pastor Joseph Tolton is spearheading a movement to get Kenyan churches to welcome LGBTI people and argue for gay rights.
The pastors say some religious people have 'gone against God's love by condemning gays'.
And one church has now put a rainbow flag above its door and is inviting LGBTI people to come and experience 'liberated worship'.
Reverend Michael Kimindu, president of the Kenya chapter of United Coalition of Affirming Africans, vowed his new group of over 50 pastors would fight for gay rights.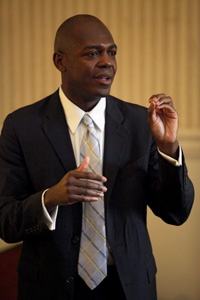 Gay male sex is still criminalized in Kenya – punishable by 14 to 21 years in prison. While the conviction rate is relatively low, LGBTI people face police harassment, blackmail and persecution.
But the Christians in the Kitengela area south of the capital Nairobi say a new approach is needed.
Kimindu said: 'Some religious leaders have gone against God's love by condemning gays.
'We will mobilize church leaders to accept the idea and condemn those who say homosexuals are outcasts.'
The movement is being spearheaded by Pastor Joseph Tolton [pastor of Rehoboth Temple in New York City], previously listed by US gay media advocacy group GLAAD as one of the "10 pro-LGBT faith voices of 2012."
He preached at a 10am service yesterday (3 November) in Nairobi with the church advertising: 'Come and experience liberated worship – at last the Lord has made room for us'.
The rainbow flag hanging outside the church carried the words 'All are welcome' underneath it.
For more information, read the full article in Gay Star News: "Kenya Christian pastors start gay rights group and fly rainbow flag."
Related articles