Love, family and respect for human dignity are Russian traditions, say opponents of the proposed national censorship bill that would outlaw same-sex kisses and  discussions of homosexuality in public where children might be present.
That was the theme of two protests this week against the "homosexual propaganda" bill, article 6.13.1, currently scheduled for action in the Russian parliament, or Duma, on Jan. 25.
In one protest, activists used elements of Russian traditional costumes: kerchief, kokoshnik, sarafan, kosovorotka (Russian national shirt) and others as a way to show that slander and discrimination against LGBTs using the rhetoric of traditional values is unacceptable, said Maria Kozlovskaya of the Russian LGBT Network.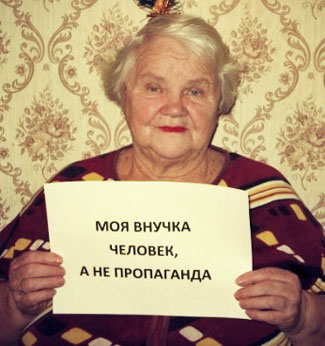 In another protest, the LGBT organization Coming Out and Out Loud magazine launched a photo campaign against the bill, inviting people to send in photos opposing homophobia.  People who took part included war veterans, people of faith, a psychologist, a teacher, a policeman, and dozens of gays, lesbians and their friends and family. Photos from that campaign are displayed with this article.
Igor Kochetkov, chairman of the LGBT Network, said:
I wonder what "traditions" are being forced on a society by those who support laws that prohibit gays and lesbian to talk about themselves openly? It seems that those are the "traditions" of ignorance, violence and intolerance. They beat people who take to the streets with peaceful actions for protecting freedom and human dignity, attack journalists, they greet each other with Nazi greetings.

They do it all justifying themselves with talks of traditions, religions and moral. This is a cynical scorn of these ideas and of those who cherish them. Today we decided to support real values that unite society: love, family and respect for human dignity.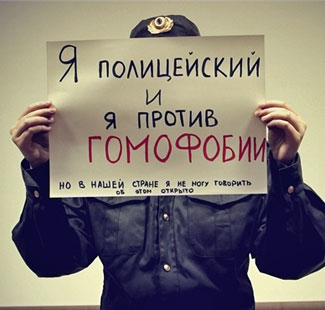 The proposed law would endanger not only the work of human right activists but also the lives and well-being of LGBTs, who would be exposed to greater violence and discrimination, Kozlovskaya said.
The Russian LGBT Network said the proposed law would set apart "a significant part of society – LGBT, their parents, relatives, friends – as socially inferior, dangerous for the society and people who undermine traditional values." The protest is aimed at telling "the society that family values, love and human dignity for us is as important as for all Russians." Kozlovskaya reported that protests were held in Moscow, Saint Petersburg, Samara, Arkhangelsk and Tomsk:
Moscow. Orthodox activists who came to the State Duma in Moscow attacked the LGBT participants despite the attempts of the police to prevent it. After the action several mass media representatives were also attacked. The attackers wore masks. Two of them were arrested. Activists reported the attack to  police.
Saint Petersburg. Picketers in Saint Petersburg did not provoke aggression from the citizens, as local organizations prevented attacks. Nevertheless three young people, supposedly representatives of extreme right groups, waited near the business center where the offices of LGBT organizations are situated, followed the activists and tried to get into the LGBT Network office. They tried unsuccessfully to grab protesters'  banners.
Samara. Nine activists took to the streets in Samara. The police stopped several provocations and walked with participants after the action, but two young men attacked the last group of protesters. One person was injured. Activists will report the attack to police.
Tomsk. Participants of the action in Tomsk were asked by the police to come to the police station and write a statement. Activists said they were treated respectfully.
Arkhangelsk.  In Arkhangelsk, protesters encountered no problems.
Voronezh. Protesters were attacked by anti-gay opponents. See the article "Violence greets Russian protests against anti-gay bill."
The protests in Russia were supported and organized by the Arkhangelsk LGBT group Rakurs, the Samara LGBT movement Avers, and by independent LGBT activists and members of the Russian LGBT Network in different regions.  Coordinated protests were also held in Brussels, Belgium; Berlin, Germany; Helsinki, Finland; and Bishkek, Kyrgyzstan. They were attended by a number of organizations, including Amnesty International, ILGA-Europe, Outrage, SETA and others.
Laws against "homosexual propaganda" are in effect in nine regions in Russia, most notoriously in Saint Petersburg.  The national bill was proposed by the Novosibirsk region on March 28. Its first reading in the Duma was delayed many times and is now scheduled for Jan. 24.
Related information