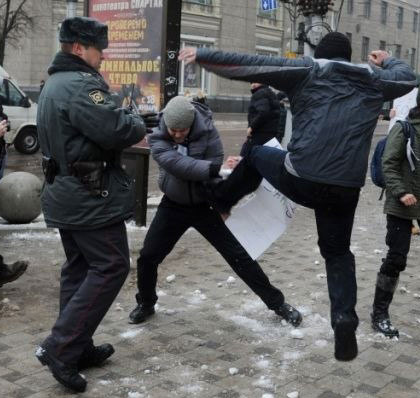 Several people were injured when Russian anti-gay opponents attacked protests against a proposed national ban on "homosexual propaganda."
Protests were held in Moscow, St. Petersburg, Voronezh, Arkhangelsk, Tomsk, Syktyvkar and Samara advocating rights for lesbian, gay, bisexual, transgender and intersex people and opposing the "gay propaganda" bill, which would outlaw public discussion of gay rights if minors might be present.
In Voronezh, hundreds of opponents confronted about a dozen gay-rights demonstrators on Sunday.  RIA Novosti reported:
The picket in the square near a monument to Russian poet Ivan Nikitin was sanctioned by the city authorities and was expected to gather about 50 gay activists.

The opponents of the LGBTI community announced their intention through social networks to break up the picket. Several hundred people opposing gay propaganda in Russia gathered near the monument and sealed off all approaches to it to prevent the picket.

Police help LGBTI protester to stand after attack. (Click image for video from Vremya Voronezha via YouTube)

When about ten gay activists appeared, the crowd first pelted them with snowballs and then rushed at them, bringing them down to the ground and starting to beat them.

An old woman, who was passing by, was also hurt in the clash. At least one of the picketers had to seek medical assistance.
The U.S.-based advocacy group Freedom House said that police reportedly did not intervene as the attacks continued in the center of Voronezh. The organized criticized police inaction against the counter protesters who were "carrying hateful signs, throwing bottles, and physically attacking LGBT rights advocates, injuring several."
"Russian authorities have a constitutional responsibility to protect peaceful demonstrators," said David J. Kramer, president of Freedom House. "The decision to neither provide adequate security nor intervene as violence broke out in Voronezh is deeply concerning and amounts to a tacit approval of the violence."
Freedom House added:
A police statement claiming the "situation was under control" and that "there were no violations of public order" clearly contradicts first-hand testimony and video evidence showing the police standing by as activists were attacked. Police were reportedly notified days before the event that activists had received threats. Police later issued a statement celebrating statements of support of their inaction by nationalist groups.
The Moscow Times reported that a protest there today "ended in fisticuffs as Orthodox activists clashed with opponents of a bill targeting lesbian, gay, bisexual and transgender people."
In Moscow, in contrast to the Voronezh incident, "police and at least one Duma deputy intervened to halt the violence," the article stated.  It added,
Moscow 'Kissing Day' protest on Jan. 22. (Photo courtesy of Actup.org)

"About 30 LGBT activists met at noon on Georgiyevsky Pereulok for an event they called 'Kissing Day' to protest a proposed ban on 'homosexual propaganda.' Gay and lesbian couples posed for photographs at the entrance to the Duma building while kissing. But Orthodox activists showed up at the event and tried to break it up, throwing eggs and ketchup at the couples and even attacking them when they started to kiss. Several journalists were also attacked."

The gay activists were protesting a bill that stipulates fines for promoting homosexuality among minors. The bill was introduced in the Duma in March by Novosibirsk regional lawmakers. Discussion of the bill by the Duma had been scheduled for Tuesday but was pushed back [to Jan. 25]. …

Several Duma deputies witnessed the brawl between activists, and Ilya Ponomaryov of A Just Russia tried to break up the fight. Former boxer Nikolai Valuyev, a deputy with United Russia, stood passively by and smiled before going inside the building, Itar-Tass reported.

Police did not block the gay activists from standing in front of the Duma building but stepped in when fighting broke out, arresting at least five Orthodox activists by the end of the protest.

The fighting continued even after gay activists had walked away from the Duma. Several Orthodox activists attacked two gay demonstrators inside the Okhotny Ryad metro station."
Kramer of Freedom House said, "The hateful attacks on peaceful demonstrators show how pernicious laws against so-called 'propaganda of homosexuality' fuel hatred and violence. Russia should fully investigate these attacks and live up to its commitments to protect its citizens and their rights to the freedom of assembly and expression."
Related articles