Jamaica refuses to repeal its anti-gay law, but doesn't want to scare away gay tourists. A cartoon in Jamaica's Gleaner newspaper pokes fun at that stance.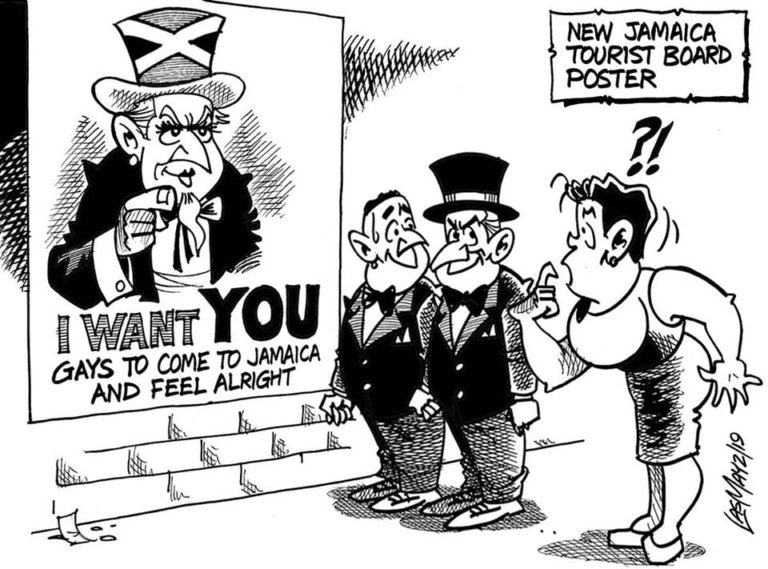 Earlier this year, the Gleaner reported on comments from the director of the Jamaican Tourist Board:
'Gay tourists welcome' – JTB head says perception about Jamaica being hostile is wrong
Director of Tourism Donovan White was at pains to reassure a Canada-based reporter that Jamaicans harboured no open hostility towards gay visitors during a press conference at Caribbean Travel Marketplace in Montego Bay [in February].
Michael Pihach, who was on his first trip to Jamaica, had asked White about measures the Government was taking to "curb the perception and reputation" that Jamaica was homophobic, which has caused many gays to shy away from vacationing on the island….
[White replied:]
"We make our best effort every time to ensure that everybody that comes to Jamaica, whoever you are, that you have the same experience. And we don't ask at the airport who you are and what you do. … There is absolutely no attempt or obstruction or programme that is aimed at or intended to cause any uneasiness for anybody who comes to Jamaica," he added.
The director of tourism also contended that even though atrocities occur in many countries across the world, people were still travelling to these regions and Jamaica was in no way worse than them.
The political cartoon above is the Gleaner's response to White's remarks. Readers should feel free to comment on the stereotypes that the cartoonist depicts.
Related articles: