Belize has vowed major improvements in the treatment of its LGBTI citizens. That promise of progress on gay rights comes just two years after the Central American country seemed to be a bastion of homophobia, clinging to an anti-gay law until it was overturned in the Belize Supreme Court in 2016.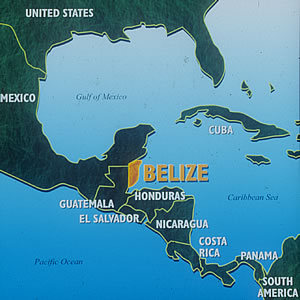 Gay rights activist Caleb Orozco, who led the fight against that anti-gay law, reports on how Belize responded to recommendations about issues of sexual orientation and gender identity (SOGI)  that it received during its recent U.N.-sponsored Universal Periodic Review (UPR) of the country's human rights record.
Belize accepted 15 of 17 SOGI recommendations for the U.P.R. — unbelievable!
By Caleb Orozco
Belize accepted 15 of 17 SOGI recommendations and as many as 10 countries made recommendations for the development of a National Human Rights Institution. Belize now becomes the first Caribbean Community (CARICOM) country to accept that many recommendations.
We have dared to set many firsts. The first country in CARICOM to decriminalized. The first and only country in the Commonwealth to implement a hybrid strategy to advance significant criminal code legislation. We were the first to co-sponsor an LGBT resolution at the Organization of American States (OAS).
It's totally crazy to see the 180-degree turn in the state's SOGI position. I remain hopeful our country can continue in the right direction where the value of good governance adds to our development along with a greater quality of life for all.
These are the recommendations that Belize accepted and the countries that made them:
Take further proper legislative measures to address discrimination against different groups (Ukraine);
Guarantee the rights of everyone to equal protection under the law, in conformity with Belize's international commitments (Iceland);
Carry out the necessary legal reforms so that the legislation guarantees the protection and promotion of the rights of the LGBTI persons thereby avoiding discrimination on the basis of sexual orientation and gender identity (Spain);
Ensure legal protections are enforced to address violence against LGBTI individuals as well as discrimination such as in housing, employment and government services (United States of America);
Take the necessary measures to investigate and punish cases of discrimination based on sexual orientation (Argentina);
Take further measures to reduce the societal stigma faced by LGBTI persons, including through enacting laws that prohibit discrimination against them (Australia);
Adopt specific legislation aimed at eradicating, punishing and preventing all forms of discrimination, violence or abuse against people based on their sexual orientation or gender identity (Chile);
Combat discrimination against LGBTI persons (France);
Secure equal human rights for LGBTI persons by adding sexual orientation and gender identity to the anti-discrimination legislation, in order to protect LGBTI persons against discrimination and violence (Germany);
Take measures to fight all forms of discrimination, including those based on sexual orientation and gender identity (Italy);
Include sexual orientation and gender identity in the collection of statistical data in order to develop policies that effectively combat violence, discrimination and harassment against LGBTI persons (Mexico);
Strengthen the capacities of police officers to better treat cases of violence against sexual workers and LGBTI persons (Uruguay);
Develop and implement training programmes for State authorities, including law enforcement and judicial officials, to ensure non-discrimination and protection of LGBTI persons (Ireland)
Take concrete steps to ensure universal access to sexual and reproductive health services, including HIV tests, with particular attention to the specific needs of women and girls, and the LGBTI population (Brazil);
Ensure that an effective HIV/AIDS Prevention Strategy includes the principles of human rights and non-discrimination on the basis of gender, age, sexual orientation or gender identity (Iceland).
Belize also "noted" these recommendations:
Include an explicit prohibition of discrimination on the basis of sexual orientation or gender identity in the Constitution and amend any other relevant legislation, such as the Administration of Estates Act and the Social Security Act, in order for same-sex couples to enjoy equal rights a heterosexual couples (Netherlands);
Review the Constitution and legislation in order to explicitly prohibit discrimination on the basis of gender and sexual orientation (Uruguay).
Caleb Orozco is executive director of the United Belize Advocacy Movement (Unibam).
Related articles:
More context: