For insight into the difficult life of an LGBTI activist in a former British colony that still suffers under a colonial-era anti-sodomy law, read The New York Times Magazine's story about activist Caleb Orozco. It's titled "The Lonely Fight Against Belize's Antigay Laws: Can one challenge to a statute criminalizing sodomy create a domino effect in the Caribbean?"
Some excerpts, including the latest news about his court challenge to that law and his role at Belize's LGBTI activist organization, Unibam:
" 'Batiman!' someone called from the shade of a food­-cart umbrella.
"In Belize — a small Anglophone Caribbean nation tucked into the eastern flank of Guatemala and Mexico — "batiman" (Creole for, literally, "butt man") has long been the supreme slur against gay men, the worst possible insult to their personhood and dignity. But now another slur is beginning to take its place: 'Orozco.' …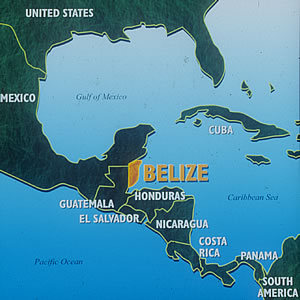 " A seven-foot-tall security gate barricades his driveway. When home, he must remember to lock all six locks — two for his house, two for his office and two padlocks on the gate for good measure. Those precautions do not prevent Orozco's neighbor or people walking by his house from throwing rocks and bottles over the walls, shouting, 'Aala unu fu ded' ('All of you should die'). Other residents have picked up two-­by-fours and chased him in the street. People stone Orozco's house frequently enough that he rarely bothers to call the police at this point. …
"He is Belize's most reviled homosexual and its most ostracized citizen, a man whom fundamentalists pray for and passers-by scorn; a marked man at 30 paces. His weary face is on the evening news and in newspaper caricatures, which have depicted him in fishnets and heels. His name is now a label, one used to remind other gays that they are sinners and public offenders. Win or lose, Orozco's fight for his fundamental rights and freedoms will follow him for the rest of his life. …
"Although bounded on two sides by Latin American countries with more liberal attitudes toward same-sex relationships, Belize retains a culture more closely aligned with Caribbean countries whose perspectives were colored by 200 years of British occupation. There is an ethos of 'live and let live,' but only as long as the gay community remains invisible. Gay couples cohabitate and quietly raise children, but without demanding legal recognition. Couples don't hold hands in public. No hate-crime laws exist to punish targeted assaults. …
"The legal challenge was a controversial move in Belize's gay community, where the question of gay rights — what they are and how to get them — is a conversation that has just barely begun. Belize has never had an inciting incident to catalyze a movement, like the 1969 Stonewall uprising. There is no annual Gay Pride parade. No member of government or other prominent figure has ever come out. No gay bars or ritual 'safe spaces' exist as places for people to meet, just carefully organized house parties and private encounters on Facebook. The L.G.B.T. community in Belize, with the exception of a dedicated corps of organizers and supporters, remains timid, fractured and apolitical. Unibam itself has only 128 members, in part because of people's concern that their names could be made public. …
"It has now been 24 months since the hearings on Section 53, with no word on when Chief Justice Kenneth Benjamin will deliver a decision. The Supreme Court does not have a calendar for decisions, and sources close to the case have refused to speculate as to the cause of the unusual delay….
"Shortly after the court hearings, he quietly stepped down as the president of Unibam. He stayed on as its executive director, but he told me that he hopes to leave that post next year. 'I've come to realize that I've sacrificed my life to this work,' he said. 'And I wake up to an empty bed and a pillow. And what does that say about me?'
"These are not the words of a Harvey Milk revolutionary, and in fact Orozco doesn't see himself in the mold of Milk, who was murdered at 48. But Orozco has believed for some time now that he won't outlive his middle age. 'My larger goal is to survive to the end of my case,' he said. 'They said that if something should happen to me, the case would be over. I've invested seven years of my life in this thing, and I don't want to throw that away.'
"Orozco has come to the conclusion that the big changes he thought were within reach five years ago are actually a generation away. Living in Belize as a gay man or woman is like peering across a demilitarized zone with a pair of binoculars. …"
For much more information, read the full article "The Lonely Fight Against Belize's Antigay Laws" in The New York Times Magazine online.
Related articles