Trans rights activist Alexa Hoffman recalls her work helping to organize Barbados Pride in previous years and now regrets her absence from many Pride activities this year. Transgender Barbadians deserve better from her, from the LGBT community and from Barbados overall, she says.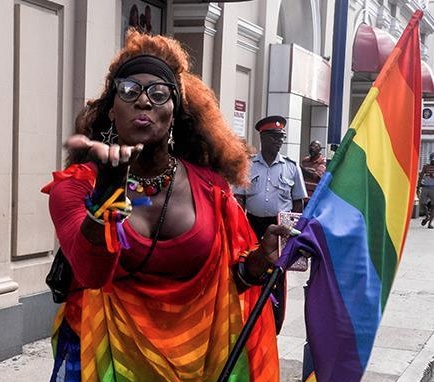 By Alexa D. V. Hoffmann

On June 6, 2018, I participated in a press conference to launch a legal challenge that two other Barbadians and I filed against the anti-sodomy law. This British colonially-imposed statute is the worst in the Western Hemisphere – life imprisonment – and has contributed to horrendous human rights abuses against LGBT people on the island. For example, earlier this year police failed to promptly apprehend a man who attacked me with a meat cleaver and nearly killed me. At the time of this writing my attacker remains at large, despite a court-ordered warrant for his arrest.
This lack of action by the police is not surprising because the anti-sodomy law presumes all LGBT people to be criminals. And according to one officer, police don't want to "deal with people like you."
In light of the close relationship between the law and public perceptions of LGBT people, a reporter at the press conference asked if, in addition to a legal challenge, there was not also need for a Pride in Barbados to help change people's hearts and minds as well. I advised that I had actually helped to organize two previous Prides in Barbados in 2015 and 2017.
Both had taken place in November, which is our month of Independence, as we wanted to contrast our national sovereignty with the struggle for bodily autonomy of Barbadians.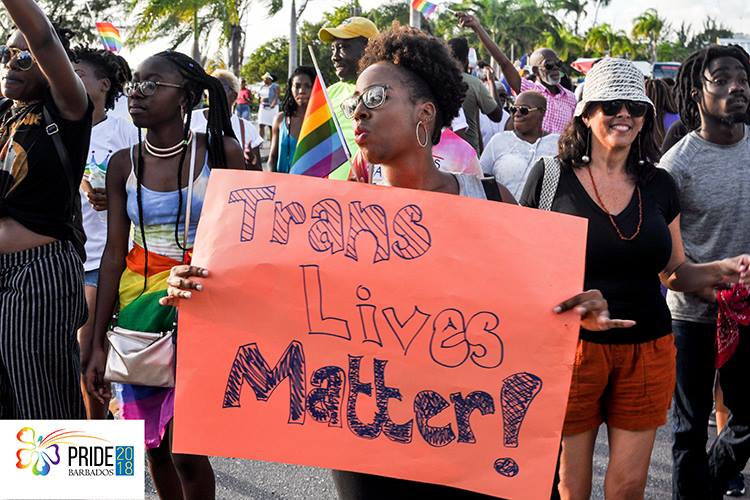 I was surprised when a member of the audience at the press conference announced that a group of advocates and organisations would be launching Pride celebrations two weeks later to bring Barbados Pride in line with our "Crop Over" celebrations and the Global North tradition of hosting Prides in June.
While I took the unexpected notice of another Pride in stride, it had many implications for me as an openly trans woman in Barbados.
For one, despite being a very active and vocal advocate, and having played key roles in organising two prior Pride celebrations, it was clear that nobody wanted my input with this Pride.
Secondly, despite the legal challenge being a major step forward in advancing LGBT inclusion and acceptance, many of the same advocates and organisations organizing Pride 2018 expressed opposition to this case.
So, I felt that I was essentially persona non grata in LGBT advocacy circles in Barbados, and I opted to keep a low profile throughout the entire Pride season, even vowing not to attend the parade, which was slated for July 22, 2018.
I later realised that my decision was a big mistake for the wider trans movement in Barbados. I opted not to attend the Pride launch event and later received messages and links to comments where people marveled and remarked at how Barbados was making history by having its first official Pride – blissfully unaware that this was actually the third!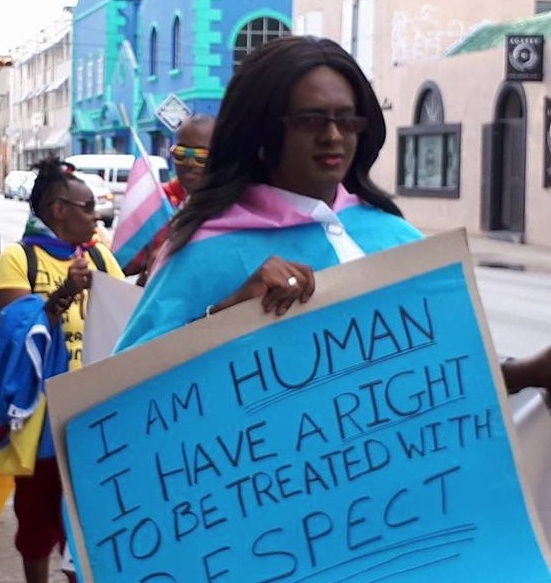 Apparently, the organisers conveniently forgot to mention the others, even though these events were what gave people the confidence to believe that a much larger Pride was possible. Fears of backlash were dispelled after we had demonstrated that we could hold incident-free Prides and even a parade in this small micro-state.
Despite the ground-breaking work for LGBT liberation, I felt like my efforts and those of many others were effectively being erased by Pride Barbados 2018.
It then became more obvious to those who knew me that something wasn't right when my absence was noted in every single Pride event in June. I was nowhere to be found at the Pride business expos, games nights, limes, and parties.
I wasn't even uploading videos or posting statuses on my Facebook page about the ongoing celebrations. I had deliberately taken myself off the radar because I feared that any contention between myself and the organisers would have led to an unpleasant and counterproductive confrontation.
My mistake in staying away was at the expense of the trans community, as we were not being adequately represented. Other than the mention of one other trans woman who was to be the hostess for an event, I saw nothing in the Pride fliers sent to me or the posts made on social media that made reference to acknowledging trans people.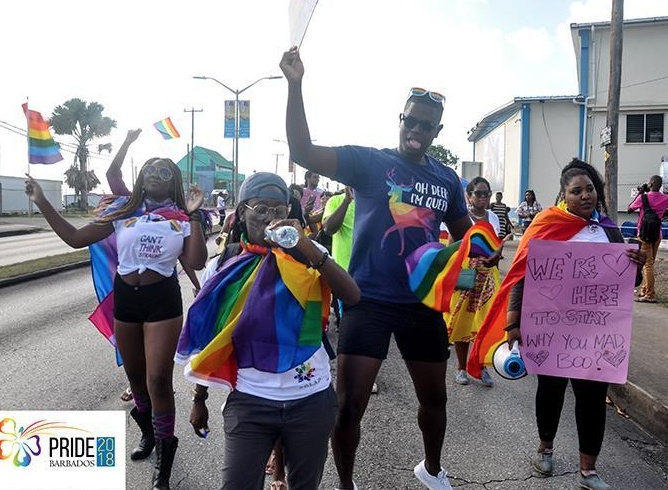 This was frustrating because, among other things, a government-run contest for Crop Over featured a highly transphobic song, "Sex Change," that made it to the semi-finals. This song had sparked many media interviews with cis-gendered members of the LGBT community during Pride. Yet, there were no panel discussions and no deliberate trans focus for this Pride.
A more overt form of trans erasure had taken place during London's Pride, where Trans Exclusionary Radical Feminists (TERFs) spoke out against trans women and the TERFs were even allowed to lead the London Pride Parade. This just made the situation here in Barbados more hurtful for me. This was where I saw the error in my decision to back off.
As I let June close, and July's parade date approached, I still fought with myself about whether or not to do anything about Pride Barbados. I considered organising a Trans Pride weekend in November for Transgender Awareness Week and Transgender Day of Remembrance (TDoR) on November 20, to make up for the lack of Trans representation in Pride this year.
As July wore on, the messages increased. Persons were asking me for details about the parade, so convinced were they that I was a member of the organising team, and oblivious to the fact that I had nothing to do with this round of Pride celebrations. I politely explained that I wasn't a part of the organising efforts and redirected them to the groups which were.
Then I got a message on Thursday, July 19, from an ally and friend, wanting to know if I was marching in the parade. I told him the same thing that I told everyone else, that I wasn't planning on going. He then asked, "So if you're not going, who am I gonna march with? Please don't let any issues with the organisations keep you at home!"
That was when I realised that I had to put myself aside. This ally made me understand that this was no longer about my frustration with being slighted by these organisations. It was about having to be resilient enough to continue to help the liberation movement. But before I could continue helping the trans community which was now being woefully left out, I had to do something for me. I had to reclaim my space as a trans woman in the LGBT community and make my presence felt.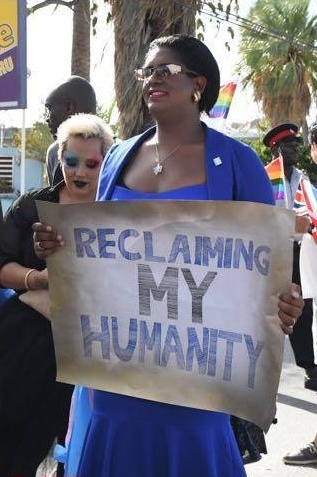 After some quick planning, I settled on an outfit, got what I needed for it and thought of banners. I ultimately decided to call on my admiration for [U.S. Congresswoman] Maxine Waters and her poignant, no-nonsense manner of dealing with being erased. So, I made a placard stating: "Reclaiming my humanity", adapting Maxine's famous phrase, "Reclaiming my time!"
I also attended the parade in a distinctive regal royal blue outfit from head to toe and, just as I planned, I caught everyone's attention. So much so that right before the parade started, one of the Pride organizers acknowledged my presence and then further commented that I had in fact organised and led the first Pride parade in Barbados.
I then walked proudly through the streets of Bridgetown. Nearly every media house wanted to interview me about why the parade was so important to me. I made no mention of my aforementioned troubles with the organisations but focused on why as a trans woman living in Barbados it was important that I took the opportunity to claim space and let the country see that, contrary to popular belief, trans people were not the mentally unstable, socially maladjusted creatures that religious leaders and local pop culture wish to portray us as.
Too often the efforts of trans people in the Pride movement are erased by cis-gendered members of the community, whether intentionally or otherwise. Just think of Marsha P. Johnson, who effectively started the Stonewall riot that preceded the first Pride. I was not prepared to let that happen in Barbados. I was saddened to note that there were only three trans persons in a parade of what I estimated to be 200 people. I know for a fact that there are more than enough trans men and women in Barbados that we could have had a decent chance at representation.
This is why we need persistent trans advocacy in our societies, including Barbados, because I know that the "T" is often added on as an afterthought to make advocacy groups appear to be sincerely diverse and inclusive when they are not. This must not be the case in Barbados. I will ensure that I represent my trans siblings in claiming our space in Pride and I hope that eventually more of them will have the courage to join me.
Alexa D. V. Hoffmann is a Barbadian trans advocate focused on breaking stereotypes and social limitations imposed upon trans persons in Barbados. Alexa is the founding director of Trans Advocacy & Agitation Barbados (TAAB) and a member of the Latin American and Caribbean Network of Trans Persons (RedLacTrans). In June, she and two other Barbadian activists launched a legal challenge against the nation's anti-sodomy law.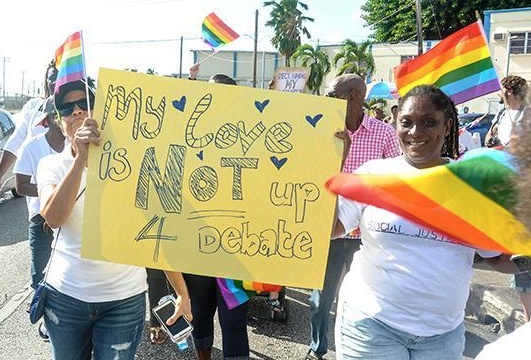 Related articles: