Bangladeshi gay community members gathered in London yesterday to protest the police failure to make any arrests or even publish a report on the 2016 murders of gay activists Xulhaz Mannan and Tonoy Mojumdar in Dhaka, Bangladesh.

Bangladeshi activist Riaz Osmani writes:
It's been two years since a prominent gay rights activist Xulhaz and gay cultural activist Tonoy were brutally murdered in Bangladesh by Islamic militants.
The authorities in Bangladesh have been very slow to pursue the killers. Submission of a police report has been postponed 23 times already and there has been no headway. We want justice for the murders of our friends.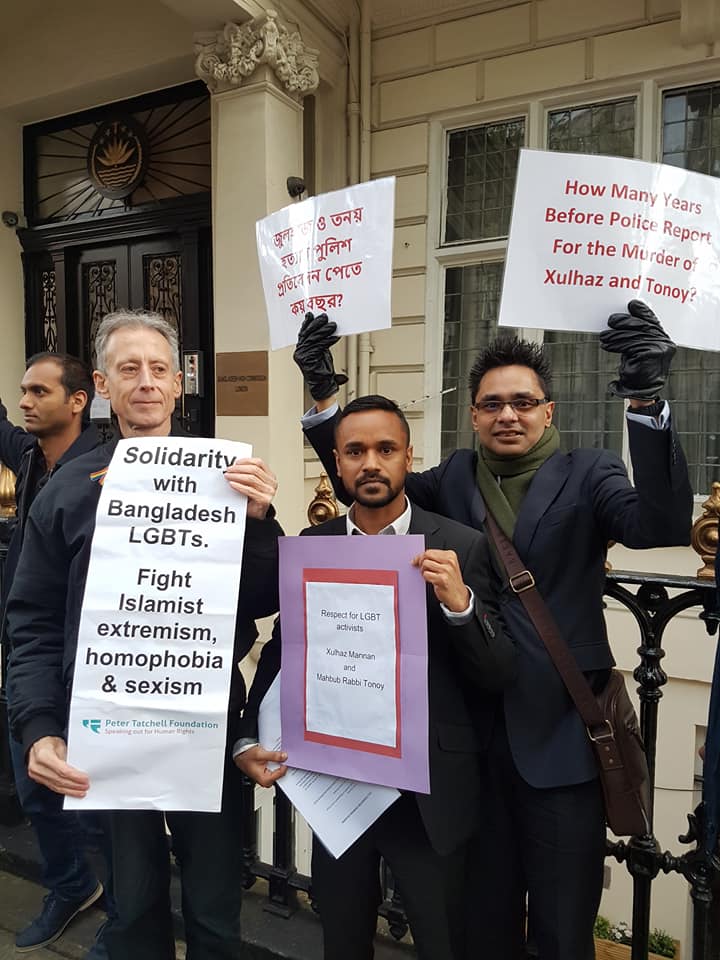 Members from the Bangladeshi gay community in London held a peaceful protest rally in front the Bangladesh High Commission in London this evening. A letter was handed over to the office. The event was organized by a very close friend of Xulhaz called Mazharul Islam. It was attended by UK's famous gay rights and human rights activist Peter Tatchell, who gave a speech at the end.
Special thanks to Mazharul for organizing the event and, when Peter gets involved, things happen. It was wonderful to see so many members of the Bangladeshi gay community in London assemble together.
There were members from the English and other communities as well. We hope that the Bangladesh High Commission and indeed the Bangladesh government will take notice and the police administration will be shamed into giving the matter due importance.
Related articles:
Family forced him to marry; he chose death instead (September 2017, 76crimes.com)
Bangladeshi repression leaves LGBT community reeling (May 2017, 76crimes.com)
Bangladesh, repeal our repressive anti-LGBTI law (September 2016, 76crimes.com)
Two LGBT activists murdered in Bangladesh (April 2016, 76crimes.com)
Bangladesh: Man held over murders of LGBT activists (May 2016, BBC)
First third-gender person seeks Bangladesh public office (December 2015, 76crimes.com)
Anti-gay Bangladesh protests target Nobel Prize winner  (December 2014, 76crimes.com)
Bangladesh newspaper urges repeal of anti-gay law  (August 2013, 76crimes.com)
Bangladesh: Lesbian couple arrested, risks life in jail   (July 2013, 76crimes.com)
Archive of this blog's articles about Bangladesh