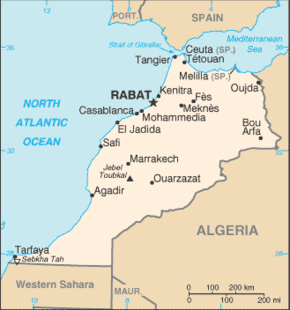 Police in Sidi Ali Ben Hamdouch, in the Meknès region of Morocco, recently arrested three men on charges of homosexuality and wearing "clothes that resemble those of women."
Activists at the Akaliyat collective, which combats discrimination against sexual and religious minorities, denounced the arrests. Witnesses at the scene said there was "no reason" for the men to be arrested.
"They were arrested on the street while they were walking during the religious festival that Sidi Ali Ben Hamdouch organizes every year to celebrate Aid Al Mawlid," the collective stated. "They had rented a room  like most visitors. They did not behave contrary to public decency or morals. Police arrested them for wearing clothes that were supposedly too feminine, labeling them homosexuals who deserve to be condemned.
Police also reportedly assaulted them verbally and physically in order to humiliate them in public before taking them to police custody. Akaliyat denounced this as an abuse of power.
Sources: Le Site Info, Infos LGBT
Related articles: