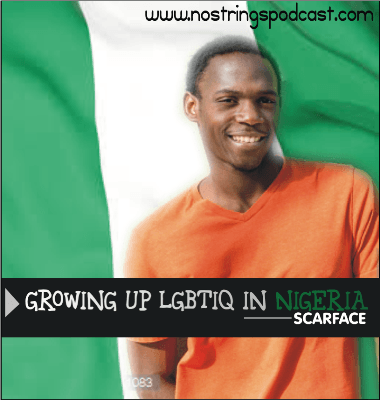 "When I first came out to my parents, they subjected me to a compulsory everyday prayer and fasting session," a young gay Nigerian tells the No Strings podcast. "After my coming out, my parents never looked at me the same way again."
He calls himself "Scarface," indicating that he has to be strong-willed to survive. Because of the dangers that LGBTIQ people face in Nigeria, neither his real name nor his real photo is used.
In reminiscing about his life before and after he outed himself to his family, Scarface talks with podcast host Mike Daemon about life, denial, and coping with the everyday challenges that come with being gay in Nigeria.
The discussion is contained in "My Life As A Gay Man In Nigeria – Scarface," the latest edition of the No Strings podcasts, which provide a voice for the LGBTIQ community in  Nigeria.
"Just to fit in, I had to change walk patterns for like a hundred times, and try really hard to muscle up, as I was so much of a girly dancer," Scarface recalls.
To hear his story, listen to "My Life As A Gay Man In Nigeria," which can be streamed or downloaded.
For this and future podcasts, visit the No Strings podcast website.
Related articles about No Strings podcasts: