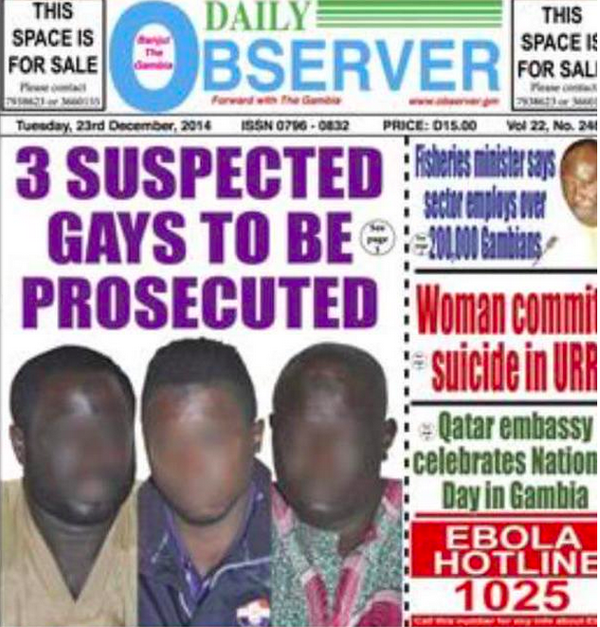 In the Gambia, three men have been acquitted after eight months in prison that followed their arrest in an anti-gay crackdown last November. The Washington Blade reports:
A Gambian court on Thursday acquitted three men who had been charged under the country's law against "aggravated homosexuality."
Fatou Camara, a journalist and President Yahya Jammeh's former press secretary who fled to the U.S. in 2013 after Gambian authorities accused her of seeking to undermine the government, broke the news on her Twitter page.
She told the Washington Blade that the three men who were held at a maximum-security prison in the Gambian capital of Banjul for nearly eight months had been released.
LGBT advocacy groups welcomed the men's acquittal and release, but noted widespread LGBT rights abuses continue to take place in Gambia. …
Jeff Smith of Robert F. Kennedy Human Rights told the Blade these "symbolic gestures in Gambia are certainly a welcome development." He stressed he nevertheless remains "highly dubious until real democratic reform and measures that respect basic human rights in the country are implemented."
"A good place to start would be with Gambia's anti-gay law, which criminalizes same-sex conduct between adults in violation of the rights to privacy and nondiscrimination for LGBT people," Smith told the Blade.
For more information, read the full Washington Blade article, "Gambian men charged under anti-gay law acquitted."
Last year, Amnesty International spoke out against the Gambian law on "aggravated homosexuality":
The new crime of "aggravated homosexuality," which carries punishments of up to life in prison, is part of a criminal code President Yahya Jammeh approved on October 9, 2014, documents uncovered in mid-November show.

Gambian President Yahya Jammeh at U.N. headquarters in New York in 2014 (Photo courtesy of amazonaws.com)

Among those who could be charged with "aggravated homosexuality" are "serial offenders" and people living with HIV who are deemed to be gay or lesbian.

Exactly what constitutes "homosexuality" or a "homosexual act" is not defined in Gambian law. That makes Gambia's criminalization of homosexual activity – which already violates international law – even more likely to be used broadly and arbitrarily.
Related articles