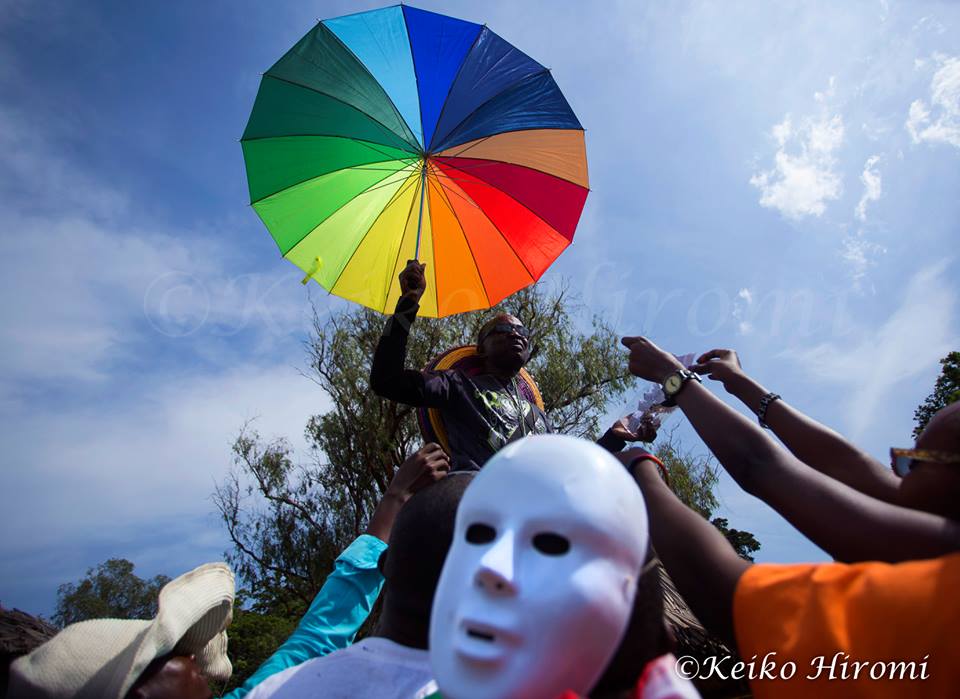 Spectrum Uganda Initiatives announces today the results of its online vote among Ugandans for outstanding individuals, events and projects in 2014.  
With all the difficulties in Uganda, it is heartening that Ugandan LGBTI and their allies would take the time to participate by the hundreds in this poll by Spectrum to recall and to celebrate the best among themselves.
Congratulations to Spectrum for organizing this poll and to all who took the time to vote and to all Ugandans who continue to struggle through these difficult times at home and in the diaspora.
Spectrum Uganda Initiatives announces the results of your voting.  Thanks to all the other nominees … and to the entire community for your sincere participation. All the best in 2015, until December next year, be blessed. ALUTA CONTI
NUA!
1. Most outstanding male activist – Frank Mugisha.
2. Most outstanding female activist – Kasha Nabagesera
3. Most outstanding trans-activists – Pepe Onziema
4. Outstanding organizations – Spectrum & Icebreakers
5. Freelance activist – Ambrosio Wazabanga
6. Outstanding community mobilizers – Brant Luswata  & Frank Kamya
7. Outstanding public figures – Adrian Jukko
8. Most inspiring – Dr Stella Nyanzi
9. Upcoming strong activists – Zak Skats & Richard Lusimbo
10. Most active social media activist – Frank Mugisha
11. Most active social media pages/groups – Spectrum Uganda
12. Outstanding 2014 community project – Economic empowerment by YRF – Youth on Rock Foundation
13. Most successful event – Pride 2014
14. Incredible partners – HRAPF –  Human Rights Awareness and Promotion Forum
15. Outstanding service providers – Marpi Mulago & HRAPF – Human Rights Awareness and Promotion Forum
16. Outstanding entertainment group – TUK –  Talented Ugandan Kuchus
17. Outstanding hangouts – Ram bar
18. Most social activist –  Frank Kamya
19. Most outstanding moment – Pride 2014
20. Outstanding campaign – Launch of Bombastic Magazine
21 . Outstanding diaspora supporter – Melanie Nathan
Within minute of the announcement, activist Ambrosio Wazabanga Barigye posted the following message:
Thank you to all those who voted for me and recognised my work for the Ugandan LGBTI community. I pledge to continue doing what I do best come 2015; we shall not stop until they stop.  Its been an amazing period seeing community members participate socially in this campaign as they voted for their favourite activists of the year in Uganda.  Happy New Year!
Spectrum is a practical initiative that provides lifesaving health services to LGBTI Ugandans living with HIV/aids. It currently serves over 500 clients with prevention, treatment, care, and support services.
Last year, the Foundation for AIDS Research (amfAR) recognized Spectrum's important work with a GMT Initiative Grant Award. In 2012 it participated in the award-winning documentary, Call Me Kuchu, that explores the hardships and courage of the Ugandan LGBTI community.
Click here to see all of our articles on Uganda at 76Crimes.com
Related articles