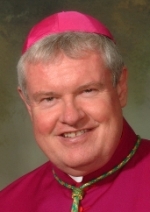 Kenyans should not discriminate against homosexuals, should be respectful to them, and should grant them dignity and human rights, says Archbishop Charles Daniel Balvo, the Pope's respresentative to Kenya.
AllAfrica.com reported:
Speaking after commissioning a Sh400 million [US$4.6 million] pastoral centre at the Embu Catholic Cathedral in Embu town, Balvo said the Catholic Church does not approve of homosexuality but it recognises the dignity of every individual.

"The homosexuals should be defended against violation of their dignity and human rights, they are human beings like anyone of us," he said. …

His remarks came in the wake of a call by the Amnesty International to the US President Barack Obama to use his ongoing trip to Africa to speak against threats to gays and lesbians which are reported to have reached alarming levels in Africa.
Sexual relations between men in Kenya is punishable by up to 14 years in prison, but that law is rarely enforced.
Balvo is new to the position of Papal Nuncio to Kenya.  At last month's ceremony where Kenya President Uhuru Kenyatta welcomed him and other ambassadors, Balvo said, "Mr. President, as you strive to improve the lives of the people of Kenya, you can count on the generosity of the Catholic Church, to help the sick, the orphans, the homeless and all those who live on the margins of society, in order to make that same society more humane and just."
For more information, see the full AllAfrica.com article: Kenya: Pope's Envoy Champions Gays and Lebians Rights.
Related articles