Gay travelers, beware of St. Vincent and the Grenadines.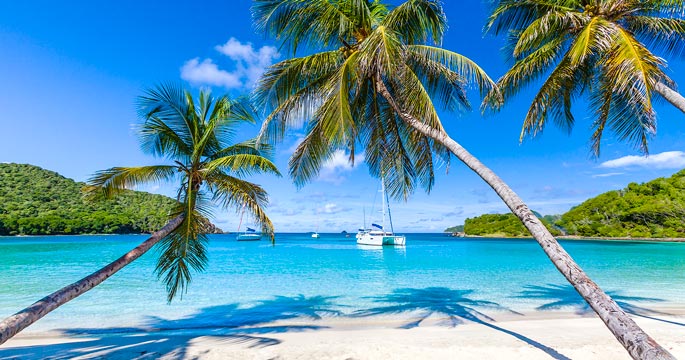 By Patricia Weaver
St. Vincent and the Grenadines (SVG) is a tiny Eastern Caribbean nation composed of 32 islands and cays sandwiched between St. Lucia to the north and Grenada to the south.
Ever since the opening of the country's new international airport in 2017 on the mainland, St. Vincent Island, the present government has undertaken a mass-marketing campaign to promote tourism to bolster its economy.
While the present administration is working feverishly to lure foreign tourists to its shores, the country's entrenched homophobia has exploded with the news that two gay Vincentian men who fled overseas to avoid further victimization have challenged SVG's outdated sodomy and gross indecency laws.
Section 146 of the SVG Criminal Code states:
"Any person who commits buggery with any other person; commits buggery with an animal; or permits any person to commit buggery with him or her; is guilty of an offence and liable to imprisonment for ten years."
Section 148 of the Criminal Code states:
"Any person, who in public or private, commits an act of gross indecency with another person of the same sex, or procures or attempts to procure another person of the same sex to commit an act of gross indecency with him or her, is guilty of an offence and liable to imprisonment for five years."
Vincentians both at home and abroad quickly began thumping their Bibles on social media to ensure their disgusted indignation was spread far and wide. On the Facebook page for iWitness News, the article about the lawsuit generated hundreds of comments, nearly all demanding that these two laws not be changed, citing biblical passages to support their self-righteous indignation. (NOTE: "buller," refers to a man who engages in anal intercourse while "batty" refers to a person's buttocks.)
Typical comments, often written in the semi-literate vernacular, were:
"this is abomination please turn from ur wicked ways"

"Fire burn you sick fk.. you all want death"

"If they don't like our rules here don't come, simple"

"This is disgusting, and all who hugging up this wickedness is worst than those sinful men, this will bring a blight on our country"

"Them buller boys really sick yes. They want lighting on fire"

"Even if the law change WE WILL STOP ACCEPTING ALYO and many of you will get ostracized by your family members and eight thinking people."

"It's obvious there is a homosexual agenda going on. It is one way of culling the population."

"We don't want no batty man here"

"They both are an abomination to the Most high they need to repent. They fighting for gay right they lucky it's not back then where you were put to dead for such abomination. An all those who pretend to turn a blind eye there is also a judgment for you too talking bout every citizen has a right…".
On the surface, one might think that such comments which amount to nothing less than hate speech would have no place in a civilized society and would have quickly been removed. But not only is such vitriol condoned in little SVG, it is celebrated far and wide among the populace most of whom would even damn anyone who said otherwise as themselves being a "batty man."
Hellfire and brimstone
Leading the anti-homosexual crusade are the country's established religious denominations, especially the Protestant faiths whose clergy routinely preach hellfire and brimstone for all "bullas" while urging lawmakers "to do the right thing" by renouncing gay rights and gay marriage.
Asbert News Network SVG writes:
"Pastor Brian Turtin of the Mt Sinai Spiritual Baptist Church of God has made it quite clear that he is sticking to the Holy Bible and will not be supporting any gay marriage and is therefore asking Almighty God to speak to the hearts of parliamentarians in St Vincent and the Grenadines that they will not pass any law permitting gay marriages."

"Be a real man", "don't bring your nastiness in the church," "We like to find excuse for nastiness," and "Fire! I will curse them!" are some of the remarks he made.
The entire story can be read here [when the website's server is working].
Despite the legal protections enshrined in SVG's 1979 constitution, separation between church and state is a concept more honoured in the breach than the observance; Christian beliefs trump human rights every time.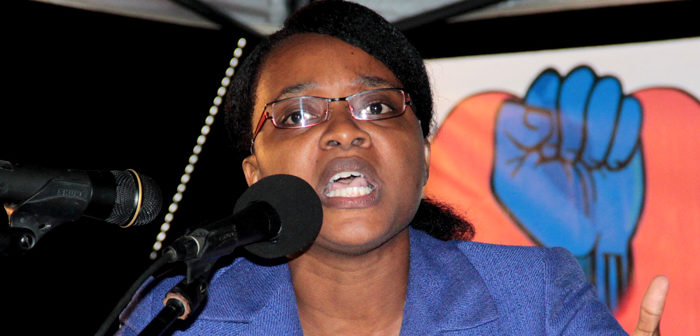 Politicians and public figures, too, have added their own brand of venom to the mix. Well known pseudo-science peddler, religious zealot and extreme homophobe, Anesia Baptiste, leader of the Democratic Republic Party (DRP) was interviewed on national radio recently, and according to her 'logic', decriminalizing sodomy will only lead to pedophilia, bestiality, bigamy, and prostitution, among other debaucheries.
See the full story here.
This woman has been preaching against the 'evils' of homosexuality for years. Her Facebook page is replete with outrageous homophobic rants interspersed with religious quotes and anti-vaccination propaganda.
For example, she opines that:
"Don't legitimize Buggery. By its very act it makes its participants' walking cesspits, via feces in their blood. #sciencefacts", that: "Sodomy is a death sentence, both to the individual and to the human race. No government should legitimize it!" and that: "Contradiction-You don't even owe your existence to sodomite sex, yet fight to FORCE it on a people whose life it can't sustain."
Online she has argued against gay rights: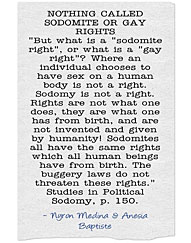 Political posturing
While the country's Prime Minister Dr. Ralph Gonsalves is somewhat sympathetic to the LGBTQ cause, especially given the country's election to a temporary seat on the United Nations Security Council, he has been disinclined to strike down this archaic law, arguing in the past that this is an issue that the churches should deal with and now that it is an issue for the courts decide.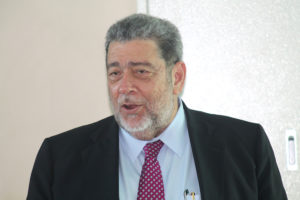 This is because, first and foremost, Dr. Gonsalves is a shrewd politician and knows full well that any support for gay rights would doom him come election time. Why rescind a colonial era law imposed by Great Britain where such archaic laws were removed years ago and antagonize the majority of the electorate when the courts can take the blame for whatever the legal outcome? The Leader of the Opposition, Dr. Godwin Friday, who, is also a Canadian citizen, a country which decriminalized homosexuality in 1969 and ruled same-sex marriage legal in 2005, also seems content to offload this task onto the courts on the same grounds.
Street violence
All the Vincentian anti-homosexual rhetoric goes well beyond moral posturing by a hateful and ignorant populace. Alas, in a country with a relatively high global violent crime rate, verbal outbursts are paralleled by physical attacks against gay males.
Recently, a teenager was not only attacked by two men because he was accused of "impersonating" a female, the authorities actually charged the victim with "fraud" because of said impersonating! Eventually, more rationale heads prevailed and the charge was dropped.
Once again, numerous haters shared their disdain on social media, not for the men who beat the teen, but for the victim who seemingly deserved the beating due to the "crime" of cross-dressing.
"I know nun my kids or nephew gone become a faggot 
Them things get put out his head early 
Them things is nastiness" 
Not bcuz alyo bullin openly y'all feel them things acceptable 
FIRE FI THAT"

"So why no body no charging the bullerman for impersonating a woman in hopes of deceiving a man out of his hard earned money 
He's not a girl 
He should have gotten more licks"

The case against the two men was unfortunately dropped due to the victim not showing up in court, most likely out of understandable fear.
https://www.iwnsvg.com/2019/04/25/teacher-entertainer-charged-with-assault-of-gay-teen
Elsewhere on the mainland, other cross-dressing men have not only been harassed on the streets by angry townsfolk, but kicked and attacked with batons. (See photos below; pictures courtesy Searchlight Newspaper 2018-09-07).

And, in another case, a man was stabbed simply for his alleged sexual orientation.
As mentioned, SVG is desperately trying to enhance its tiny mainland tourism industry. The question for prospective visitors is why support a country whose culture allows such overt bigotry? Boycotts work, and SVG should be avoided as a vacation spot given its archaic and bigoted laws and the massive public support of said laws.
So, when you see an advertisement from the SVG Tourism Authority promising you "The Caribbean you are Looking For," rest assured this only applies to those who do not identify as LGBTQ. If you are gay or support the most fundamental of gay rights – the right not to be victimized — spend your hard-earned vacation dollars where you are welcome.
The author of this commentary, "Patricia Weaver," is a Canadian retired public servant, animal rights activist and human rights activist who lives part-time in St. Vincent and the Grenadines and writes under a pseudonym for her safety.
Related articles: