Brunei's harsh anti-gay law took effect today, allowing death by stoning for same-sex intimacy and for adultery. You can join international efforts seeking to apply so much pressure on Brunei that it reverses course.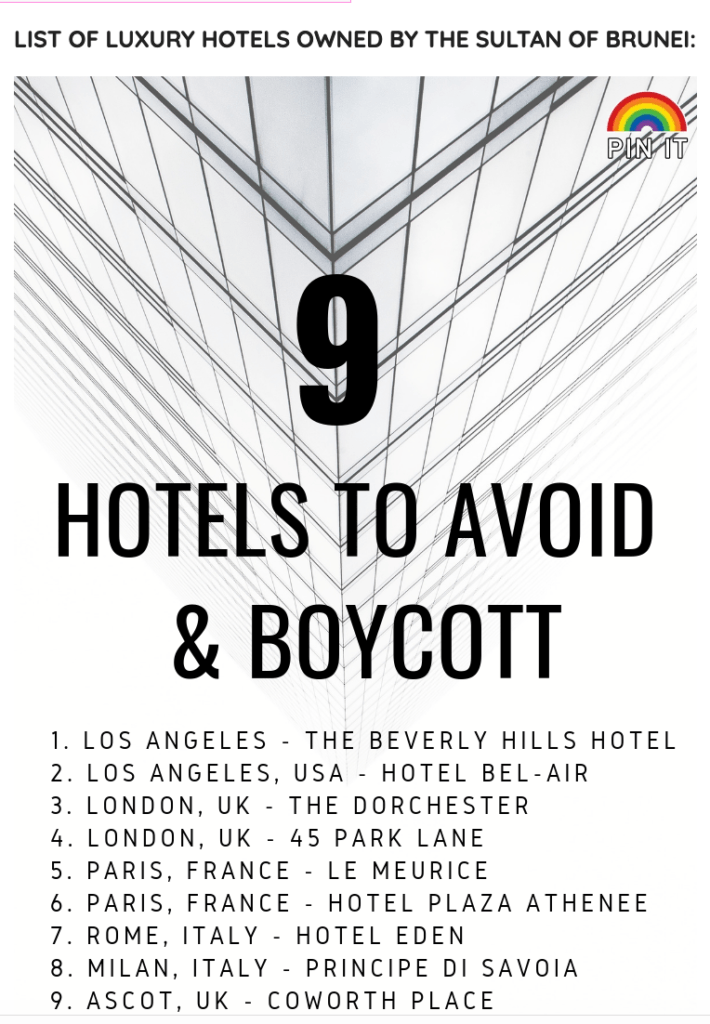 LGBTI rights activist Bruno Agar outlines some of the possibilities:
1. Protest in writing to the Sultan of Brunei
The country's top leader is Sultan Hassanal Bolkiah. Here are his addresses:
Mailing addresses:

Sultan Hassanal Bolkiah, Istana Nurul Iman, Jalan Tutong, Bandar Seri Begawan, BA1000, Brunei Darussalam
Jalan Perdana Menteri, Bandar Seri, Begawan BB3913, Negara Brunei Darussalam

E-mail Address: [email protected]
Official Website: http://www.pmo.gov.bn
Facebook Page: https://www.facebook.com/bnpmo
Twitter Account: https://twitter.com/brunei_pmo
2. Protest to Brunei's ambassador to your country
In the United States:
Ambassador Paduka Serbini Ali
3520 International Ct NW, Washington, DC 20008
Phone: 202 237 1838
E-mail: info@bruneiembassy.org

In the United Kingdom
High Commissioner His Excellency Dato Paduka Hj Mohd Aziyan Abdullah
His email: [email protected]
Brunei Darussalam High Commission, 19-20 Belgrave Square, Belgravia, London SW1X 8PG, UK
Phone: +44 20 7581 0521
High Commission's emails addresses: [email protected] and [email protected]
In France:
Ambassadeur de Brunei Datin Paduka Malai Halimah Yussof
Ambassade de Brunei en France
7 rue de Presbourg
75016 Paris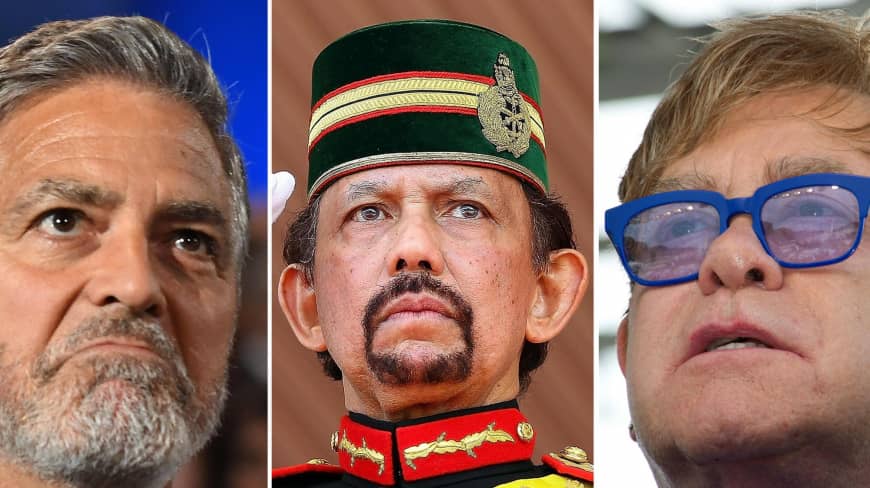 3. Boycott Brunei-owned hotels
Actor George Clooney has called for a boycott of nine high-end hotels — three in the UK, two in the US, two in France and two in Italy — owned by the Brunei Investment Agency.  Several other celebrities, including Elton John, Ellen DeGeneres and Jamie Lee Curtis, joined him in vowing to boycott the Brunei-owned hotels, which comprise a hotel group called The Dorchester Collection.
These are the hotels:
The Dorchester, London.
45 Park Lane, London.
Coworth Park, Ascot, U.K.
The Beverly Hills Hotel, Beverly Hills, California.
Hotel Bel-Air, Los Angeles, California.
Le Meurice, Paris.
Hotel Plaza Athenee, Paris.
Hotel Eden, Rome.
Hotel Principe di Savoia, Milan
See below for a discussion of whether boycotts are effective.
4. Protest in writing or by phone to the Brunei Investment Agency, which owns the hotels
This is its address:
Brunei Investment Agency:
12th floor, Ministry of Finance Building
Commonwealth Drive
Jalan Kebangsaan BB 3910
Negara Brunei Darussalam
Email address: [email protected]
Telephone:  +673 238 3535
Spread the word
That is the appeal by Ellen DeGeneres to her followers.
The website Out With Ryan suggests ways to spread the word:
Step 1: Please Boycott Brunei's hotels & share this article. We need as many people to boycott to signal to the Sultan we won't be silent.

Step 2: Call out influencers or celebrities who promote these hotels. They are influencing thousands of people to stay and probably being paid to promote with blood money.

Step 3: Contact your local MPs and get world leaders to speak up about this issue. Call on your country's representatives to speak up & take action.

Step 4: Donate to orgs helping LGBTQ people in danger. Rainbow Railroad is my #1 choice as they help LGBTQ refugees seek a better life in Canada.
In addition, readers have suggested in comments on this blog:
Campaign for Royal Brunei Airlines to be banned from your country's airspace, and revoke their landing rights at your airports. It's a wholly government-owned enterprise.
Brunei and other countries with the death penalty for homosexuality should be suspended from the U.N. and cut off completely from the international community until they cease to be cruel medieval nations. Disgusting. [Editor's note: That's not likely to occur as long as so many U.N. member nations have anti-homosexuality laws and at least four of them impose the death penalty.]
Excerpts from Boycott Organizer's Guide at Co-op America:
A nationwide survey found that business leaders consider boycotts to be more effective than other consumer techniques such as class action suits, letter writing campaigns, and lobbying. Because well-organized boycotts directly threaten sales, company leaders take them seriously (Friedman, 1991) (See Resources.) According to Todd Putnam, former editor of the now-defunct National Boycott News, "Boycotts used to take between five and ten years to get results, but now they take about two. That's because they're better organized and get more media attention: corporations recognize the damage potential much earlier."
A country or state's government may be involved in objectionable practices.
Suggested Approach: Boycott an industry or company crucial to that government. This is known as an indirect boycott. As a result, organizers hope the company will pressure the government into yielding to the boycotters' demands. The industry chosen for an indirect boycott should: have strong business and/or financial ties with the country or state government, understand activists' goals and businesses' potential in achieving them, and be able to exert substantial pressure on its government.
Example: In opposition to French nuclear testing, the International Peace Bureau called for a boycott of French products. The French wine industry was hit especially hard by the boycott because of its international popularity. According to Bruce Hall, coordinator for the Comprehensive Test Ban Clearinghouse, the boycott combined with the protests had a real impact: the number of tests were reduced by 25 percent. Additionally, French President Chirac committed to signing on to a Comprehensive Test Ban Treaty.
Organizing: Getting Institutional Support For Your Boycott
Solicit participation from large institutions. If your goal is to get broad support, large institutions can provide greater legitimacy for your effort – which will open doors to other endorsements, bigger constituent bases, and possibly more media coverage. Example: An on-going INFACT boycott has targeted Kraft Food products to protest the tobacco-promoting activities of parent company Philip Morris. The boycott has gained support from the American Medical Student Association, The United Methodist Church, and 200 other organizations and has been the subject of the documentary Making a Killing: Philip Morris, Kraft, and Global Tobacco Addiction.

Get endorsements from non-profit organizations. Ask them to notify their members of the boycott. Many larger organizations have endorsement committees to approve organizational support for boycotts.

Seek endorsements from institutional shareholders in the company. Check the company's ownership for progressive investors who may support your cause with a letter to the company. If you get support, consider launching a broader shareholder campaign on the issue.

Convince companies to "join" your boycott. Even if they don't announce their support, peer pressure from other companies can increase your boycott's impact immensely and help avoid the perception that your demands are radical and unreasonable.
Bruno Agar, Ph.D., is a member of the African Human Rights Media Network and lecturer at the University of Paris-Saclay Evry-Val-d'Essonne. His professional focus is on contemporary media issues, especially in the African context.
This article was revised April 4, 2019, to correct the account of Brunei's leadership.