In the Caribbean, anti-gay slurs are less acceptable than they used to be. A star West Indies cricketer learned that the hard way last month.
Umpires imposed a four-match suspension in mid-February on cricketer Shannon Gabriel of Trinidad and Tobago, playing for the West Indies team.
Gabriel later apologized for his words and accepted the suspension of four One-Day Internationals matches as his penalty for using abusive language.
He had taunted England captain Joe Root by asking him, "Do you like boys?"  To which Root replied, "Don't use it as an insult. There is nothing wrong with being gay."
In Gabriel's apologetic statement on Feb. 13, he said:
"I extend an unreserved apology for a comment which, in the context of on-the-field rivalry, I assumed was inoffensive picong [teasing] and sporting banter. I know now that it was offensive and for that I am deeply sorry."
He also described the context of the comment:
"The exchange occurred during a tense moment on the field. The pressure was on and [Root] was looking at me intensely as I prepared to bowl, which may have been the usual psychological strategy with which all Test cricketers are familiar.

"I recognise now that I was attempting to break through my own tension when I said to Joe Root: 'Why are you smiling? Do you like boys?'

"His response, which was picked up by the microphone was: 'Don't use it as an insult. There's nothing wrong with being gay.' "I then responded: 'I have no issues with that, but you should stop smiling at me.'"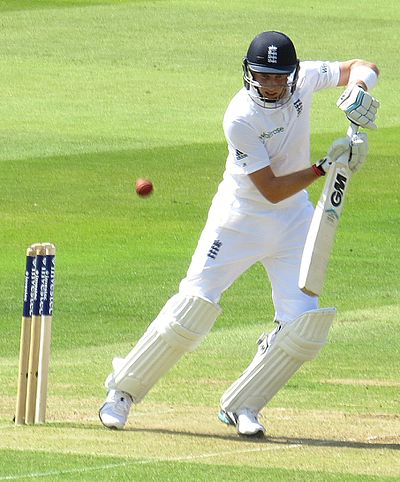 Root dismissed the seriousness of the offense, saying that Gabriel "is an emotional guy trying to do everything he can to win a Test match. Sometimes people say things on the field that they might regret, but they should stay on the field."
Many commentators praised Root for his quick, sensitive on-the-field  response to Gabriel.
In The Independent, sports editor Ed Malyon wrote a piece titled "Joe Root: By following his instinct to call out homophobic abuse, the England captain demonstrated the true power of the individual voice."  It begins, "Too often homophobia is allowed to live and breathe within sport, but the England cricket captain has proven a beacon of hope that can inspire others to follow suit."
He contrasted Root's response to widespread homophobic slurs shouted by fans of football/soccer, which FIFA, its governing body, has attempted to curtail:
Fifa punished international football associations for 51 separate homophobic offences. 11 of those went to Mexico, whose fans steadfastly refuse to relent in their usage of puto (a derogatory term for a male prostitute, in this instance) as an insult to opposition players. They were even fined during the last World Cup, global football's biggest stage, for the repeated use of the insult – even if that fine was a paltry £7,615. Their federation would almost make that money back in the time it takes for the song to flare up and die down again

In a tiring if not unsurprising twist, Fifa's reprimands to Mexico have only served to increase the popularity of the chant in some quarters, culminating in the utterly galling night in Los Angeles when Major League Soccer's LA Galaxy were putting on a 'Pride Night' to celebrate the LGBT community during a game against FC Dallas, only for the evening to be tarnished by a slew of homophobic chants from the home supporters.
Malyon added about Root's words:
"This incident should help inspire other sportsmen and women to call out homophobia when they see, hear and feel it on the field. …

"We can stand up to people and we can educate them. Education will always be far more effective than humiliation, the preferred path of the social media mob.

"And the lessons learned from Root's few seconds of televised courage, caught by stump microphones, translate across all types of prejudice. A fitting reminder, at a time when sport most needed it, that we can all have our own influence on the world if we have the courage to be bold."