On Transgender Day of Remembrance, Barbadian activist Alexa Hoffmann mourned the rising rate of trans murders and recalled her own brush with death.

By Alexa Hoffmann
On the evening of Tuesday, November 20, 2018, I held the first candlelight vigil in Barbados for Trans and Gender Non-Conforming lives lost to transphobic and gender-based violence globally during the period October 1, 2017, to September 30, 2018.
This was the second demonstration for Transgender Day of Remembrance (TDoR) in the country, the first being a Flash Stand for Equality and Inclusion dedicated to Trans persons, which was held on the afternoon of Friday, November 24, 2017 as one of the launching activities of the first official Barbados Pride.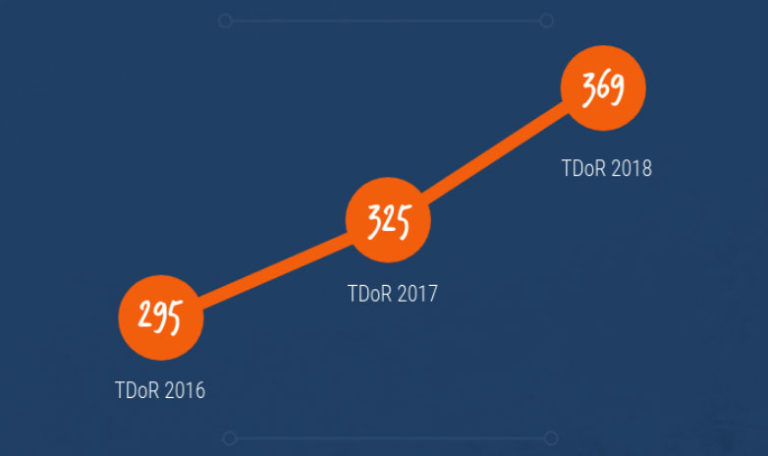 In 2017, the number of Gender Non-Conforming (GNC) and Trans lives lost stood at 325. This year, the number jumped to a horrifying 369, and was even said to be as high as 418 in some cases.
However, I knew very well that the figures were much higher due to circumstances such as a general lack of information on those lost, as well as mis-gendering Trans women as merely cross-dressers (as was initially reported in the case of Trinidadian Trans advocate Sasha Fierce when she was murdered in November 2017) or Trans men as "butch" or "stud" lesbians. The tally of Trans murders over a ten-year period, from 2008 to 2018 stood at 2,982, with a whopping majority, more than 2,000, occurred in Central and South America including the Caribbean.
During the launch of Barbados Pride 2017, I opined in a speech that given the close proximity of the Caribbean region to Central and South America, with some of our countries actually being located on the continental mass, it was without a doubt that the rhetoric fomenting this deadly transphobia can easily spread to the islands in a matter of time and with a very similar ratio. I based this opinion on the fact that in Jamaica dancehall music which targets gay men with horrendous violence (usually making references to shooting and setting them on fire) not only became popular there, but very quickly spread and took root in other Caribbean territories.
My own country of Barbados seems to pride itself on a culture where this music is casually played at fetes and even on public transportation, and the only attempts to monitor how it is played is to lower the volume to avoid noise complaints and reports (citations) from the police. The added issue of "buggery" and "serious indecency" laws in many of these territories bolster and cement the hostile attitudes towards not only gay men and lesbians, but Trans persons as well, especially Trans women, who are viewed as flamboyant gay men who "don't know where to draw the line on their effeminacy."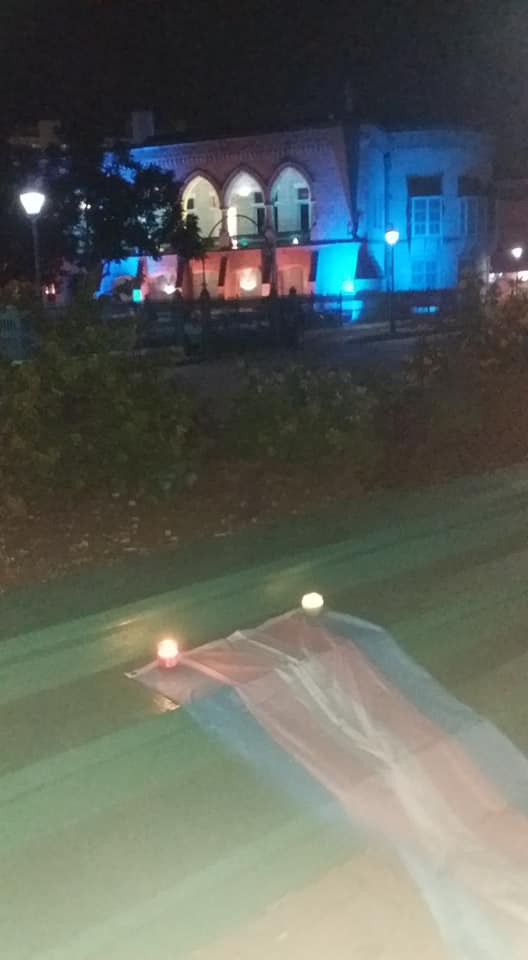 Much of my advocacy has been geared towards fighting back against this hateful narrative that I and other Trans women face and pushing to change the laws to include all of us in mainstream society. I also educate the populace about the damage which these laws and the current pop culture are causing. In the days leading up to TDoR, I made a Facebook post where I outlined the Trans and gender non-conforming (GNC) death tolls between 2012, when I first became aware of TDoR and the lists of names, up to this year. I not only outlined the numbers for each year, but the ages of the youngest and oldest victims.
It churned my stomach to know that in 2012, an 8-year-old child was beaten to death by their father, because he wanted them to behave in a more masculine fashion. An 8-year-old child, who enjoyed dancing and doing dishes, and appeared to have a happy life with other relatives before moving to live with their father, was deemed no longer worthy of living just because they didn't fit their father's idea of how they should be. It also disturbed me to know that recently, a 14-year-old Trans teenager had a sexual encounter on the beach with a man, and as soon as they were finished, he beat her about the head and drowned her, leaving her body there.
I felt it especially important to take a stand for those lost to transphobia, because the circumstances of those two deaths and many others were not far removed from the rhetoric in Barbados.
Here, supposedly loving "Christian" parents speak of severely beating their male children if they were ever found to be playing with dolls or dressing in ladies' attire, and men on the block loudly tease one another when a Trans woman passes, joking that one of the men should entertain a relationship with her, only to have that man hurl a vociferous tirade laden with murderous homophobic and transphobic slurs at her, all the while feeding the raucous laughter of his friends.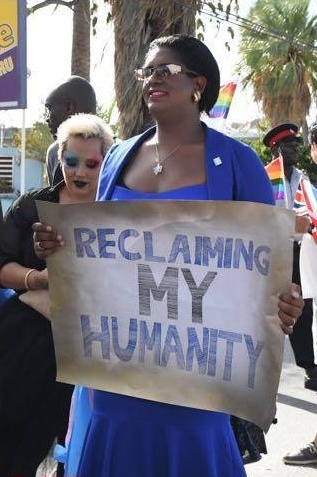 It was even more important that I took a stand for myself, as I very nearly found my name being added to the 2018 List of Names when in February I came literally face to face with a meat cleaver wielded by a former lodger. I now look back at photos showing a long cut along my neck, a scar on my shoulder, and another one just above the left eye, which was saved only by my glasses taking the cut. The night that attack happened, I saw just how scared my brothers and sisters may have been the moment their attackers either pointed a gun at them, picked up a wooden beam or bat, doused them with a caustic or flammable substance, or simply rushed up to them in a group with balled fists.
So I made the decision to make a brief call to action. I posted again on Facebook that I wanted to hold either a Flash Stand at high noon on Tuesday the 20th, or a candlelight vigil just after sunset that same evening. I then went about the usual procedure that I relied upon to assemble a Flash Stand. I made an event page, invited as many of my friends whom I believed would either be available or may know someone who could avail themselves, and posted occasionally to let them know that (A) I was serious about the event, and (B) I expected to see them when the appointed time came.
I invited a good friend and veteran Trans advocate Didi Winston, who is well known in Barbados' cultural and entertainment circles, as well as Nalita Gajadhar, feminist advocate and face of the National Organisation for Women (NOW), a feminist organisation which speaks out against Gender-based violence, particularly intimate partner violence.
I even invited an allied friend, Troy, who shortly after my attack offered his support to make sure that I would be safe from potential reprisal attacks. I had invited a number of others, however when I turned up at the venue, a park and garden area opposite the Parliament Buildings in Bridgetown, It was only Troy, followed by Didi, then Nalita and a fourth young man whose identity I'll withhold for his safety.
I brought four candles, one for every hundred Trans women or part thereof who were killed in the last year, and two Trans pride flags. The idea was to simply light the candles, and take a few moments in silence to reflect on those lost, then to pack up and go back home.
We had our moment of silence, but rather than leave immediately, we found ourselves seated on a long stoop and chatting about various issues affecting Trans people in Barbados, including the challenges which Trans women face in pursuing relationships.
We even had a moment that touched all of us as one of the individuals got up and admitted out of the blue that years ago, they had a hostile view towards LGBT persons, but after visiting another country and interacting with LGBT people there, and seeing the unbiased love and hospitality they showed them, they resolved to do better and to be more kind and accepting.
A vigil that was only to last 30 minutes wound up lasting an hour and 30 minutes. At the end, as I gently blew out the candles which hadn't already been blown out by the wind and wished my fallen siblings a peaceful slumber, I thought of the confession which was earlier made, and reflected on how it's realisations such as the one they came to many years ago that are the reason why I advocate so earnestly in Barbados and the wider Caribbean.
If only more people came to realise that we're no different to the average Joe or Jane in society, then we'd see a society which held less harm, hostility and death for myself and all those whom we've lost over the years.
My heart still thinks of that 8-year-old in Brazil who met their end six years ago. They remind me of myself when I was that age. I want to live for them so that there will no more senseless deaths.
Alexa D. V. Hoffmann is a Barbadian trans advocate focused on breaking stereotypes and social limitations imposed upon trans persons in Barbados. Alexa is the founding director of Trans Advocacy & Agitation Barbados (TAAB) and a member of the Latin American and Caribbean Network of Trans Persons (RedLacTrans). In June, she and two other Barbadian activists launched a legal challenge against the nation's anti-sodomy law.
Related articles: