Celebrity activist threatens to sue Nigerian gay blog
Anglo-Nigerian celebrity gay activist Bisi Alimi has vowed to sue a Nigerian blogger for publishing and refusing to delete readers' claims that Alimi was a pimp and a producer of a sex video involving underage boys.
The decision to sue came after readers of the Nigerian gay blog KitoDiaries.com submitted comments on blog posts in which they accused Alimi of exploiting gay boys as a pimp and porn producer while he was still in Nigeria before his departure to the U.K to seek asylum.
Alimi strongly denied the accusations. He said that his attorney has written to the owner of the blog, whom he identified as Walter Ude, instructing him to take down the comments, publish a rebuttal, pay damages and reimburse Alimi for his legal fees. Alimi's post can be found HERE.
Alimi stated that the blog owner "in refusing to delete the post and the comments and with the fact that there is no disclaimer on the website, has single handedly endorsed comments on his platform that are not true. His refusal to take down the post is another act of libel and violence."
Ude responded through his own lawyer, whose statement suggested that Ude isn't the owner of the blog. He demanded that Alimi take down his client's photos, which Alimi had initially published on his Facebook page, and issue an apology or risk legal actions.
This is not the first time that Alimi has been entangled in feuds with members of the Nigerian LGBT community.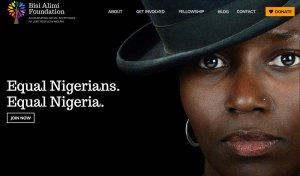 A few months ago, Alimi's style of activism came under scrutiny from members of the Nigerian gay community who were outraged after he made a controversial post about how he doesn't care about gay Nigerians but himself only.
Following that post, he was also accused of taking funds for his personal use that were meant to be used by his foundation to benefit gay Nigerians. Alimi's detractors say that the Bisi Alimi Foundation hasn't done anything to improve the lives of LGBT persons in Nigeria.
Source: Rights Africa
Related articles:
Nigerians take to the streets to protest LGBTI killings (May 2018, 76crimes.com) ("The protest against anti-LGBTI violence was organized by a group of Nigerians working with the London-based Bisi Alimi Foundation, which one-time Nigerian TV personality Bisi Alimi established to work for justice for LGBT people after he was forced into exile for coming out as gay on Nigerian television in 2004.")
International appeals seek release of 42 in Nigeria (August 2017, 76crimes.com) ("An international outcry has greeted the July 30 arrest of 42 men on homosexuality charges as they partied at an anti-AIDS meeting near Lagos, Nigeria, that offered HIV counseling and testing. Nigerian LGBTI rights activist Bisi Alimi, currently living in London, stated via All-Out: 'Today, my heart is breaking as I watch from the UK what is happening in Nigeria. 42 of my gay brothers have been arrested. They're facing up to 14 years in prison under Nigeria's extreme anti-gay laws. … Join me in demanding that all charges against these 42 men are dropped.' ")
3 of every 4 LGBT Nigerians have been abused, survey says (January 2017, 76crimes.com) ("Nearly three-quarters of LGBT Nigerians say they have suffered abuse because of their sexual orientation or gender identity. Most did not report the abuse, whether out of shame, fear of reprisal or a belief that no one would help.  Those are some of the findings of a new survey conducted by the Bisi Alimi Foundation.")