A group of 700 or more Iranian refugees who are stranded in Turkey are seeking international recognition and relief. Their latest plan: An international Twitter storm tomorrow, June 17, at 12:30 pm Eastern Time in the U.S., 4;30 p.m. London time, and 9 p.m. Iran time.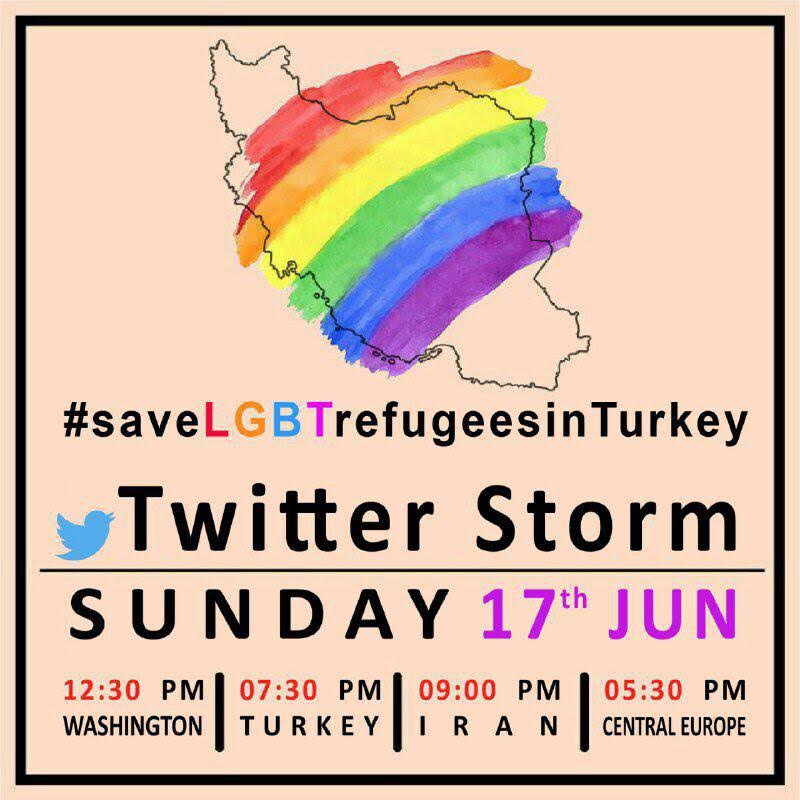 Supporters are asked to use the hashtag #SaveLGBTRefugeesInTurkey.
The refugees are also seeking signatures on their online petition to Canadian Prime Minister Justin Trudeau and other world leaders, asking for immediate asylum. The petition, which currently has more than 1,400 signatures, asks countries to "urgently start interviewing and processing the abandoned Iranian LGBT refugees in Turkey and bring them to safety as soon as possible."
For more information about Iranian LGBT asylum seekers in Turkey, read the text of that petition, including statements such as:
They are forced to get employed in the black-market, where the LGBTI individuals are subject to abuse, sexual harassment, exploitation, and then, large amounts of fines that they have to pay to the police authorities for working underground. When found doing under the table jobs, many have been jailed and some have faced deportation by Turkish immigration and police, which is against the UN convention refugee act.

Anonymous participants in Iran's Pride celebration in 2010.

Unlike other refugees from Iran and other countries who are welcomed into the satellite cities and its job market, the LGBTI refugees are isolated and are shunned from the job market. The LGBTI individuals are considered untouchable and dirty for the Muslim community that believe if touched by the LGBT, their money would become Haram (ill-gotten)….

Many of us are educated, skilled and creative men and women, struggling to survive in Turkey, but our lives are being wasted here. Please give us a chance to live whatever is left of our lives in peace and dignity in a safe environment where waking up every day wouldn't be a nightmare. We did not leave our countries to come and live here in these conditions endlessly, nor did we leave in the greed of going to a western country. We were compelled to do so just because of the persecution we faced in our own country.
Also read The New Yorker's "The L.G.B.T. Refugees in Turkey Who Refuse to Be Forgotten". These are excerpts from that article:
Ali [an activist LGBT Iranian refugee] estimates that between seven and eight hundred L.G.B.T. refugees are now stuck in Turkey without the prospect of resettlement. Most of them are from Iran, with some from Iraq, Afghanistan, and other countries in the Middle East. Over the past couple of years, as their hopes of finding a home in the world have dwindled, their life in Turkey has grown harder.

Ali was careful to again acknowledge that things are hard for all refugees—all of them have to fend for themselves; all face ever-increasing bureaucratic hurdles to securing work permits; all face increasing impatience, and sometimes hostility, from local residents. Still, Ali said, "if we were from a war-torn country and we entered Turkey, we would be safe in Turkey because there is no war here. But we are fleeing homophobic and transphobic attacks, and we face them here."

Logo of the Office of the U.N. High Commissioner for Refugees.

The U.N.H.C.R. assigns refugees to small towns in Turkey, where they are expected to stay as long as they are in the country; the Turkish authorities require them to check in weekly in their assigned town. Far from the thriving queer scene in Istanbul, small towns and cities in Turkey tend to be socially conservative, and have grown only more so during the country's recent political crackdown. Ali told me that, during the first ten days of June, five L.G.B.T. refugees were attacked in Yalova, a small coastal city on the Sea of Marmara where many of Istanbul's secular élite historically kept summer homes. One of the victims, a trans woman, had to be hospitalized for three days following a stabbing. This is not unusual, Ali said: "People are beaten up, raped, gang-raped." …

Earlier this month, a number of the L.G.B.T. refugees gathered to try to figure out what to do. "After losing hope for U.S. resettlement, we see that there is no option ahead of us," Ali said. "We decided to show our own desperation." This was no small decision. Under the provisions of the state of emergency that has been in effect in Turkey for nearly two years, protest is effectively banned. Refugees have every reason to fear being deported if they protest.

Such was their despair, however, that, on June 4th, several of the refugees went to the offices of the Association for Solidarity with Asylum Seekers and Migrants, a Turkish organization that is largely funded by the European Union, in two cities—Yalova and Denizli—and stood in silent protest. They held placards with summaries of their stories ("Gay refugee. 5 years. 60 months. 240 weeks. 1680 days. Still in Turkey. Future: uncertain!!!") and slogans ("We demand urgent resettlement of all LGBT refugees to a safe country!!"). More than two hundred of the refugees also signed a petition addressed to European, North American, and international officials. The online version of the petition is titled "Save LGBT refugees in Turkey who are abandoned in unsafe conditions for years with no help."

For all the courage the protest took, it received no media coverage. A few days later, Ali reached out to me. "We are requesting the world to help us reach to safety before its too late," he wrote.
 Related articles: 
Welcoming Passengers At US International Arrival Gates? You Miss People You Do Not Know! (January 2018, Buzzfeed Community)
These Are The LGBT Refugees Trapped By Donald Trump's Immigration Order (January 2018, Buzzfeed)
Iran: "It's a great honor to violate homosexuals' rights" (December 2017, 76crimes.com)
To avoid the army, gay Iranians must carry 'gay' ID cards (June 2016, 76crimes.com)
Iran pushes 'Islamic human rights' excluding LGBT people (July 2016, 76crimes.com)
Iran rejects U.N. plea to stop abuse of LGBTI youths  (February 2016, 76crimes.com)
Iranian Government evades the UN questions on LGBTI children (January 2016, 6rang.org)
Living Dangerously: What It's Like to Be Gay in Iran (December 2014, 76crimes.com)
New fund aims to help Iranian LGBT community (November 2014, 76crimes.com)
11 nations blast Iran's record on LGBTI rights (November 2014, 76crimes.com)
Iran's top judge denies executions for being gay (August 2014, 76crimes.com)