Police in Cameroon have refused to release two LGBT activists whom they detained on Saturday, July 27, as potential witnesses in the so-far-unsuccessful investigation of the murder of activist journalist Eric Lembembe.
Lembembe's former colleagues reported that Michel Engama, finance officer of Lembembe's activist organization, Camaids, was among those arrested. No charges were filed against him or another colleague who is being held at the police station, but police have so far refused an attorney's repeated appeals to release them.
Police arrested Engama and his colleague after a third man testified that they were with Lembembe at a Yaoundé nightspot on the evening of July 12 — the last day when Lembembe was seen alive. That third man was also detained over the weekend, but was released after he admitted that he had been drunk on the night he testified about.
Engama was one of the Camfaids activists who went to Lembembe's apartment on July 15 because they were worried about Lembembe's unexplained absence from Camfaids events. Dominique Menoga, president of Camfaids, said Engama called him on July 15 and asked what he should do about Lembembe's absence. Menoga told Engama to go to Lembembe's apartment.  When Engama and other colleagues got there, they looked through the window, saw Lembembe's tortured body on the bed, called police, and then accompanied police inside after they broke open the apartment's locked door.
An autopsy of Lembembe was reportedly completed July 26.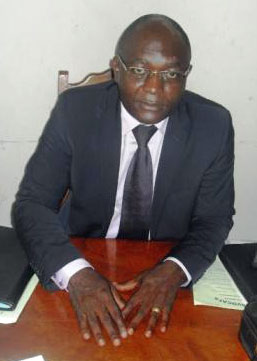 The activists are represented at the police station by an attorney associated with human rights defender Michel Togué.
While the activists were in custody, police searched their apartments and found condoms and lubricants.  Police concluded that these items were evidence of homosexual activity, which is punishable in Cameroon by up to five years in prison.  But the activists told them that the items had a different use: They are needed for educational programs sponsored by Camfaids to instruct people in Yaoundé on how to avoid becoming infected with HIV.
Human rights attorney Alice Nkom, who is representing Lembembe's family, said that police are trying find someone to blame for his death, "no matter whom."
Saskia Ditisheim, head of the Swiss branch of Lawyers Without Borders said, "Because the investigation was sloppy from the start, it will be very difficult to find Eric's murderers. Because of international pressure, there is a risk that the police will charge someone falsely in order to calm things down." Ditisheim is also representing the family.
The arrests could complicate the preparations for Lembembe's funeral, currently planned for Saturday, Aug. 3. Engama had been coordinating plans for the funeral with Lembembe's family. He had also been keeping track of funds for the funeral which donors throughout the world have been donating.
Cameroon is one of the most violently homophobic nations in the world. In addition to arrests and mob attacks on LGBT people, courts in Cameroon have convicted six people for homosexual conduct so far this year. Homosexual activity in Cameroon is punishable by up to five years in prison.
The homophobic murder of Lembembe brought world recognition of the hazards of seeking justice for LGBT people in Cameroon. The Cameroonian government has not condemned the murder, and Lembembe's lawyer complained that police did not care enough about the case to collect evidence from the scene of the crime.
Related articles