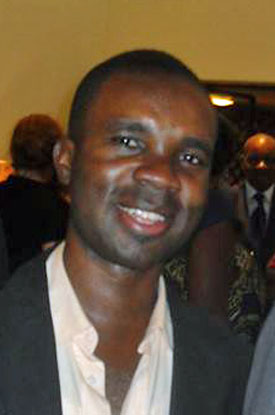 A revived police inquest into the murder of LGBT activist and journalist Eric Ohena Lembembe has delayed the scheduled date for his funeral until early August, his activist colleagues in Cameroon say.
Lembembe came from a poor family in Yaoundé, Cameroon, who cannot afford the expenses of a large funeral.
In his honor, many of his former colleagues hope to attend the event, so activists in Africa, Europe and North America are continuing to work together to raise money for it. (See details below of how to contribute.)
Police in Cameroon have apparently restarted an investigation into the murder, although it is unclear to what degree the police inquiries are aimed at finding his murderers instead of targeting homosexuals for possible violations of Cameroon's law against same-sex relations.  Activists reported that the case had been transferred to a different police station in Yaoundé and that they have been questioned about both Lembembe's sexual orientation and their own.
Last week human rights defender Alice Nkom and Lembembe's colleagues complained that police had not bothered to investigate the murder.
"Police took no photos, collected no evidence, and there has been no autopsy," one activist said.
Lembembe's friends and colleagues hope to raise $5,200 (2,600,000 CFA francs;  4,000 euros; 3,400 pounds) to cover the costs of the coffin, hearse, grave site and grave maintenance, grave clothes and morgue expenses, plus rental of tent and chairs for mourners. The finances are being handled by Lembembe's organization, the Cameroonian Foundation for AIDS (Camfaids), which works for health and rights of LGBT people.
Contributors can choose among several methods for sending donations:
By wire transfer.  Send the donation by MoneyGram or Western Union to Michel Louis Engama, the financial officer of Camfaids, in Yaoundé, Cameroon. Notify him by email of the transfer number and amount sent, so he can pick it up. Send the email to three addresses: camfaids@gmail.com, engamamichel@yahoo.fr and domston2004@yahoo.fr
By check, credit card (via telephone) or PayPal. Contributions to pay for the funeral will be accepted by the San Diego-based St. Paul's Foundation for International Reconciliation, which will transfer the funds to Camfaids.  On the Web page for these donations, designate them as contributions for Cameroon.
Related articles