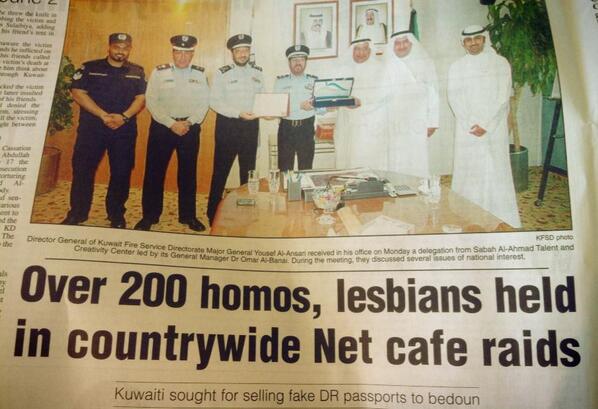 Kuwait's latest 215 arrests
The Atlantic Wire used the headline "Kuwaiti Police Sweep Cafes, Arrest 215 People for Being Gay" for its report:
215 gay men and lesbians were recently arrested in Kuwait after an intense investigation of "Internet cafes and suspicious places" across the country, The Kuwaiti Times reported early Tuesday morning. The newspaper, along with the U.S.-based Arab Times, cited another Kuwaiti Arab-language newspaper, Al-Anba, which reported the arrests earlier this week.
The news articles cited make clear that Kuwaiti police targeted gay-friendly locations, but also that the hundreds who were arrested were charged with a variety of offenses. It was not clear than anyone was arrested on a charge that could be described as "being gay."
Kuwaiti law provides for sentences of up to seven years for sexual intercourse between men.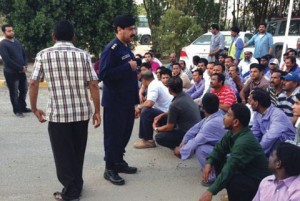 The Kuwait Times said that "215 homosexual boys and girls belonging to different nationalities" were "violators of residency law, drunkards, drug users, gamblers and people wanted in different criminal and civil cases." The photo accompanying that story (at right) was labeled "Illegals." Its headline was a relatively tame "215 arrested in crackdown."
The Arab Times reported, "A security source said 30 low rank officers took part in the campaign and some of the arrested persons are believed to be residence law violators and others wanted by law for committing petty crimes or on civil charges and yet others for gambling."  The headline was sensationalized: "Over 200 homos, lesbians held in countrywide Net cafe raids." (Photo at top.)
Kuwaiti law enforcement agencies often crack down on perceived immorality of many kinds, and Kuwaiti news outlets are eager to write about them.  Here is a sample of recent coverage in the Arab Times:
Securitymen arrest 30 illegals; 'domestic' held working in cafés
No. of cross-dressers and lesbians continues to rise in Kuwait
Immorality widespread in cafes; Egyptian lovers caught
Check on cafes, flats to prevent 'wild' parties
Cafe in Salmiya caught showing sex movies
Two homosexuals injure each other in brawl; Woman seduced
Scores taken into custody after cracking down on Internet cafés
Owner unaware as Salmiya cafe shut for showing porn
Many hurt as women groups fight in famous Salmiya cafe
'Gays' caught red-handed in car
8 cross dressers arrested; Wanted Pakistani held
Semi-naked 'homos' held
Campaigns target illegal Net cafés, int'l call providers
The Atlantic Wire commented on the latest incident:
With over two hundred people arrested, the raid appears to be largest in Kuwait in quite some time. A similar episode took place in May 2012, when 149 people identified by police as gay or transgender were arrested under suspicion of prostitution.

While the details so far remain thin, the arrests are far from unprecedented in Kuwait. The country's laws make homosexuality punishable with detention, and Kuwaiti police have a long history of investigating and jailing people thought to be gay. In early May Kuwaiti officials detained 10 gay teenagers for practicing "Satantic rituals," and in April police arrested dozens of transgender Kuwaiti citizens.
Related articles