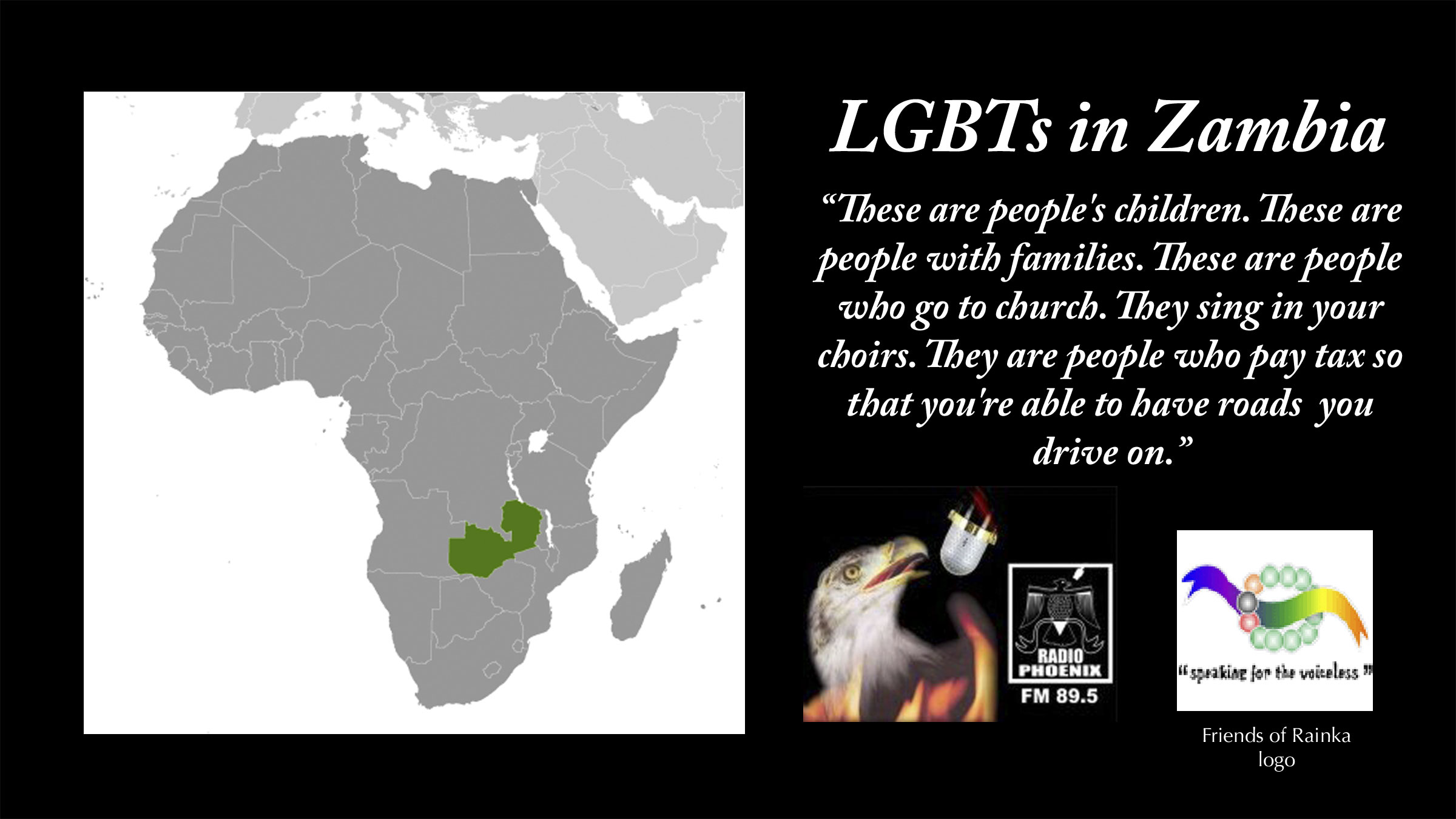 Seeking LGBT rights in Zambia
Speaking eloquently for LGBT people in Zambia, the executive director of the human rights group Friends of Rainka called in to a gay-bashing April 12 talk show on Radio Phoenix with these words:
"These are people's children that you're sitting there and talking about how the law should come down on them. These are people with families. These are people who go to church. They sing in your choirs. They are people who pay tax so that you're able to have roads that you drive on."
Her full remarks are available on YouTube. She did not identify herself because AIDS activist Paul Kasonkomona, the last person to speak up for gay rights during a Zambia broadcast, was arrested April 7 and detained for five days.
Her comments came during the show "Let the People Talk," which featured a panel discussion among interfaith religious leaders led by deposed former Orthodox bishop Edward Chomba. The panelists proposed an anti-homosexuality campaign, attacked European and American attitudes about human rights, and blamed the Zambian government for not taking a harder line against gays. An Islamic leader (name unknown) on the panel implied that gays should be killed:
Homosexuality is a serious issue. When you look in the scriptures, it attracts a great punishment — something like death.

I would narrate here one of the prophetic narrations of the prophet Mohammed (may peace and blessings of God be upon him) … that the one who is doing and the one who is done … all of them are to be killed.
In response to that statement and panelists' earlier remarks, the executive director of Rainka called in and said:
Friends of Rainka logo

I am a bit concerned with some of the comments that are coming from some of the men of the cloth who are sitting on that panel, you know? The first thing I want to raise is that, when you look at the Universal Declaration of Human Rights, it states in Article 1 that all human beings are born free and equal in dignity and rights. They are endowed with reason and conscience and should act toward one another in the spirit of brotherhood. Some of the comments that the men of the cloth are making on that show are very alarming to a point that they may end up inciting violence against homosexuals.

Constitutional guarantees

When you look at Zambia, under the Zambian Constitution, It is clear under Article 23 of the Constitution, which states, "no law shall make any provision that is discriminatory either of itself or in its effects. And no person shall be treated in a discriminatory manner by any person acting by virtue of any written law or in the performance in the functions of any public office or any public authority."

Those people sitting on that bench are people who are holding public offices, because they are religious leaders. And if religious leaders can speak so violently against a marginalized population, then it really poses the question of where we are going in this country, you know?

Guarantees from the African Charter

When you look at Zambia …. Zambia in itself, like many African countries, has affirmed its respect of the right to equality and dignity of all people through the ratification of the African Charter on Human and Peoples' Rights. (Might I add, this is the African Charter, not the European Charter or the American Charter.)

It states, "Every individual shall be entitled to the enjoyment of the rights and freedom guaranteed in the present charter, without distinction of any kind." It also guarantees the unquestioned and inalienable rights to self-determination.

Now, if you are telling me today that a Zambian LGBT person cannot self-determine themselves because of what the Bible says or because of what the Quran says, then it begs the question of who are we as Zambia? Should Zambia be guided by biblical principles, or is Zambia a state that is separate from religious views. It should come back to the Bible. Since we are discussing Christianity, the preamble to the Zambian Constitution states that Zambia is a Christian nation.

'Love one another'

And, as Christians, as most the people on the panel are, you are supposed to love one another. You are supposed to act to toward one another in the spirit of brotherhood. Given the realities of discrimination and oppression with which Zambia has historically grappled, we have faced colonialism, where people used to discriminate based on the fact that you are black, and those people were acting within the confines of the law.

And today you have people sitting on that panel saying, no, but the law says no don't respect homosexuals, don't give them their rights. It is illegal, it is immoral. … It is an unfortunate irony that intolerance toward sexual minorities, whose sexual orientation and gender identity inflicts no harm upon society, has now become a hallmark of our current social politics. And that any organization or individual that requires their two seconds of fame only has to raise the issue of homosexuality and trans issues to propagate their own personal agendas.

It is not fair that arbitrary hate continues to be heaped on homosexuals and lesbians and transsexuals and intersex people in a country that claims to embrace fundamental human rights principles to the point of signing them at regional and international policy and legislation environments. None of which are compatible with what we are experiencing now. You can argue until you turn blue in the face that homosexuality is un-African, that it's un-Christian.

In fact it is Christianity that is alien to Zambia. It's hate that is alien to our nation.

LGBTs are people's children

Lesbians and gays, homosexuals, transgenders or other sex are Zambians too. These are people. These are people's children that you'd sitting there and talking about how the law should come down on them. These are people with families. These are people who go to church. They sing in your choirs. They are people who pay tax so that you're able to have roads that you drive on. It's not a lifestyle choice. Do you think any person would choose to be hated, to be frowned upon?

And as for the gentleman who keeps insisting America this, America that. We know that those are the issues in America. But what makes Africa unique, what makes Zambia unique, is the ability to look beyond our differences and embrace one another, regardless of our differences. That's what we need to start doing as Zambians. We need to start having a conversation around how we can address these social challenges.

You don't go on the radio station and incite violence on people. Tomorrow you'll find that someone has been killed. These will be attributed to the people on that panel. Please, brethren, men of the cloth, desist from making inflammatory statements. It is immoral and it should be condemned. Thank you.
For further information: