4 gay couples seek to wed in Zambia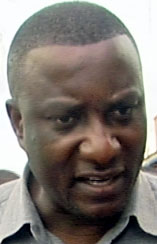 A city official in charge of registering marriages in the Zambian capital of Lusaka has rebuffed an attempt by four same-sex couples to get married there.
Zambian Watchdog reported:
Four Zambian men – students in tertiary institutions in Lusaka – had plans to marry old foreign men thwarted by the council in an unprecedented move.

The Zambians, who were playing the role of women, arrived at the Civic Centre clutching roses, although they were dressed normally – like ordinary men. …

The four were among the 115 couples who lined up before the registrar of marriages at the Civic Centre on Saturday.

The couples are Ritch Henman, 64, and George Nsama, 26, Clive Reeves, 48, and Bruce Lianda, 22, Jones Macpherson, 36, and Sylvester Sichilima, 30, and Humphrey Ray, 53 and Caleb Muswema, 34. …

[Marriage registrar Henry] Kapata told them that if they pursued the matter, they would be arrested because what they were seeking is against the laws of the land.
Under Zambian law, sexual relations between men are punishable by up to 14 years in prison.
Kapata said he would have reported the couples to police but could not do so because his workload as marriage registrar was too demanding.
He said the Zambian men, ages 22-34, came to know their  would-be husbands, ages 36 to 64, through social media, where they discussed their marriage plans.  Apparently the young Zambians agreed to the gay marriages to gain access to better university education abroad, he said.
For more information, read the full story on Zambian Watchdog: "Eight men attempt to marry each other in Lusaka, registrar says 'no' "
Related articles