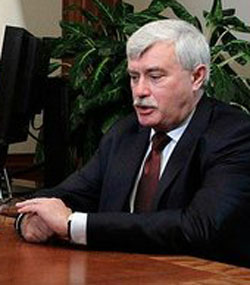 St. Petersburg's ban on "gay propaganda" has resulted in cancellation of a planned trip to Uruguay and Argentina by that Russian region's governor, Georgy Poltavchenko.
Pltavchenko cancelled a planned visit after the Uruguayan capital of Montevideo withdrew its plan to honor him as an "illustrious citizen."
The local LGBT group Colectivo Ovejas Negras had protested the trip and the planned award.
Poltavchenko also cancelled plans to visit Argentina after LGBT groups there also protested.
Related articles