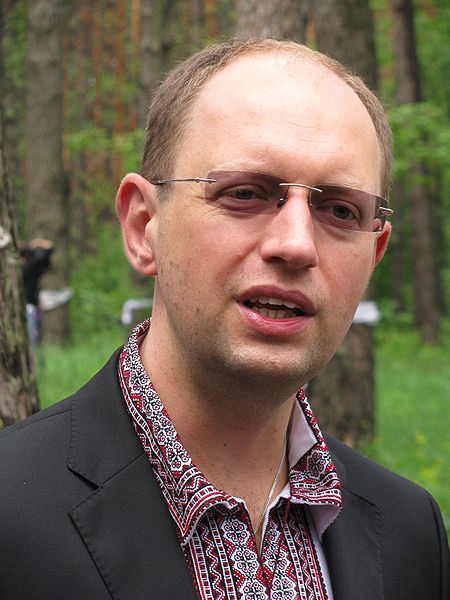 For LGBT rights activists, the news out of Ukraine has been a mixed bag recently.  A proposal to ban discrimination on the basis of sexual orientation is in the works, but the idea of accepting equal marriage has lost a potential supporter.
Meanwhile, the parliament is still considering a ban on "gay propaganda" that was approved in a preliminary vote last October.
Disappointment: Opposition leader rejects same-sex marriage
Arseniy Yatsenyuk, a leading Ukraine opposition figure, disappointed LGBT  supporters of his  Fatherland party by publicly rejecting gay marriage at a recent rally. The Ukraine Monitor reported:
Yatsenyuk was confronted by a representative of the Western-Ukrainian Lesbian Gay Bisexual and Transgender community who said to him: 'Many people live in love, but not in law. Promise me that if you become president, you will legalize same-sex relationships, and I promise that all gays and lesbians will vote for you.'

But Yatsenyuk, who leads "Fatherland" in the absence of jailed leader Yulia Tymoshenko, revealed that he rejects gay marriage because his personal beliefs stand in the way of any political position.

"I can tell you about this separately as a Christian and a Greek Catholic," he said. "I do not support gay marriage."
Hope: Plans for ban on discrimination
The Ukraine Monitor also reported:
Last month Ukraine's foreign minister Leonid Kozhara announced that Ukraine will introduce a law prohibiting discrimination against gays, which will afford them protection in line with European Union nations.

"The issue of homosexuals is now generating strong controversy in Ukraine, but our government has already prepared a draft law and will soon submit it to the parliament," he said.
Related articles