The Not Alone / Pas Seul Project provides food and emotional support to ill-fed prisoners in Cameroon who are in prison merely for being gay.

2019 update
Total monthly donations from readers are only about $50 short of what's needed to keep providing much-needed food deliveries to the gay victims of homophobia who are imprisoned in northern Cameroon.
The deliveries protect the prisoners' health and shield them from potential malnutrition, since they otherwise receive only one small meal a day. Unlike other prisoners, the three gay inmates sponsored by the Not Alone / Pas Seul project have all been disowned by their families, so gifts of food from relatives are unavailable.
CLICK HERE to see how you can help.
Separate from the food deliveries and the moral support that they provide — to northern Cameroon's ONLY three gay men imprisoned for whom they loved — the Not Alone / Pas Seul project also promises to lead to improved vision for Ismael, the prisoner who is completing his three-year sentence in Tcholliré prison.
He has been suffering from severe headaches because of vision problems. A generous donor provided money to send him out for an eye exam. When LGBT rights activists make their next visit to the prison, his new prescription eyeglasses will be delivered to him.
The activists' previous visits to Guider and Tcholliré prisons were on Feb. 27 and 28. The deliveries are made possible by readers' generosity, sponsorship by the St. Paul's Foundation for International Reconciliation and the Erasing 76 Crimes blog, and the efforts of the LGBT advocacy group AJFG (Association Jeunes Solidaires de Garoua).
The AJFG activists, identified as M and B, submitted these reports on their visits:
Guider Prison — February 27, 2019

Prisoners: Ibrahim and Abdoulaziz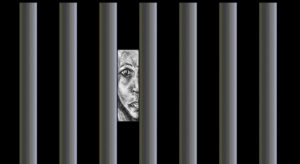 Unlike the first visit [in January], this visit was very brief, because a ceremony being held in the prison did not allow much time for visitors.
During the exchange, both prisoners were in good health, with good morale.
As always, they expressed thanks to all the donors who think about them.
It should also be noted that in recent months they have not been targeted with any violence.
The two prisoners received: 2 bags of rice, soap and SABA detergent, peanut, toilet paper, Mayor kitchen oil, bleach, pasta, salt, tomato, shrimp cube, sugar packages, Azur soap, tapioca, and Dettol antiseptic soap.
Tcholliré Prison — February 28, 2019
Prisoner: Ismael
At the prison of Tcholliré, we met Ismael in the great court reserved for visits. We spent about 30 minutes together.
[He received the same types of grocery items as did Ibrahim and Abdoulaziz.]
Ismael reminded us that he will be coming out very soon — in the month of July 2019 — but he will still have to pay his fine of of 275,000 CFA francs or 420.10 EUR [about $475].
[The Not Alone / Pas Seul project has not raised money for this fine, although individual readers might want to help with targeted donations, which the project would make sure to get into Ismael's hands.]
For his eye care, a sum of 47,000 CFA francs [provided by a generous reader] was handed over to the prison infirmary in order to allow Ismael to get an eye exam. This examination will take place outside the prison. To this end, Ismael will be escorted by prison guards to the hospital and then returned to prison. [It occurred during the week of March 4.] We promised Ismael that we will buy eyeglasses matching his new prescription.
SUPPORT STILL NEEDED
The project has collected ALMOST enough donations to continue the deliveries on a bimonthly basis.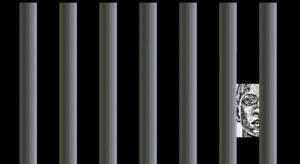 Several readers have signed up to make modest recurring monthly donations. That is the most reliable way to assure ongoing deliveries of food to the men who are in prison for whom they love.
To make recurring U.S. tax-deductible donations, go to the project's account at DonorBox. (You can stop those payments at any point.)
If you want to make one-time U.S. tax-deductible donation for this food immediately, you can do so:
On Facebook ("Donate" button at https://www.facebook.com/saintpaulfound/ ) Please send a message that the donation is for the Pas Seul / Not Alone project.
By PayPal.com (to the foundation's account at stpaulsfdr@gmail.com (Please send a message that the donation is for the Pas Seul / Not Alone project.)
By sending a check to St. Paul's Foundation, 21 Marseille, Laguna Niguel CA 92677 USA.) Please write "Pas Seul / Not Alone" on the memo line.
Earlier articles about the Pas Seul / Not Alone project in northern Cameroon:
Article about the previous phase of the project in Yaoundé: