Eight Islamist extremists have been charged with the murders of two prominent Bangladeshi gay rights activists in 2016. Read about it below, along with a roundup of news from India and Pakistan.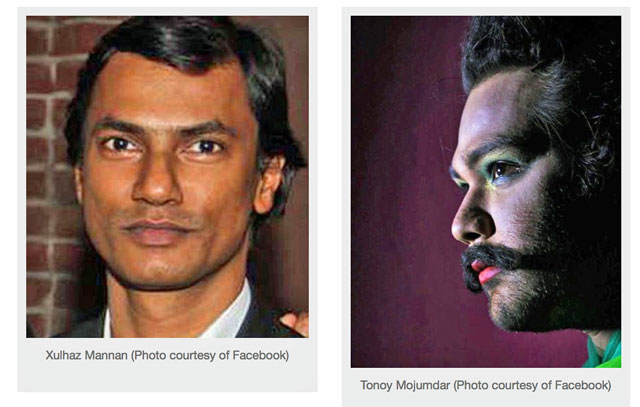 From Agence France-Presse via the South China Morning Post:
Eight Islamist extremists from a banned group were charged by Bangladesh police on [May 12] for the murders of two prominent gay rights activists in 2016. Dhaka police's counterterrorism unit filed the charges against the eight men, saying they were members of Ansar al Islam, according to deputy commissioner of police Mohibul Islam Khan.
"Among them four have been arrested and the rest are still at large," he said, adding the extremist group was led by Syed Ziaul Haque, a sacked Bangladesh army major.
Xulhaz Mannan, publisher of Bangladesh's first magazine for the gay and lesbian community, and fellow activist Mahbub Tonoy were hacked to death in a Dhaka flat in April 2016 by unidentified men carrying machetes and guns.
See also this blog's coverage of the murders and their aftermath.
500 Pakistani people test positive for HIV after 'rogue doctor' uses contaminated needle.
Pakistani Trans activist Kami Sid's film 'Rani' to be screened at Cannes.
ROUNDUP: INDIA
LGBT PEOPLE: SHARING THEIR DREAMS, CONFESSING THEIR FEARS
TIMES OF INDIA – 'I WANT TO DRESS UP AS A BRIDE' "Sometimes, you have to hide your dreams from the world," says Kolkata's Amit Bittoo Dey, who would often tell people that he wanted to pursue hotel management when all he really wanted to do was dance in a chiffon sari like his onscreen idols Sridevi and Madhuri. Growing up, his sisters would apply rouge on his cheeks and doll him up as a bride. "It was a game for them but not for me," says 27-year-old Dey, a gender-fluid photographer and model who revealed his dreams to the universe recently via a classified advertisement in TOI as part of the #TimesOutandProud campaign. Here, Dey — who is seeking a partner who would accept him the way he is — proclaimed: "On my wedding day, I want to dress up as a bride." Soon, affectionate emails poured in from many, including a student from Washington's Georgetown University who hoped her supportive words may counteract the blowback and hate that his bravery is inevitably bound to be punished with.
Meet India's first transgender mother: Gauri Sawant.
Court bans 'normalization' of intersex children. Gopi Shankar attains ban on noncons. Intersex infant surgeries in Tamil Nadu, India. And here's why madras high court ban on sex change surgery for intersex children is significant.
Amid the heat and dust of India's elections, transgender woman Sneha Kale from Mumbai is making history.
India's first LGBTI+ Job Fair will be held at The Lalit Ashok, Bangalore on July 2019.
Less stigma around LGBTI community in India, say Tinder users.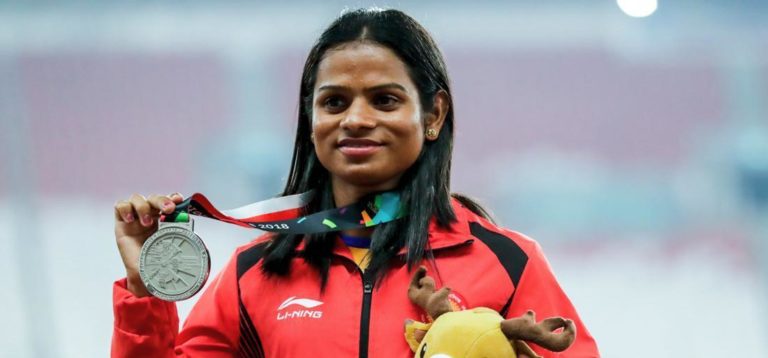 Dutee Chand to take legal action against being blackmailed 
India's fastest woman Dutee Chand Tuesday said she will take legal shelter against people blackmailing and criticising her over revelation of being in a "same-sex" relationship. The Times of India
'It's humiliating for us': village disowns Dutee Chand, India's first openly gay athlete<
THE GUARDIAN — Supporters of India's first openly gay athlete fear for her safety after her decision to come out prompted a backlash in her home village. Local reaction was hostile in Chaka Gopalpur, a village of weavers in Odisha, after Dutee Chand, the country's fastest sprinter, told reporters on 19 May that her gay partner was her soulmate. Chand's mother, Akhuji, told the Indian Express: "I had been supporting her all along for her special interest in sports but … we belong to a traditional weaver community, which does not permit such things. How can we face our relatives and society?" Prashant Behra, a villager, said: "It's humiliating for all of us. We have supported her all the way in her running but we cannot accept this relationship. Marriage can only be between a man and a woman. She should never have talked about it to the whole world. She should stick to running."