Cameroon lesbian on the run
Police in Cameroon have been seeking a 22-year-old lesbian for the past three weeks, ever since a homophobic neighbor denounced her to police in Douala because of her sexual orientation.
By Steeves Winner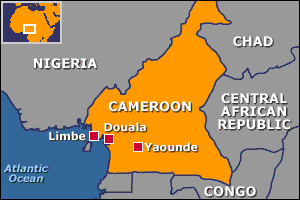 Brit (a pseudonym) is a young professional who earlier this summer started receiving  unwanted romantic attention from a man who lives near her in Douala.
At first, he was unaware of her sexual orientation. He became jealous whenever he saw her talking to another man. As his jealousy grew, he began to spy on her and to inquire about her personal life.
Listening at her window, one day he discovered that Brit had invited her lover to visit for a weekend. Continuing his eavesdropping, he realized that they were having sex. He decided that he had found an opportunity for blackmail.
---
EXCLUSIVE REPORT
Reporting like this depends on your support.
[paypal-donation]
---
The next day he told Brit he would report her to police if she did not agree to have sex with him.
She refused. He reported her to police.
On August 3, police confronted Brit but failed to arrest her before she could run away. Since then has not been seen at home in Douala.
Recently she was spotted in Yaoundé and has sought help from a friend there.
Steeves Winner, the author of this article, is an activist for LGBTI rights in Cameroon who writes under a pseudonym. Contact him at steeves.w@yahoo.com
Steeves Winner comments:
A fan asked J.K Rowling: "I wonder why you said that Dumbledore was gay, because I cannot see him like that." The author replied: "Maybe you cannot see it like that because gay people are just … like everyone else."
Related articles: