World Cup scandal: Shame on Russian for anti-gay violence
British gay-rights campaigner Peter Tatchell is in Moscow to declare: "Russia should not be allowed to bask in World Cup glory while abusing LGBT+ people."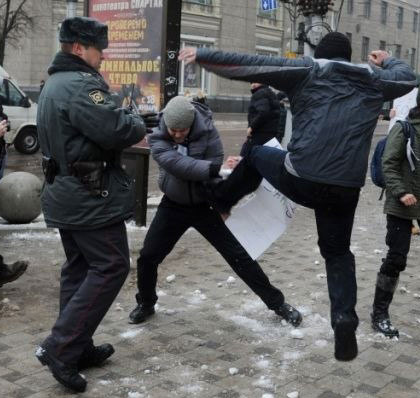 These are excerpts from Tatchell's column in The Guardian:
World Cup fever, gay rights abuses and war crimes – it's an ugly mix
I'm in Moscow trying to lie low and evade the Russian security service, the FSB. I'm exhausted from the stress. It's my sixth time in the country; each time, I've visited in order to support LGBT+ campaigners who were attempting to hold a Pride parade and festival. On every occasion these were suppressed by the authorities, sometimes violently. I've been arrested twice and once been beaten almost unconscious.
This time I'm here for the World Cup – but unlike thousands of fans, I won't be cheering on this festival of football. LGBT+ people and many other Russians suffer state-sanctioned persecution and far-right violence. These abuses need to be challenged. Russia's 2013 anti-gay law against "homosexual propaganda" has been used to suppress peaceful LGBT+ protests, sack LGBT+ teachers and suppress welfare organisations that support LGBT+ teenagers.
On the eve of the World Cup, far-right and ultra-nationalist gangs have threatened to bash and stab LGBT+ football fans. The authorities have taken no discernible action against the perpetrators of these criminal threats.
I know from personal experience the hands-off approach adopted by the Kremlin. I was badly beaten by neo-Nazis opposite City Hall in Moscow in 2007 while the police stood by and watched. As I came close to losing consciousness, I was arrested, while my main attacker was allowed to walk free. …
The Russian state is not the only World Cup culprit. Football's governing body, Fifa, must also be challenged over its decision to award the 2018 World Cup to a nation where human rights are violated. Fifa has chosen to follow this travesty with the 2022 World Cup in Qatar, where dissidents' and migrant workers' human rights are abused. Fifa pays lip service to diversity and equality while rewarding tyrant regimes with the prestige of hosting one of the world's most celebrated sporting events. …
Most LGBT+ people in Russia are understandably too afraid to openly protest against their persecution. They fear arrest and being attacked by extremists. I am afraid too, but to win freedom sometimes we have to be prepared to take risks. …
Russia should not be allowed to bask in World Cup glory while abusing LGBT+ people.
Related articles: