On Dec. 9, a court in Marrakesh, Morocco, dismissed charges against two girls who had been arrested and jailed in late October after being spotted kissing on a rooftop.
The girls, ages 16 and 17, had been charged under Article 489 of the Penal Code, which provides for up to three years in prison for same-sex intimacy.

They were arrested Oct. 27, released on bail on Nov. 3 and tried Nov. 25. On Dec. 9, they were returned to their families.
Not all  human rights defenders were satisfied with the verdict. Omar Arbib, a human rights defender from the Moroccan Association of Human Rights, welcomed the dismissal of the charges, but criticized the court because it "did not have the courage to say that the two girls are innocent of homosexuality."
In Morocco, the new constitution of 2011 commits the Kingdom to "banish and combat discrimination against any person, by reason of sex, color, creed, culture, social or regional origin, language, disability or any personal circumstances. "
Nevertheless, homosexuality remains illegal.
Arrests for homosexuality are common in Morocco. But this is the first  case involving women.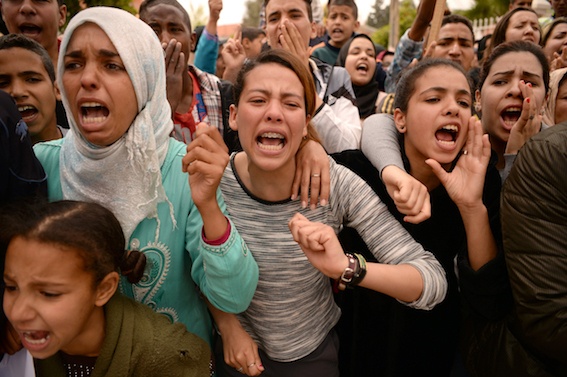 "We hope that this verdict represents the end of an ordeal that these two teenage girls should never have undergone," said Sarah Leah Whitson, Middle East and North Africa director of Human Rights Watch (HRW). "This case again demonstrates why Moroccan authorities should abolish Article 489 of the Penal Code, which criminalizes homosexual acts. When a person is at risk of being arrested and prosecuted solely on the basis of his alleged sexual orientation, every Moroccan should feel concerned, "she added.
Sources:

Related articles:
Appeal to Morocco: Drop charges against teenage girls (Nov. 28, 2016, 76crimes.com)
Moroccan police arrest two teenage girls for homosexuality  (Nov. 3, 2016, 76crimes.com)
Prison for victim of Morocco attack, not for attackers

2016, 76crimes.com)

Same-sex affair in Morocco leads to 18 months in prison

February 2016, 76crimes.com)

Morocco blames victim for anti-LGBTI mob attack (July 2015, 76crimes.com)
Morocco report: 2 imprisoned on homosexuality charges (March 2015, 76crimes.com)
Morocco upholds 6 prison terms for disputed gay acts (July 2014, 76crimes.com)