THIS ARTICLE WAS BASED ON DOCUMENTS THAT, ON INVESTIGATION, APPEAR TO HAVE BEEN FAKED. It has been labeled "FAKE" rather than simply removed from the blog. As a result, any readers who follow links to it will see the "FAKE" label rather than merely receiving an "Oops! That page can't be found" error message.
— Colin Stewart, editor/publisher of this blog
This is the fourth in a series of articles about Kenyan LGBTI activist/ journalist Joseph Odero, targeted for assassination for his work on behalf of a murdered LGBTI teenager. After a nearly fatal attack in January 2016, Odero needed a kidney transplant to survive. Despite continuing death threats, he testified in court about what the murdered youth had told him.
After his recovery from that operation, Odero remained in danger. To relocate him to safety, the online Joe Odero Fund was established. For safety, his  location was not disclosed. Protective pseudonyms are used throughout this article.
Confronting hatred:
Surviving a murderous assault
By Colin Stewart and Joseph Odero
"its sad"
That's the text message Joe sent from the hospital emergency room in Kakamega, Kenya, on Jan. 18.
He had gone to the Kakamega police station that evening to report death threats he had been receiving. But before he even reached the door of the police station, four armed attackers clubbed him, hacked him with a machete, and left him for dead.
It was barely two weeks after he started receiving telephone calls  warning him that he would be killed if he did not retract his testimony about the murder of an intersex man in Malindi, Kenya. Then, on Jan. 16,  four menacing visitors showed up at Joe's home in Kisumu, Kenya, when Joe was away.  Warned by his brother, Joe fled for safety to the home of his friend, Eric, who lived 30 miles away in Kakamega. He called Malindi to tell police there what had happened. They advised him to report the incidents to police in Kakamega.
But someone at the Malindi police station must have tipped off the men about where Joe was going. The men attacked him outside the Kakamega police station, beat him with a rifle butt, cut him with a machete and left him for dead by the side of the road just across from the police station.
A crowd gathered around Joe, who was lying in a pool of blood. Even then, no police officer appeared.
Passersby took Joe to Kakamega Provincial General Hospital, where he was diagnosed as having internal bleeding and probably a broken skull. He still had his mobile phone, which his attackers hadn't bothered to grab.
He called Eric, who rushed to the hospital.
Eric took a photo of him with his head bandaged, which Joe sent to Colin. He wrote:
"Am at casualty. The nurse did this as first aid."
He kept texting from the emergency room.
"Am not well. Am lying on patients bed. In pain. My left side of the abdomen is too painful. My head still bleeding. The nurses suspect internal tissue injury. Have been on painkillers. Shall let u know of progress, dear"
"How did they find you???" Colin wrote.
"I suspect police has a hand in this," Joe replied.  "I was hit next to the police station. They didn't turn up regardless of my screams."
Colin wrote, "It has to be the police in Malindi. They knew you would be going to the police in Kakamega, I assume.
"I wish they hadn't learned that," Colin added.
Joe was in pain, with limited understanding of the injuries he had suffered. The Kakamega hospital has only minimal medical equipment: An X-ray showed that Joe had a fractured rib and might also have a fractured skull.  At first, the hospital had no explanation for Joe's abdominal pain or why his belly was so bloated.
He needed an MRI, but that couldn't be done unless Joe were transferred to Moi Teaching and Referral Hospital, 60 miles away in Eldoret.
It was 2:30 a.m. in the morning in Kenya, 4:30 p.m. in California.
Joe was told that he couldn't be transferred to Moi hospital unless he first paid his Kakamega hospital bill.
"You can call me now," Joe texted to Colin.  He added, "am really not in good condition."
Colin called Joe and got through, but Joe was in too much pain. His voice was too quiet. Colin could tell that someone was speaking but could not understand the words. He hung up.
"Thanks, Colin, for the concern," Joe wrote promptly. "I can hear you clearly. I'm sorry. As i speak up, the abdominal pain persists. Kindly I request we chat to be in touch. I can chat via my phone, lying on the hospital bed without any difficulty."
Colin encouraged Joe to get some sleep. But Joe had more to say and the doctor had more exams to do.
"Hello, sir, after several reviews in the theatre. The doctor suspects internal tissue injury. Preliminary reports from a diagnostic ultra-sound indicate a left kidney rupture, according to the doctor."
And he had blood in his urine, which supported the suspicion of kidney damage.
When the doctor thought Joe couldn't hear him, he told the attending nurse, "This is bad, and it could get worse, and lead to further losses, if we do not deal with it in haste.'"
"You might have a cracked skull," he told Joe. "We need to do an MRI scan of the back of your head."
Kakamega Hospital didn't follow through on its threat to hold Joe until he paid his bill. He was allowed an 8 a.m. ambulance ride to Moi Hospital.
"No treatment except painkiller and the first aid on my head," Joe texted while waiting for the ambulance. "Am experiencing serious headache."
The MRI at Moi Hospital confirmed that Joe indeed had a skull fracture as well as a damaged left kidney, which needed to be removed.
The doctors gave first priority to the skull surgery. On the day after Joe arrived, a Moi Hospital surgeon repaired Joe's skull.
Afterwards,  Joe texted from the hospital ward:  "I can't sit in upright posture until directed by the doctors.Even chatting I do in sleeping posture. My body has to stabilise after the skull surgery as I wait for the nephrectomy [kidney removal]."
Removing the damaged kidney would cost 150,000 Kenyan shillings (Ksh), or about US $1,500, if Joe could afford it. Joe had nowhere near that amount of money.
Confined to his hospital bed, he worried about finances. With good reason.
The cost of kidney surgery wasn't even his first concern, because the doctors were preparing to withhold all medical care until they were paid.
Moi Hospital demanded immediate payment of 35,000 Ksh (about US $350) out of the 67,500 Ksh bill ($675) that Joe had incurred so far. That 67,500 Ksh total included the charges for his diagnosis and minimal treatment at Kakamega Hospital, his ambulance trip to Moi Hospital, the MRI, the ultrasound on his abdomen, the skull surgery, medication and ward charges.
"Kindly, any action you can do on my behalf, please, i grant u mandate to undertake," Joe texted to Colin.
Colin too was worried about finances, but in a different way. Unless he walked away from Joe's desperate situation, which would not have occurred without his involvement as well as Joe's, the medical crisis threatened to overwhelm the blog. As publisher, Colin was reimbursing a few activist writers for their reporting expenses, which was not a financial burden. In 2014 and 2015, the blog essentially broke even, paying a total of $1,475 to writers and web site hosting companies and receiving nearly the same amount in donations and in royalties on a book of blog selections, "From Wrongs to Gay Rights."
Within a few days, Joe's medical costs had exceeded the blog's expenses for all of 2015. The likelihood of greater expenses loomed ahead — not only medical bills, but also the costs of somehow keeping Joe safe from the men who wanted him dead.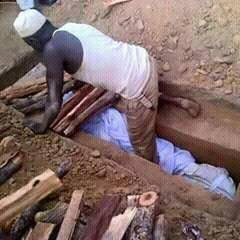 In addition, although Colin believed Joe was telling the truth, he  realized that it was conceivable that Joe was engaged in an elaborate scam. Colin could verify the reports from Malindi by looking at documentation that Joe had sent him — a photo of Ishmael in his hospital room, a photo of Ishmael's body being lowered into a grave, a copy of the official autopsy report.  But he had no such documentation to prove that Joe was telling the truth about what had happened in Kakamega and at Moi Hospital, except for the photo, taken by Eric at Kakamega Hospital, that only showed Joe with a bandaged head.
Scams are a notorious problem in Africa. In a separate case, one of Colin's associates on the blog had been duped into paying $3,000 to a writer in Togo who, after providing a few articles about LGBT activism, pleaded for financial help to pay for a supposedly necessary kidney transplant, for which he would need to travel to Tunisia and then to France.
In 2014, Colin and other journalists had grown suspicious of the Friends New Underground Railroad, an East Africa-based organization through which good-hearted Quakers throughout the United States had channeled a reported $40,000 to pay for undercover evacuations of 1,430 LGBTQ Ugandans whose lives were in danger. Financial and transportation arrangements were made by an anonymous aid worker in East Africa who identified himself only as "Levi Coffin II," using the name of an abolitionist agitator who helped run the original Underground Railroad that helped runaway slaves escape from the American South in the 19th Century.  "Levi Coffin II" reportedly used his real name in his communications with the organizers of the FNUR (later renamed the Friends Ugandan Safe Transport Fund), but he refused to put journalists in touch with  evacuees, even when they had reportedly reached safe countries.
Joe himself had worked on a planned article about Pastor Edwin Sikot,  a gay-rights advocate in Kenya who was featured in an online article describing his same-sex wedding in March 2015. Reportedly, after that article appeared, Sikot and his partner were attacked in Kisimu and Sikot sought contributions to allow him to move to Tanzania. Sikot's reported spouse later denied that the pair had gotten married. Joe's article about those events was never published, after Kenyan gay activist and journalist Denis Nzioka conducted an investigation and concluded that it might have been a fabrication by Sikot for financial gain. Joe never believed that, but Colin refused to publish the article.
With all that in mind, Colin asked Joe for evidence to substantiate the account of his injuries and his hospital bill. A nurse, Nelly,  agreed to copy Joe's hospital bill and medical report and email them to Colin — if Colin sent her money to make the copies. With Joe confined to his hospital bed, Nelly also agreed to act as a go-between, receiving any money that Colin sent to pay for Joe's bill.
Moi Hospital cut off Joe's pain medication and his kidney drugs because he was behind on his bill.
Colin called the hospital's financial office, which confirmed how much Joe owed. Unlike American hospitals, Kenyan hospitals are not barred from sharing personal medical and financial information with strangers.
On Jan. 22, Colin sent 16,878 Ksh ($168) to nurse Nelly by MoneyGram so she could scan Joe's hospital documents and begin paying his bill, which he hoped would allow medications to resume.
Joe and Colin began discussing the possibility of reaching out to supportive organizations to provide financial help. Joe was worried that doing so might allow his attackers to discover his location.
"In as much as information regarding myself is concerned, spreading it is a security risk. Remember, I am on the run, in exile, away from those baying for my blood. You never know what actions they can take if they learn am here at Moi Hospital in Eldoret," Joe wrote.
He mentioned the recent murder of a hospital patient in Nairobi.
"I am not sure of my security, especially given that some few months ago an activist who had cancer was found murdered in cold blood at Kenyatta Hospital in Nairobi in the patients' ward," Joe wrote.
But he agreed that Colin could contact international organizations, as long as they agreed not to share information with organizations in Kenya, which Joe did not trust.
On Jan. 24, Nelly emailed Colin two documents: Joe's bill and Joe's medical report, which confirmed the description of Joe's condition.
She said in her email: "It recommended for him to access kidney medication as soon as possible due to the rupture of the left kidney. and mild injury on his right kidney. Besides the 2000ksh he had initially paid, additionally I made the payment of 16875Ksh towards his medication, he now has outstanding balance of 48,625Ksh to clear by the Wednesday this week [Jan.  27]."
Of the 16,875 Ksh that Colin had sent to her, Nelly had used none for copying costs; she put the entire amount toward Joe's bill. But that wasn't enough.
Joe texted:
"They need to me to clear the outstanding balance before am given last medication part. Kindly assist me. If I fail, no medication I shall access, including the painkillers and physiotherapy, regardless of pain am experiencing due to not accessing medication. Those I was issued are over."

"Some of the doctors are inhumane. One just openly said to me this morning during the normal ward rounds, 'Some  poor people come for medical services after being beaten from wherever. They know they don't have money. People need to style up. We cannot be servants of the poor."
Colin contacted the Committee to Protect Journalists (CPJ), a New York-based non-profit that does what its name indicates. Its board  includes prominent journalists from The New York Times, CBS News, ABC News, Univision, Al-Jazeera and The Guardian. Since 2001, CPJ has provided assistance to more than 1,000 journalists from 54 countries.
In 2015, CPJ had issued a report on the dangers confronting journalists in Kenya, noting that:
"Journalists say they are routinely threatened, intimidated, and even attacked, and that government authorities are the culprit more often than not. …

"What's more, the attacks take place in a climate of almost total impunity, with few officials ever held to account."
CPJ agreed to consider helping Joe.
To be continued …
For more information, see the series overview: "Confronting hatred: the Joseph Odero story."