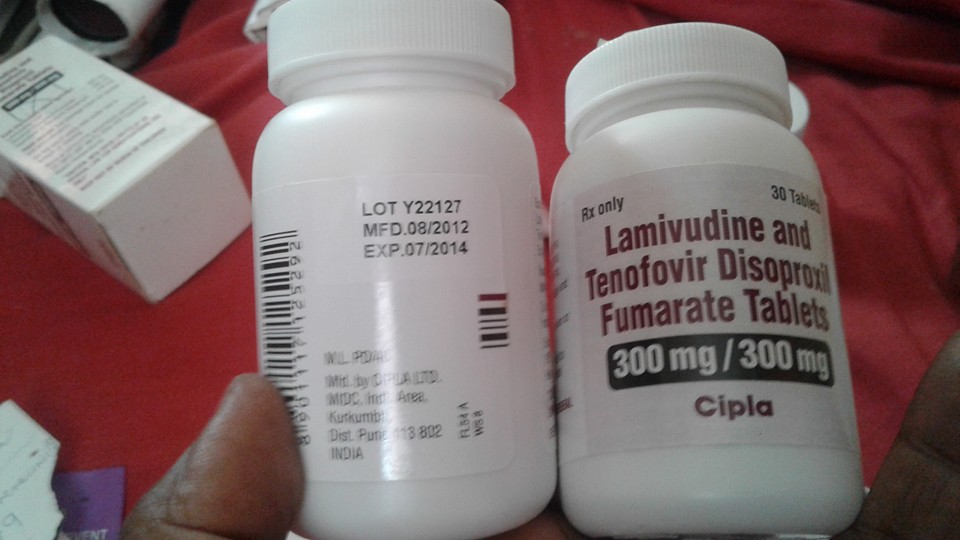 "Giving people expired anti-retroviral therapies (ARVs) is haram, forbidden, sin."
That's what  Ugandan researcher/ activist Stella Nyanzi wrote on Facebook after she visited an HIV-positive friend.
Use of expired medications is one of the many deficiencies of current efforts to control HIV/Aids in Uganda.  It's a problem that affects many who are HIV-positive, whether they are straight or belong to the LGBT community.
The problem affects African queer communities in particular, since they are often dependent on drugs from flawed government procurement programs, says Cameroon native Dr. S.N. Nyeck, a social-sciences researcher based in New York.
The problem hit home recently for Nyanzi when she was visiting her HIV-positive friend, whom had often hired to transport her on his motorcycle taxi (a bodaboda).
Haram, forbidden, sin
This is what she published on Facebook:
Giving people expired anti-retroviral therapies (ARVs) is haram, forbidden, sin. I went to visit a friend of mine who has full-blown AIDS. Too ill to continue riding his bodaboda, he left Kampala city and went to his parent's village. The parents made sacrifices of chickens at a shrine whose healer smoked my friend, bathed him in a herbal concoction, and gave him some dry roots to crush and make into a drink to accompany his meals.

When the healer's cure was proven to be ineffective, he called me to talk. Between tears, he revealed that two of his ex-lovers had died. I dragged him for an HIV test. It came back positive. His CD4 count was shockingly low. He was gutted. He is only twenty-four years old.
He started taking ARVs this year. He goes to a post-test clinic where he gets free medicines to last him two months. He is on combination therapy of Efavirenz, Lamivudine and Tenofovir which he takes with Septrin prophylaxis. He brought out his bag of drugs to show me. He was thankful that I got him started on treatment because he reported a big difference in his improving health.

Stella Nyanzi (Photo courtesy of Twitter)

I was shocked when I read the expiry date on his medicines. The ARVs were all expired!!!! The Septrin was not dated. My friend is illiterate. He cannot read the date on his medicines that he is very thankful for and proud of. The shit is expired! Fuck literate drug dispensers, pharmacists and clinicians who give expired drugs to illiterate patients. May the hottest parts of hell be reserved for you. Only hell is good enough punishment for such evil.
In response to that post, 21 people checked their own medications and found that the drugs' expiry dates had passed, Nyanzi said.
In addition, some local pharmacists wrote to her to say that expired drugs are the norm and pose no problem.
Nyeck  says that Nyanzi's "post is helpful if you haven't figured out the connection between public procurement and the queer community in Africa."

She noted that Uganda does not manufacture the drugs the country needs for HIV infected person. Instead, Uganda gets them from international markets through supply contracts.
The problem of expired drugs shows a breakdown  in the procurement chain leading to the waste of resources that, if handled properly, would benefit the many Ugandan citizens who are HIV-positive, Nyeck said. More importantly, the use of toxic drugs in government hospitals shows the need for social audits of procurement programs in order to ensure that the public gets value for the money spent in the fight against HIV, she said.
Two American perspectives
Not everyone is worried about expired medications, as Nyanzi learned from Ugandan pharmacists.
Their position is supported by a Harvard Medical School publication "Drug Expiration Dates — Do They Mean Anything?":
"[The] expiration date doesn't really indicate a point at which the medication is no longer effective or has become unsafe to use. Medical authorities state expired drugs are safe to take, even those that expired years ago. A rare exception to this may be tetracycline, but the report on this is controversial among researchers.

"It's true the effectiveness of a drug may decrease over time, but much of the original potency still remains even a decade after the expiration date. Excluding nitroglycerin, insulin, and liquid antibiotics, most medications are as long-lasting as the ones [in a study that found that 90% of 100 tested drugs remained safe and effective even 15 years after the expiration date]. Placing a medication in a cool place, such as a refrigerator, will help a drug remain potent for many years."
But the U.S. Food and Drug Administration disagrees. It states in a public-service article entitled "Don't Be Tempted to Use Expired Medicines":
"Expired medical products can be less effective or risky due to a change in chemical composition or a decrease in strength. Certain expired medications are at risk of bacterial growth and sub-potent antibiotics can fail to treat infections, leading to more serious illnesses and antibiotic resistance.

" 'Once the expiration date has passed there is no guarantee that the medicine will be safe and effective,' says [FDA official Ilisa] Bernstein. 'If your medicine has expired, do not use it.' "
Related book:
Dr. Nyeck's recent book, Public Procurement Reform and Governance in Africa (Palgrave-Macmillan, 2016), discusses the history of public procurement reform in Uganda and the challenges of health procurement in Botswana.
Related articles: