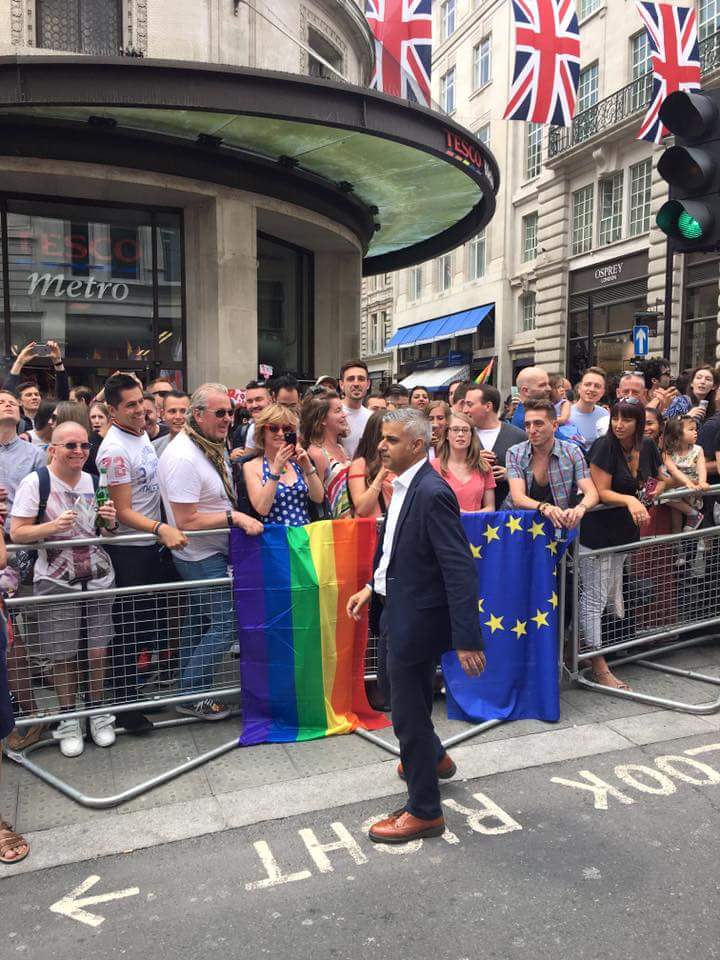 The London Pride 2016 march was led by London Mayor Sadiq Khan, a Muslim; Matthew Barzun, U.S. ambassador to the U.K.; and other dignitaries and celebrities.
A group of African gay people living in the United Kingdom marched in London Pride yesterday to call on people of religion to unite against persecution of gay people in Africa and called on the international community to deny visas to anti-gay religious leaders, reports OPDG (Out and Proud Diamond Group).
OPDG members are diaspora LGBTI Africans, including many LGBTI activists.
For London Pride, one of the biggest gay pride marches in the world, tens of thousands of people marched through central London on Saturday afternoon, June 25.
Sebuliba Hakim, a gay man from Uganda and an OPDG member, said:
Sheikh Nuhu Muzaata, a Ugandan Muslim, once vowed to declare "war" on Ugandan members of parliament who opposed that country's Anti-Homosexuality Bill. (Photo courtesy of NTV)

"Today I am calling upon Sheikh Nuhu Muzaata of Uganda and other religious leaders to halt their anti-gay hate speeches. It is their responsibility as religious leaders to spread love towards all people regardless of their sexuality or gender. It is disappointing to see and hear them getting on the side of those persecuting innocent LGBTI people in Africa. They should deal with real issues facing Africans, like human rights violations, poor education systems, poverty, poor medical services, among others."
Aminatah Kitimbo, also an OPDG member, said:
"I respect, admire and treasure some religious leaders in Uganda, like Bishop Christopher Ssenyonjo, but it's so disappointing that some have taken a wrong path of persecution of innocent gay people in Uganda. Their extreme anti LGBTI messages create fear, stigma, shame, discrimination and persecution of innocent gay Ugandans. They should unite against persecution of gay people in Uganda."
"I call upon the international community to issue travel bans to all those religious leaders in Uganda who incite violence towards the LGBTI community," said Aisha Kagwa, a Ugandan lesbian.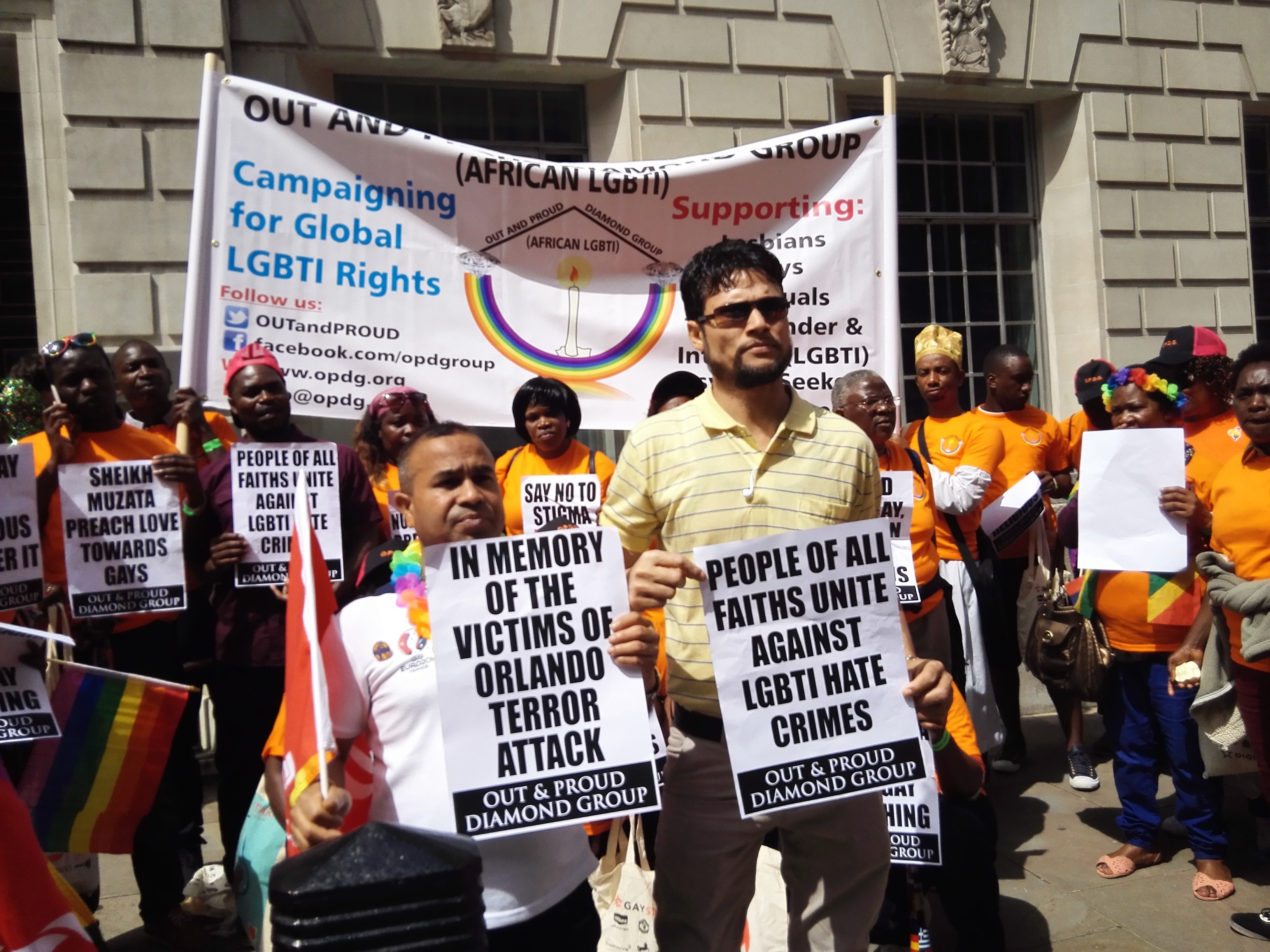 A minute of silence was observed during the event as tribute to the victims of the June 12 mass shooting at the Pulse nightclub in Orlando, Florida.
Sadiq Khan, in a message before the march, said London is "a city where the large majority of people of all communities, faiths and backgrounds, don't simply tolerate each other, but respect, embrace and celebrate our diversity. It is more important than ever that we celebrate the triumph of inclusiveness and acceptance."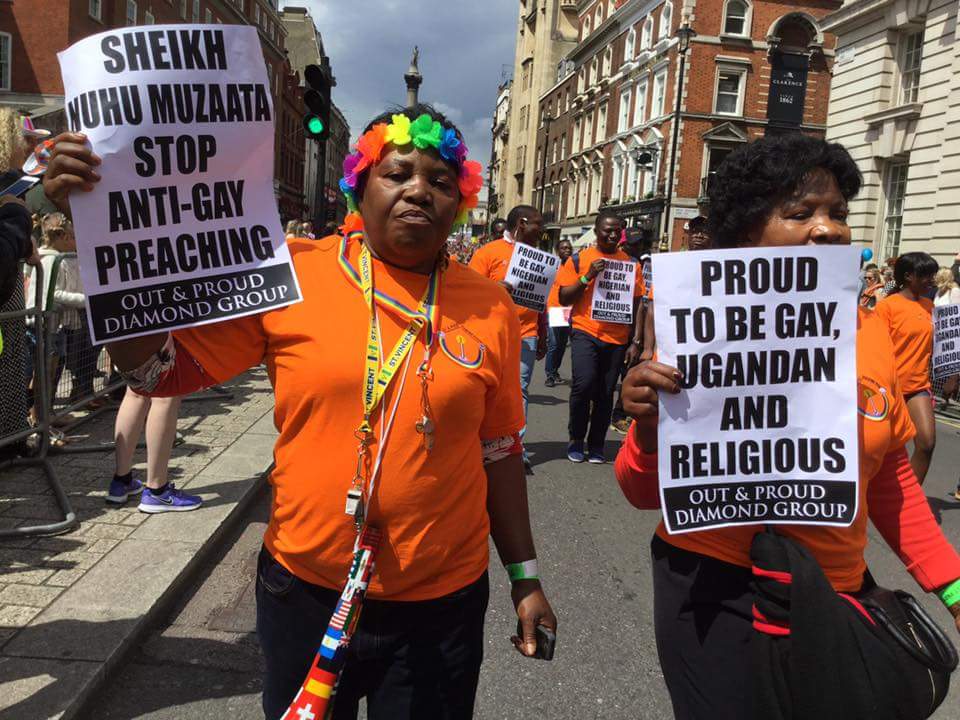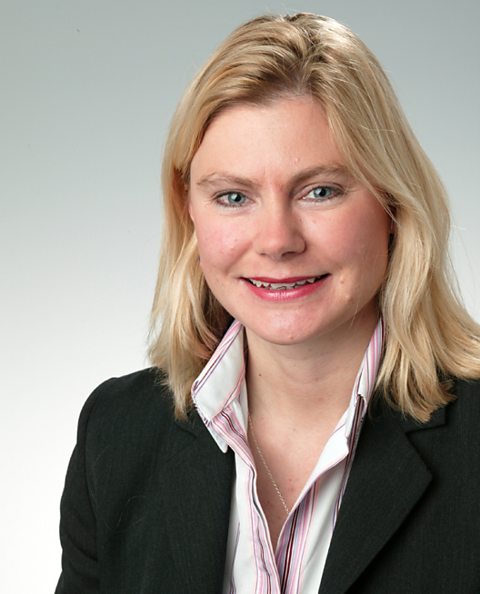 During the march, British female Minister Justine Greening, secretary for international development, announced she is in a same-sex relationship. She tweeted: "Today's a good day to say I'm in a happy same-sex relationship, I campaigned for Stronger In but sometimes you're better off out!" That announcement made her the first openly gay woman in the Conservative cabinet. Five months ago, David Mundell, the Scottish secretary, became the first openly gay man on the cabinet.
Olayiwola Oluwafemi Sofola, a gay man from Nigeria and an OPDG member, said Greening's coming out is a blessing and an inspiration. "I wish other politicians living in the closet could take a leaf [from her book]. I am dreaming of this day in Africa," he said.
Her announcement came as Michael Salter-Church, the director of Pride London, noted that this year's campaign slogan is "No Filter." He said:
" 'No Filter' is a call to arms. A call for people to be themselves, to live as their true selves.

"Now that might sound too obvious, but too many people already self-censor. On this weekend whilst we celebrate the LGBT community, be your true selves, try and live without a filter, because that's a really important message that we want spread around the UK and the world.
Aminah Namubiru of OPDG said:
"I was overwhelmed with emotion seeing ourselves and those who care about us celebrate an international event this year, after the sad events in Orlando, Mexico and other countries. We serve a God of love towards each person."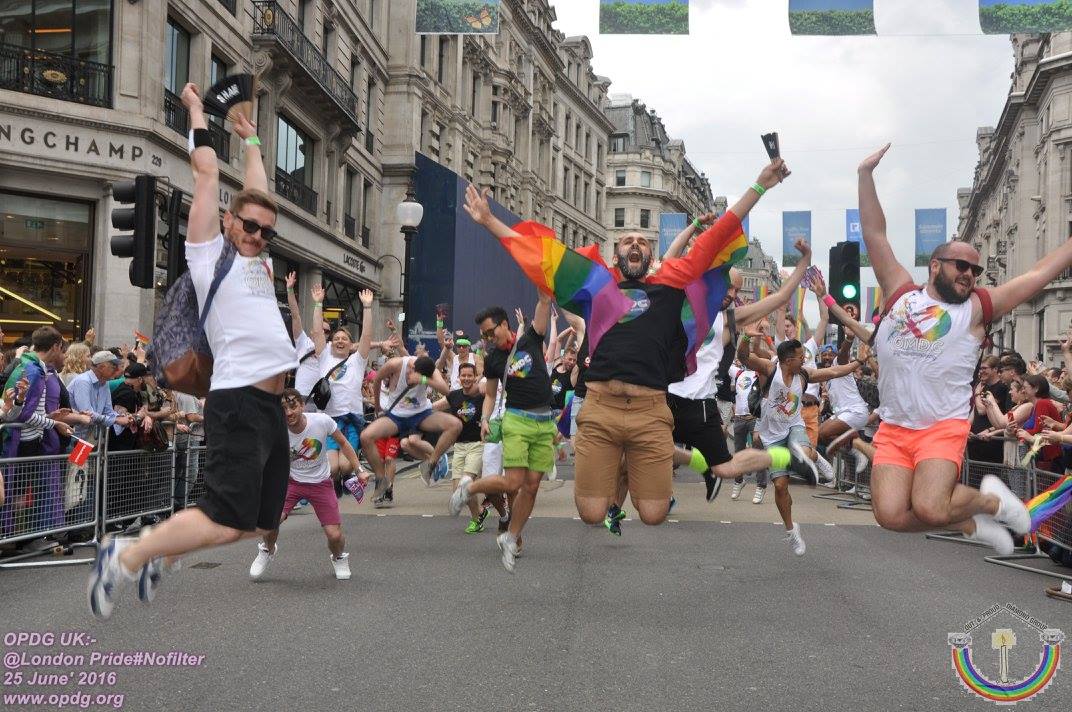 Related articles: