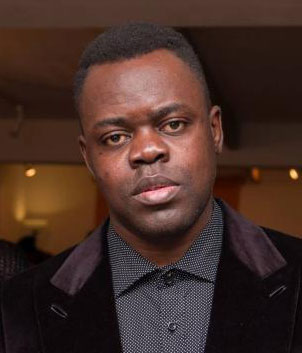 Leaders of the African LGBTI rights organization Out and Proud Diamond Group were honored this week in a British listing of 101 pioneers who are paving the way for LGBTI equality.
Abbey Kiwanuka and Edwin Sesange, directors of OPDG, were two of many advocates on the Rainbow List who have their roots outside the United Kingdom. The list, sponsored by The Independent newspaper, included a focus on people who "fought for recognition from the intersection of different cultures, religions, and identities."
Here are some of those honorees and their descriptions on the list:
Pakistan native Mawaan Rizwan — Actor, comedian and YouTuber
Rizwan's sketches have racked up nearly 20 million views on his YouTube channel, which has almost 90,000 subscribers. Last month he hosted the documentary "How Gay is Pakistan?" on BBC3 – which explored attitudes towards homosexuality in his country of birth.
Abbey Kiwanuka and Edwin Sesange — Directors, OPDG
The duo run the UK branch of Out  and Proud Diamond Group, which helps LGBTI asylum seekers and refugees fleeing persecution because of their sexuality or gender. They provide legal and emotional support, while campaigning for LGBTI equality worldwide.
Bisi Alimi — LGBT and HIV campaigner
The activist came out on Nigerian television in 2004 and co-founded the Kaleidoscope Trust, which aims to uphold the human rights of LGBT people internationally. Alimi confronted Nigel Farage this year over his comments on so-called health tourists seeking HIV treatment.
Khakan Qureshi — Founder, LGBT support group in Birmingham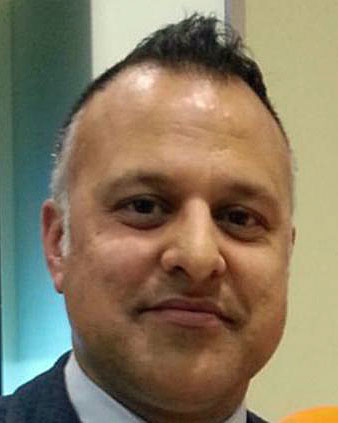 Qureshi set up the first LGBT support group for South Asians in Birmingham, called Finding A Voice, for those aged 18 onwards, regardless of their faith or culture. He is working to change attitudes towards LGBT Asians and help eradicate homophobia.
Sabah Choudrey — Activist
The Pakistani trans activist is a youth worker with Gendered Intelligence and gave a TEDx talk in Brixton in London this year sharing their experiences of being a "hairy brown girl, an angry brown man and a queer brown person". One of the co-founders of Trans Pride Brighton.
British-born Pakistani journalist Mobeen Azhar —  Journalist and film-maker
The Bafta-nominated journalist made the pioneering documentary Chemsex for BBC2 and Radio 4 this year, exploring the use of certain drugs on London's gay scene. His latest work, The Muslim Sex Doctor, is about a Bradford imam who uses the Koran to counsel Muslims about sex.
Diriye Osman — Author
The Somali-British short-story writer, essayist, critic and visual artist frequently explores sexuality and mental health in his work. His debut, Fairytales for Lost Children, won the 2014 Polari First Book Prize for a book that explores the LGBT experience.
Aderonke Apata — Activist
The activist, a lesbian who fled persecution in her native Nigeria, now campaigns for LGBT asylum seekers to stay in the UK. She recently handed in a petition urging the Nigerian president to repeal the country's anti-LGBT . Her own legal case to remain in the UK is ongoing.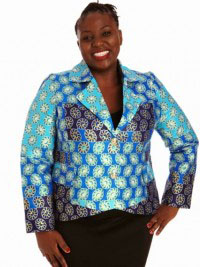 Moud Goba — LGBTI refugees mentor
A Zimbabwean refugee living in the UK, Goba has more than 15 years' experience working with LGBTI communities. She supports other LGBTI refugees as a mentor at the not-for-profit organisation Micro Rainbow International. She won an Attitude Pride award earlier this year.
British-Pakistani Rose Neelam — Faith Communities Officer, Black Pride
Sidhu's highly personal videos, in which he speaks about his experience of being gay and Sikh, have reached a huge number of people. His YouTube channel includes a video of his mum addressing the parents of LGBT Asians about acceptance, in Punjabi. This has been viewed 100,000 times.
Mazyar Shirali — Founder, Persian LGBT Advisory Service
Shirali founded the service in 2008, offering help and support to Persian-speakers arriving in the UK. Many will have been persecuted in their home country on account of their sexuality. Shirali works to help new arrivals integrate into society by offering practical help and advice.
Out and Proud Diamond Group issued this statement about the Rainbow List:
Press release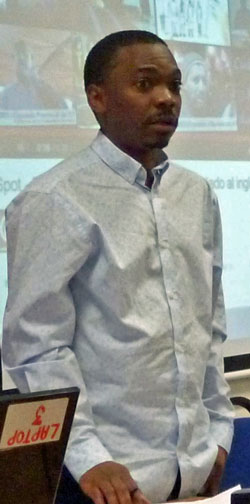 The directors of the African LGBTI organisation Out and Proud Diamond Group, Abbey Kiwanuka, winner of noSCARS 2015, and Edwin Sesange, have been listed as Number 25 on the 16th annual Rainbow List that celebrates  the 101 most influential lesbian, gay, bisexual, transgender and intersex people in Britain.
The 16th year edition is  bigger, better and more inclusive than ever before. It is  about pioneers, recognising and celebrating those who have paved the way for lesbian, gay, bisexual, transgender and intersex (LGBTI) equality, but it  also actively celebrates those who, in 2015, fought for recognition from the intersection of different cultures, religions, and identities. It  celebrates those fighting adversity. It  celebrates those actively working to raise visibility and change lives.
Congratulations to all who made the list and all the nominees who did not. You all inspire, change people's lives and your efforts to make the World a better  place are highly recognized and appreciated.
We would like thank all those who nominated us, support and work with us to bring change to the persecuted, discriminated, prosecuted, tortured, denied access to medical services among others.
The list is published by Independent on Sunday, which is one of the best newspapers in UK and well-respected all over the world in partnership with Asda, one of the most popular food store chains in the World.
It took nine judges to decide who would appear on this year's Rainbow List. The panel of judges ranged from activists, politicians, actors, performers, artists and the co-director of a queer hairdressing salon.
Thousands of public nominations were received  by email and by post, in the way of drawings, letters and even in the form of a hand-made photo album delivered to Independent newspaper. editor's desk. It's fair to say, the competition has never been tighter.
The duo's  inclusion on this list is not only a sign recognition of their work,  but a sign of recognition of a wider struggle of the African and other minority LGBTI groups.
The group was started in 2011 and run by courageous, charitable, committed, selfless and humanitarian LGBTI rights activists most of them  fled their home countries due to the persecution, discrimination among others that they experienced. They have opened  up in Netherlands and France at the same time, working closely with other LGBTI grassroot groups in other countries.
OPDG highly recognizes that the equality for LGBTI people that is being  achieved in some parts of the world, like Britain, cannot be taken for granted as equality for all LGBTI people.
Abbey and Edwin originate from a country that still uses colonial anti-gay laws to persecute, prosecute, discriminate, torture its LGBTI citizens. Therefore they have dedicated their lives by using the international platform to campaign against these anti-gays laws and negative attitudes towards LGBTI community.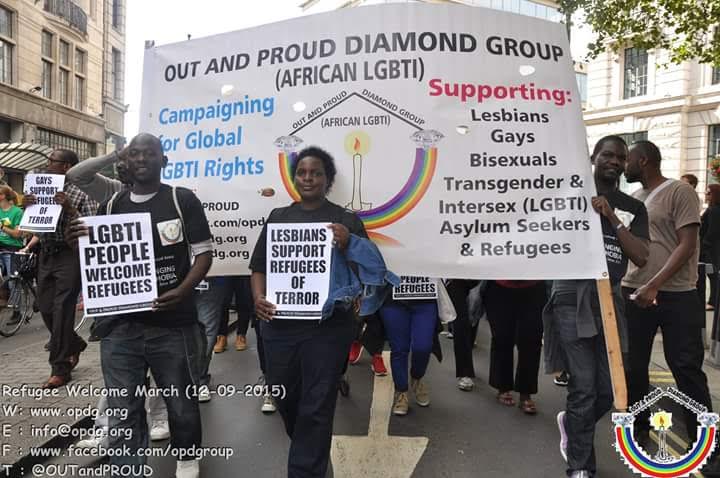 The organisation is aimed at challenging homophobia, transphobia, biphobia and any discrimination or injustices towards LGBTI people because of their sexuality or gender. OPDG campaigns against HIV and for mental health; the group identified that there is so much stigma attached to the above in relation to the LGBTI community with in black and other minority groups.  The organisation is also supporting LGBTI asylum seekers and refugees.
Since the organisation was started, it has organised and participated in many peaceful demonstrations against many anti-gay governments and individuals including, Russia, Lithuania, Jamaica, Gambia, Cameroon, Uganda, Nigeria, Dolce and Gabbana, the Commonwealth Countries,  among others. The organisation has also campaigned against abuses against detained LGBTI asylum seekers and other asylum seekers in the UK immigration detention centres.
The organisation has helped many LGBTI asylum seekers in the United Kingdom through getting them legal representation, supporting in immigration tribunals, organising social events, getting  doctors, counsellors, accommodation,  helping them to reconcile their sexuality and gender with their religion, creating a safer place for them to speak and interact with other members. Being a community organisation, it is the first point of contact for many LGBTI asylum seekers and refugees in the United Kingdom
The organisation has visited many LGBTI asylum seekers in immigration detention centres across the United Kingdom. Through our work we have stopped many deportations of LGB asylum seekers from the United Kingdom. This has been done through working with our legal and other partners. Many of these survivals have won their asylum in the United Kingdom.
All the LGBTI asylum seekers and refugees in this organisation are being helped to fully integrate in the British community, through helping them to get jobs, education, being law-abiding citizens among others.
The organisation has done many petitions both online and in paper form in order to bring justice and equality for LGBTI people, this has been very effective in bringing awareness and gathering support against these anti-gay countries. Many  LGBTI people in these countries have felt the support that they get through the works of this organisation.
The organisation has written to Her Majesty the Queen of United Kingdom and head of the Commonwealth and the UK Prime Minister Hon David Cameron,  requesting them  to raise the issue of decriminalisation of homosexuality.
They have also written to the Secretary General of the Commonwealth to put the issue of decriminalisation of homosexuality on the agenda of the forthcoming CHOGM [Commonwealth Heads of Government Meeting] 2015 meeting in Malta this month.
The group has organised HIV and mental health workshops, which have been fruitful; however more work is being needed with your support.
Related articles