Russia: 2 arrests for 'Love Wins' sign at Orlando memorial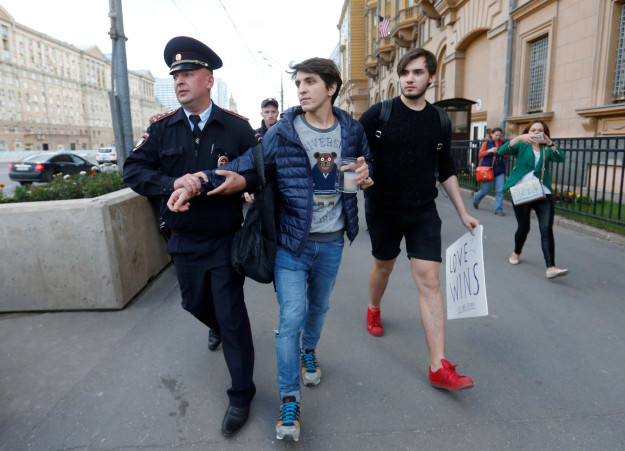 Following up on earlier coverage by BuzzFeed, the Washington Post reports:
Gay couple arrested in Moscow for trying to leave 'Love Wins' sign at Orlando memorial
Islam Abdullabeckov and his boyfriend Felix Glyukman were in their Moscow apartment Sunday afternoon when they saw reports of the mass shooting at a gay nightclub in Orlando. They were shocked and saddened.
The next day, the young couple went to the American embassy in Moscow with a candle and a sign that said "LOVE WINS."
The instant they laid the sign down on the pavement, however, a policeman scooped it up.
Then they were arrested.
Police accused them of holding an unauthorized demonstration, a charge that can bring serious fines and even imprisonment in Russia.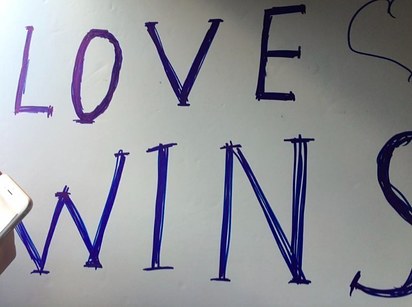 "We weren't going to hold a political" protest, Abdullabeckov told The Washington Post on Wednesday morning via Facebook messages. "We just wanted to put a poster and light candles."
He said he and Glyukman were taken to a police station and questioned for three hours before being released. If convicted, they each face up to 10 days in prison or a fine of 60,000 rubles ($900), he said.
Their arrests are a stark reminder that, even as the world comes together to mourn the Orlando massacre victims, LGBT rights are also under everyday threat in countries across the globe.
… Initially, the two were accused of holding an unauthorized rally or demonstration, a serious offense that, under recently passed laws, can result in several years in prison or fines of tens of thousands of dollars — a crippling amount in a country where the average yearly salary is about $8,500.
Their lawyer, however, told BuzzFeed that they were eventually charged with the lesser offense of "holding a public event without making prior notice." …
Despite their arrest, Abdullabeckov said they intend to go back to the embassy again today or tomorrow to leave their poster and candle honoring the Orlando victims.
For more information, read the full story in the Washington Post and in BuzzFeed.
Related articles: