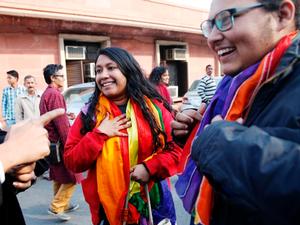 The Indian Supreme Court today agreed to a review of its own 2013 decision that had reinstated India's colonial-era anti-LGBT law.
The sodomy law, known as Section 377, had been overturned by the Delhi High Court in 2009.
A five-judge panel will re-examine the 2013 ruling that turned millions of Indian citizens into unapprehended criminals by re-criminalizing homosexuality.
Gay rights activists have said that thousands of people in the LGBT community became open about their sexual identity during the four years from 2009 to 2013 when gay sex was effectively decriminalized, and now they faced the threat of being prosecuted.
By one account, at least 587 people were arrested in 2014 on charges of violating Section 377.
Today's ruling was made in response to several "curative petitions," including one filed by the Naz Foundation, an anti-HIV organization that originally challenged the law after  its employees were detained by police for more than six weeks on charges that included conspiracy to commit sodomy.
Some fear that today's good news for the LGBT community won't last.
"The odds may still be against the lawyers arguing the sodomy law should be struck down in this case," BuzzFeed news said. "Curative petitions have only led a ruling to be overturned three times since the process was created in 2002."
The bench was told there were eight curative petitions seeking re-examination of the order on the review petition ….

The bench was also informed that the churches of northern India and All India Muslim Personal Law Board were against decriminalising homosexuality.

Attorney Kapil Sibal (Photo courtesy of BarAndBench.com)

At the outset, senior counsel Kapil Sibal, arguing for [overturning Section 377],  submitted that huge constitutional issues are involved in the matter. A battery of senior lawyers appeared in the case.

He submitted the issue concerns the "most private and the most precious" part of life that is right to sexuality within the four corners of your domain which has been held as unconstitutional.
"There is much cause for optimism now that a constitutional bench will be looking at all curative petitions," said L. Ramakrishnan, a lawyer working with Solidarity and Action Against The HIV Infection in India (Saathi), according to The News Minute.
"This is a most hopeful sign," lawyer and activist Lawrence Liang said.