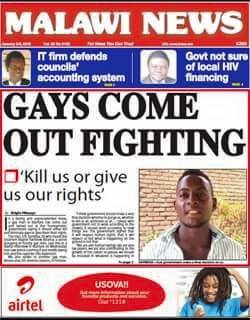 "Gays come out fighting: 'Kill us or give us our rights' " is the headline on an article in today's The Times of Malawi and on the front page of Malawi News.
In the article, no gays "come out fighting." But a gay Malawian man, Eric Sambisa, acknowledges to an interviewer that he is gay and is tired of being treated as a second-class citizen by the homophobic Malawian government and homophobic Malawian society.
The Nyasa Times of Malawi also reported the story, saying that Sambisa was briefly detained by police after The Times of Malawi story was published and has since gone into hiding.
A columnist at The Times of Malawi said that police detained the Times reporter and the gay men that he was interviewing, confiscating "the reporter's notepad, tablet, two cameras and a WiFi box … [and] his interviewees' phone." After a senior officer intervened, the reporter and his interviewees were released without charge.
Sambisa lives in Blantyre in southern Malawi.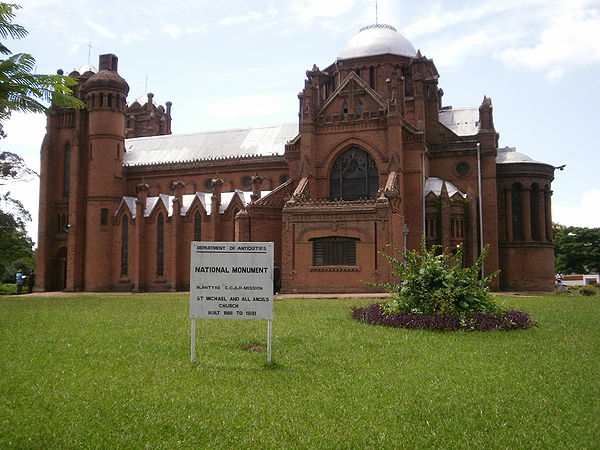 The article also quotes a second man, identified by the pseudonym "Fortune," who says "he is a born again Christian in the CCAP church," referring to the Church of Central Africa Presbyterian, Malawi's largest Protestant denomination. Fortune says "he has not told his congregation that he is gay fearing a repeat of what happened the last time" he was labeled as a homosexual:
Friends stopped coming to chat at his place, some sent him messages explaining that they cannot go on chatting with a Satanic; one person went up to throwing a stone at him as he walked by.

"I withdrew, I stayed indoors. My brother heard of the rumours and he told me that as much as he hopes that I will stop being gay, the family cannot disown me but again they cannot support me in my being gay."

Nobody has ever told his father fearing that his frail heart will topple over. The father however has also heard of the rumours and when he asked Fortune, he flatly denied all in the name of protecting the father from a heart attack.
In the articles, Sambisa and Fortune dispute several misunderstandings about homosexuality.
The mistaken belief that homosexuality is a choice:
"For Fortune, he wonders why people cannot understand that he is gay not acting as such. 'Why would I cling to being gay when I know for sure how society hates it? People are getting killed for being gay, it's because it's what I am and I cannot change it, I can marry a woman but I would soon go out cheating on her with other males, it happened with my first girlfriend, I wanted her brother more.' "
"Sambisa, in stressing that he was authentically born gay, cited his attempt at marriage, which saw him married for just two weeks before calling it quits.
"Sambisa said he did engage in marital sex but was 'not just into it.' "
The mistaken belief that homosexuality is a Western import:
"Sambisa said he has never been indoctrinated by any white person nor did he need to be told he was gay."
[See also the articles "21 varieties of traditional African homosexuality" and "What traditional African homosexuality learned from West."]
The mistaken belief that a homosexual can be changed into a heterosexual:
"[Sambisa] said he always felt gay and found out for sure at around age 17 and this came after he tried in vain to purge, through religious exorcism, the same-sex attractions in him – which he says manifest as 'feminine traits' not dominant in an average male.
"He says he told his pastor that he wanted to get out of 'this life' and suspected demons, as taught by the church.
"Said Sambisa: 'I have been going to the mountain to pray about it, fasting and I came to the point that I was just starving myself…it's something that I have tried and I have come to the point where I am saying: this is me and if I try to run away from myself, then who am I going to be?' "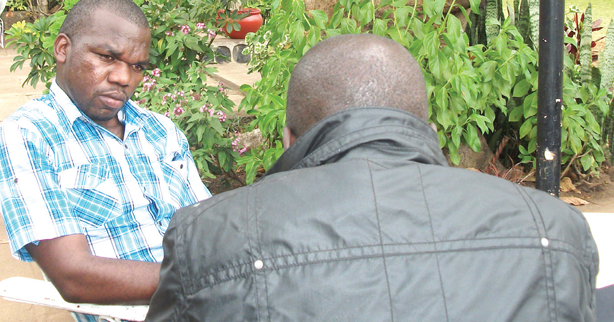 Fortune states, "I think government should make a very final decision whether to purge us, whether to kill us all, eliminate us all."
He urges the Malawian government to respect its human rights obligations. "I plead with government not to work according to the crowds. …  The government signed that it will respect human rights, that it will respect us, but what is happening on the ground is not that."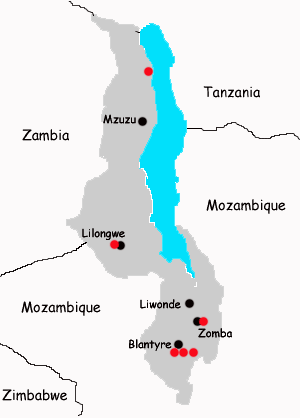 According to The Times:
"Sambisa says he is tired of hiding [his sexual orientation] and says he is ready to lose friends and take the heat for coming out in a homophobic nation but said he can no longer stand being a second class citizen.

" 'And I also want to give information to people in my community to say this is time to stand up and claim our rights – we have been in denial for a long time, we have been discriminated against for a long time – I think this is time for action.

" 'We should get what is ours, we want our freedom; we want to be treated like everyone else. The services that are being catered to the heterosexual community should also be given to us. We have many people in our community that are failing to get a job because of their [sexual] orientation, that are being dismissed because of their orientation,' he said."
The Times identified Sambisa as a leader of "the Southern Region Rainbow Alliance, a secret grouping of mostly gay men."
Sambisa states, "We are also human beings, we are also taxpayers, we are also contributing to the growth of this nation so please, we should be included in whatever is happening in this nation"
Under Malawian law, sexual intercourse between men is punishable by up to 14 years in prison; for women, the maximum punishment for same-sex intimacy is five years. Although that anti-homosexuality law is still on the books, the government has announced that it is not being enforced pending a decision on whether the law should be repealed or is unconstitutional.
English LGBTI rights campaigner the Rev. Colin Coward praised Sambisa on Facebook and said that:
The Rev. Colin Coward (Photo courtesy of The Independent)

"To do what he has done is a huge risk and takes great courage. I pray that making himself public in this way also acts as a protection.

"His action is a powerfully symbolic and practical moment for the whole of Africa and the challenge that has to be made to anti-gay cultures by becoming radically present and visible."
The article in The Times of Malawi cited a recent incorrect assertion by The New York Times. In the Malawi Times' words: "Since 2012, the American government has channelled more than $700 million into supporting gay rights groups and causes globally. More than half of that money has focused on sub-Saharan Africa a development the New York Times wrote might actually be making homophobia worse."
In fact, the $700 million that the N.Y. Times said was spent to support "gay rights groups and causes" is the total of U.S. spending for "public health programs that aid a broad range of individuals, including but not limited to L.G.B.T.I. persons," as Tom Malinowski, assistant secretary of the U.S. Department of State, clarified in a letter to the editor of the N.Y. Times.
The articles also focused on disputes about international aid to help fight Aids in the LGBTI community in Malawi.
The government is seeking money re than US $388,000 from the Global Fund for Tuberculosis, Malaria and HIV and AIDS for the program, which would provide testing, counseling, treatment, condoms, and advice on how to prevent risky behavior among Malawi's LGBTI population, estimated to number more than 38,000 people. The intended beneficiaries are primarily men who have sex with men.
The amount requested was more than US $388,000, according to an article in this blog last April, but about 180 million Malawian kwacha (currently about $270,000), according to The Times.
Sambisa objected to that application for funds:
The Malawi Watchdog published his photo of Eric Sambisa from Facebook.

Sambisa expressed fury at this request, saying government gets so much money in the name of the LGBTIQ community that actually never reaches them in any way.

"It's very serious [The HIV prevalence among gays] and it's very sad just because this same government receives a lot of money in the name of LGTIQ but they are failing to help us."
George Kasakula, a columnist at The Times of Malawi, urged the government to make sure that Malawian police know that enforcement of the anti-gay law has been suspended. He wrote that the:
government did not have a choice but to stop the cruelty that homosexuals suffer and a moratorium is a better devil to appease the international community while at the same time not doing away with the law altogether so as not to lose its conservative base which is a majority.

But there is one stakeholder that the DPP [Democratic Progressive Party] government has forgotten to inform and convince about the moratorium and it is the police.

They are all over the place and wreaking havoc. For the record, they arrested Cuthbert Kulemeka and Kelvin Gonani and forced them to undergo medical tests they did not ask for in the name of investigating the matter.

When the noose tightened they changed tune and said they arrested the two for their own protection.

This week some overzealous Blantyre Police officers on Wednesday saw wisdom in disrupting a Times Group interview and detained the reporter and his two gay sources who he was interviewing for this newspaper's story.

They even had the audacity of confiscating the reporter's notepad, tablet, two cameras and a WiFi box. They also took his interviewees' phone.

It only took the intervention of a senior officer to see the senselessness of his juniors' actions and release the reporter and the three gay men without charge.

Now, one may ask, what is the issue here? What is wrong with a reporter talking to people who have chosen to live their sexual lives differently especially when government has issued a moratorium on the laws governing the issue?

And what is this about protecting gays from the public? Which public?

Surely no sensible and decent human being would want to hurt adults in this day and age simply because they have chosen to have sex differently from them.

In the final analysis, the Ministry of Home Affairs should do us a favour by issuing clear instructions to Police management at Area 30 that there is a moratorium in town on gay arrests and harassment which must then cascade down to the lowest police officer in the whole service.
Related articles
Gays come out fighting: 'Kill us or give us our rights' (Jan. 2, 2016, The Times of Malawi)
Malawi gay man comes out: 'Either kill gays or give us rights' (Jan. 2, 2016, Nyasa Times)
Tell Police about gay moratorium (Jan. 2, 2016, Column in The Times of Malawi)
Malawi drops charges against 2 arrested for gay sex (Dec. 19, 2015, 76crimes.com)
Malawi outraged as West opposes revival of gay arrests (Dec. 19, 2015, 76crimes.com)
Malawi arrests came with threats, assault, extortion (

Dec. 16, 2015, 76crimes.com)

Malawi government defying moratorium on gays—Cedep, CHRR (Dec. 14, 2015,  The Times)
Malawi police end moratorium on anti-gay arrests (Dec. 10, 2015, 76crimes.com)
Two men who were caught having sex released on bail (Dec. 10, 2015, Malawi24)
Two gays arrested while having sex in Malawi (Dec. 9, 2015, Malawi24)
Malawi is Ready to Legalise Homosexuality' — Mutharika (July 4, 2015, Malawi24)
Praise for Malawi's new focus on HIV among LGBTI people (April 2015, 76crimes.com)
It's official: No more Malawi arrests under anti-gay laws (July 2014, 76crimes.com)
UN joins legal challenge to Malawi's anti-gay law (January 2014, 76crimes.com)
Malawi High Court weighs overturning anti-gay law (November 2013, 76crimes.com)