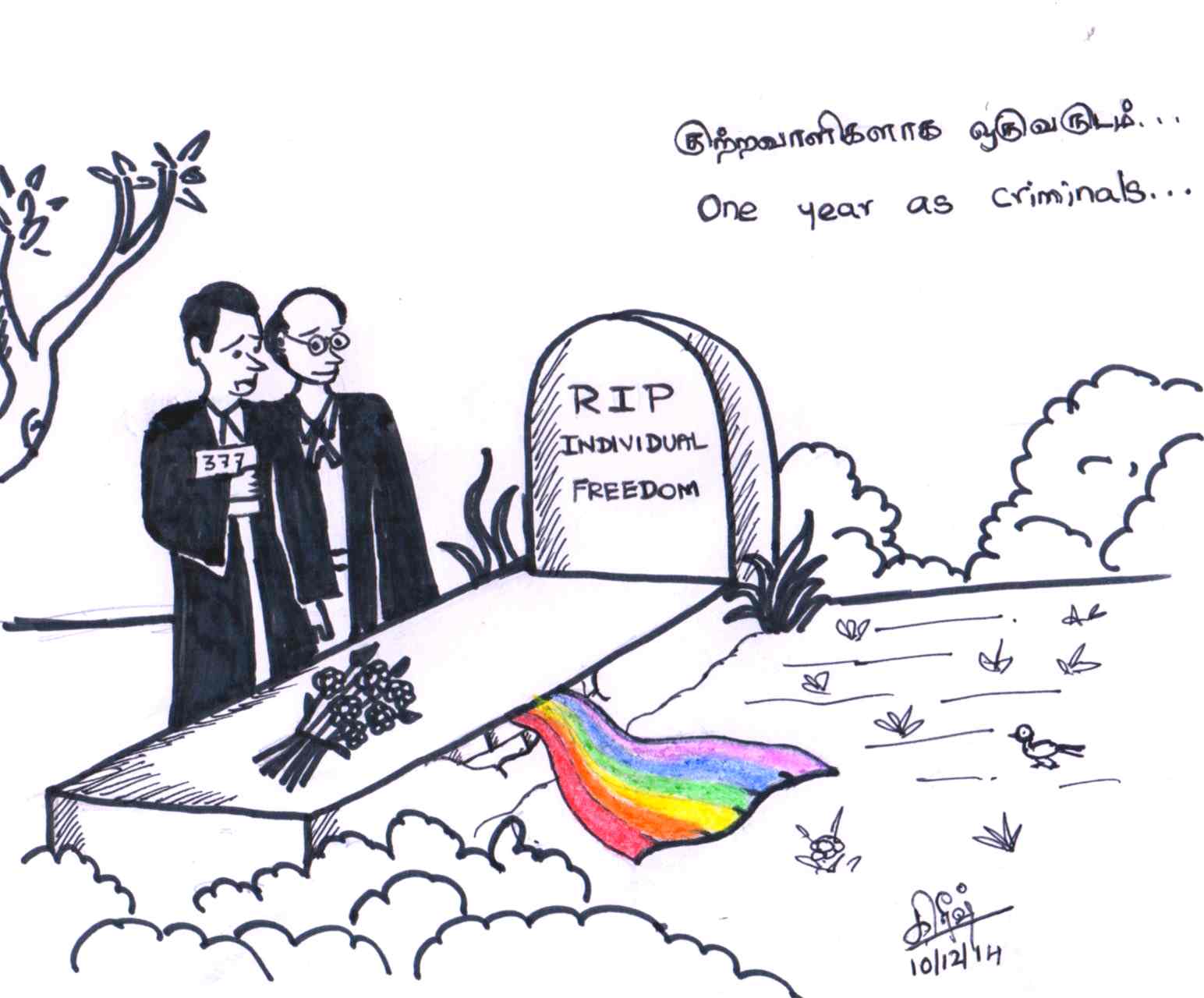 In solidarity with India's struggle for justice and rights, and to honour the one year anniversary of the India Supreme Court decision to re-criminalise LGBT people, we republish the Orinam Section 377 news release.
In India, on December 11, public protests and other events were being organised in all major cities, a 68 page book was published to document the struggle, and a short film released.
One year anniversary of the SC judgement
Today, the 11th of December 2014 marks the first anniversary of the Supreme Court's decision to recriminalise the intimate lives of LGBT people and reintroduce Sec 377. The verdict saw an unprecedented mobilisation of our community and our allies, a publicly visible anger at the deep injustice done to us by the very institution we were looking up to, a passionate refusal to accept this verdict, and a strong resolve to fight this out to the very end.
To mark this anniversary of injustice, there are protests being organised around the country, various events to mark the occasion and articles being written in the media. In addition, the LGBT community itself has created films, booklets and other art to mark the demand for justice, which asks for a repeal of sec 377. This page seeks to collate as many of these as possible.
Public Protests
Bengaluru : Town Hall, 5-7 pm, 11 Dec 2014
Chennai : Gandhi statue, Marina, 5 pm, 11 Dec 2014 [FB event page]
Hyderabad : Public Gardens, Nampally, 5-7 pm, 11 Dec 2014 [FB event page]
New Delhi : Rajghat, 4-6 pm, 11 Dec 2014 [FB event page]
Kolkata : College Street, 3 pm, 11 Dec 2014 [FB event page]
Kolkata : Ranu Chhaya Manch, 4 pm, 12 Dec 2014 [FB event page]
Guwahati : opp Dighalipukhuri Park, 4 pm, 14 Dec 2014 [FB event page]
Other events
New Delhi : A public hearing about s 377 and its effects, organised by Alliance India, 11 am – 5.30 pm, 11 Dec 2014
Online : an online protest campaign [FB event page]
Online : 'Doodle your protest' campaign, by Varta [Website]
A booklet titled 'Dignity First', to mark one year of resistance to re-criminalisation of LGBT lives, published by CSMR, Bengaluru, analyses the failures of the judgment, tracks the legal struggle, maps the continuing and brave resistance by the LGBT community to re-criminalisation, catalogues cases filed under Section 377 and  concludes with a strong demand that the Government must repeal Section 377 as it is  the bounden responsibility of the Government, sworn to uphold the Constitution to recognized LGBT persons as full moral citizens.
The book can be viewed and downloaded here.
Dignity First – a film
A short film, titled 'Dignity First' has been created, which seeks to capture the anger of the community and its allies at the judgement.
Dignity First from Zeytoon Films on Vimeo. Please download, share and embed the video !
Related articles