After six months in prison on homosexuality charges, two gay men in Cameroon gained their freedom by paying the equivalent of US$325 in fines and court costs.
Issa, 29, and Thio, 25, were sentenced to the fines and six months in prison after their conviction on April 10. (Because of continuing security risks, they are identified here by pseudonyms, not their real names.)
They were eligible for release as soon as they paid the fines and court costs, because they had already spent slightly more than six months in their cells awaiting trial. Issa was released April 23.
Switzerland-based Lawyers Without Borders agreed to pay the men's fines in cooperation with Washington, D.C.-based Global Rights, which worked through the Cameroonian human rights group Adefho (the Association for Defense of Homosexuals).
The anti-AIDS, pro-human rights group Camfaids (the Cameroonian Foundation for AIDS) hopes to raise money to help the men take care of their health and reestablish themselves after leaving the prison.
Under Cameroonian law, homosexual relations are punishable by up to five years in prison.
Although the law as written only applies to people who are  caught in the act of same-sex relations, in practice it is often used to penalize people for being homosexual, even without evidence of any sexual activity.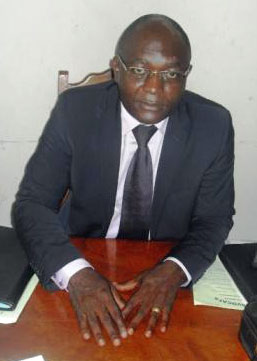 Attorney Michel Togué — one of only three lawyers in Cameroon who  accept LGBT clients — is working on their case in his role as counsel for Camfaids. He made arrangements for payment of their fines and is filing an appeal on their behalf, citing irregularities in the decision.
Issa, an artist and a dancer in the  traditional Bikutsi style, was arrested  early Oct. 6, 2013, in a bar reportedly after being drugged by his friend, Thio, a student at the Regional Maritime Academy in Ghana, whom he met on the night of Oct. 5.
Issa said that Thio apparently put a drug in his glass of whiskey, which caused him to lose consciousness. Other customers at the bar called the police when they noticed that the two men were touching each other sexually.  They were arrested and taken to the police station at around 3 a.m.
After a day had passed, Issa and Thio were charged with the flagrant practice of homosexuality. After three days in custody at the judicial administrative center of Yaoundé, they were transferred to Yaoundé  Central Prison.
Visitors from the human rights and advocacy section of Camfaids, who encourage and support LGBT prisoners, were told that Issa and Thio were abused repeatedly by prison staff, which left  scars on their backs.  After seeing the torture and harassment of Issa and Thio by prison staff, other inmates did the same to them without any interference from the guards.
Because Issa had to sleep on the floor at the prison, Camfaids gave him money to buy a mattress and medicine for a stomach ache.
Camfaids proposes to start a fund-raising campaign for money to help the two men with health care, clothes, temporary housing, and training to qualify them for employment, because they have both been abandoned by their families.
 (This article was revised April 27 to add the date of Issa's release.)
Related articles