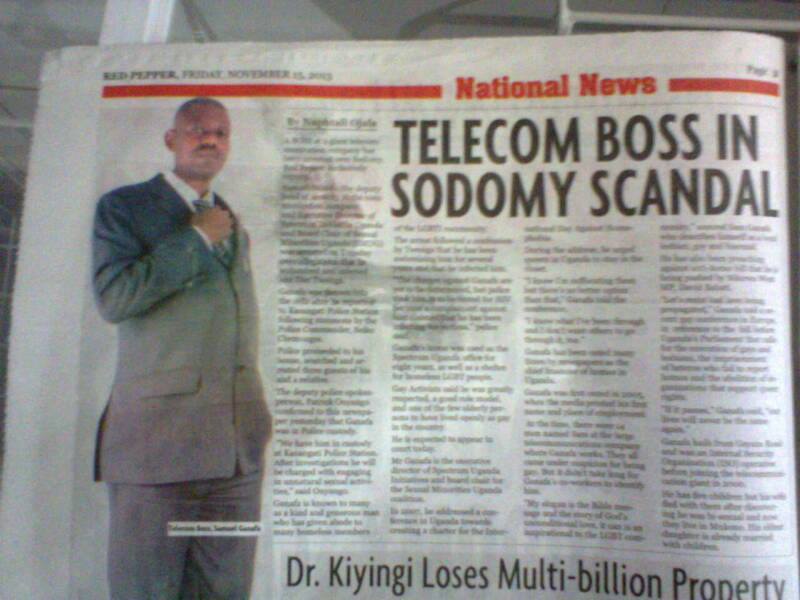 Ugandan police have released three suspects arrested in connection with an anti-gay raid last week on the home of LGBT rights activist Sam K. Ganafa, but Ganafa himself remains in jail.
All four are charged with "unnatural offenses," which are punishable by as much as a life sentence.
Ganafa is executive director of Spectrum Uganda Initiatives, which has used his home as its office for the past eight years. He is also a telecommunications company executive and board chair for the Sexual Minorities Uganda coalition.
Activists said Ganafa has opened his home to many homeless LGBTI persons over the years and that one of them recently turned on him and filed a complaint against him to police.
The three men were released on police bond until a court appearance scheduled for Nov. 20. Ganafa's request for bail was postponed by a magistrate who said he was too busy to deal with the request until he returns to court next Monday, Nov. 25.
These are the latest reports from Ugandan LGBT activist groups about the arrests.
From Spectrum Uganda:
Nov. 15
At around 2:15 pm, Mr. Sam Ganafa was brought from the police station to court to answer to the charges laid against him. His file was summoned and produced before the Magistrate Grade One by the police investigation officer and sanctioned by the office of the resident State Attorney.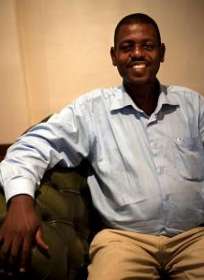 Sam was meant to appear before a chief Magistrate who has jurisdiction to hear and determine his case. Since the Kasangati Court does not have a Chief Magistrate, Sam was produced before a Magistrate Grade One, who does not have jurisdiction to hear the case neither to take plea for the offence for which Sam was charged- Sec 145 of the Penal Code. An offence which is punishable by life imprisonment. The Magistrate then remanded Sam to Kasangati remand prison until Monday November 18, 2013 Sam is expected to appear before the chief Magistrate's court at Nabweru on the said date.
This is the first time when Sam is brought to court ever since he was arrested on the November 12, 2013. He interacted briefly with the people around the station before he was taken to the Prison. Both lawyers were allowed to escort him in presence of a person officer and a police officer.
The police then opened a General Enquiry (GE) file for the rest of the three  suspects who were found at Sam's residence since there is no particular complaint against them. The file was not ready, therefore the 3 were not produced before court and the police refused to release them on bond.
The Investigations Officer [IO] said that the suspects will have to be tested for HIV to prove whether or not they have had any sexual intercourse with the prime suspect (Sam). And so since this was not done, the suspects are still in police custody. The IO also said that one of the evidences got from the house of Sam was a sex tape, were the suspects were visible, though not with Sam, and so they would like to have the HIV tests to prove that it was not Sam.
One of the suspects Brian Kasali was charged with Assault was arraigned in court to take pleas and he too was remanded to Kasangati remand prison.
Present during court were the lawyers, paralegals, sureties and SMUG staff.
The team left the court premises at around 4:20pm after an assurance from the court that the file of the other suspects was not in court and therefore they will not be produced in court.
We return today Saturday with sureties for the possible release of the 3 in police custody.
From Sexual Minorities Uganda:
Nov. 16
On Saturday 16th November 2013, Michael, Joseph and Brian- the three men who were taken from Sam's house forcefully were released on police bond. They also charged with "unnatural offences" as in Section 145 of the Penal Code which carries a life imprisonment sentence if found guilty. They are set to appear in court on Wednesday November 20th, 2013
Nov. 18
Mr. Ganafa appeared in Kasangati Grade 2 court where his case was transferred to the Chief Magistrate in Nabweru Magistrates Court. He was delivered to court this afternoon after lengthy procedures. Unfortunately, the Chief Magistrate who only comes to court on Mondays had over 20 cases to preside over today. Therefore by the time he was produced, it was 17:48Hrs. The magistrate therefore preferred to hear the bail application on Monday next week.
This being a capital offence, Mr. Ganafa had to be remanded to Luzira maximum prison until November 25th, 2013.
Related articles