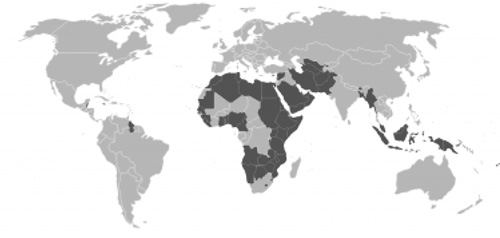 A new organization, the Rainbow International LGBT Activist Solidarity Fund, is preparing to raise money to campaign for LGBT rights, equality, justice, sexual liberation, and working class unity in the 76 countries where homosexual activity is against the law.
The group is planning a fund-raising gathering Dec. 8 in London, with May 8, 2014, as the target for starting to consider grant applications.
The planned beneficiaries will be "frontline, emergent and would-be LGBT rights activists,  principally in the 76 countries where being LGBT is still illegal."
A six-month fundraising target for the initial pool of funds will be announced at the launch event, along with a website and an online thermometer to measure the progress of  fund-raising.
Scheduled speakers for the Dec. 8 launch include:
Frank Mugisha, executive director of Sexual Minorities Uganda, winner of Robert F. Kennedy Human Rights Award 2011 and Rafto Prize for Human Rights 2011.
Urooj Arshad, associate director of international youth health and rights at Advocates for Youth, Washington DC.
Peter Purton, Trades Union Congress LGBT policy officer.
Stephen Chukwumah, executive director of Improved Youth Health Initiative, which focuses on sexual health and rights issues in Eastern Nigeria.
Janine Booth, council of executives, RMT transport trade union.
The event is planned for 3 p.m., Sunday, Dec. 8 at the Hilton Euston London Hotel, 17-18 Upper Woburn Place, London WC1H 0HT.
Refreshments will include tea, coffee and a finger buffet.
Family and friends are welcome.
Related articles