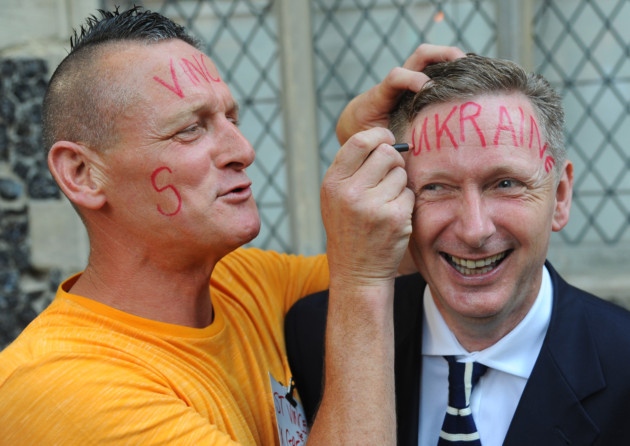 British poet-activist Vince Laws has again turned a spotlight on the 76-plus countries where homosexuality is illegal, painting the faces of 85 volunteers with those countries' names before an audience of about 200.
His performance-art protest, called "Banned," was presented at the launch of the Pride Without Prejudice art exhibition on July 22 in Norwich, England.
"It's important to understand why it is important to celebrate diversity and people's rights, and also to speak up for people in countries where they can't speak up," Laws said, as reported in the Norwich Evening News.
"Here's the best bit," Laws said afterwards : "85 people protesting, and the Norwich Pride choir  singing "We who believe in freedom.' " (See the video starting at about 1:10.)
In February,  Laws launched the "Banned" performance/protest in Brighton, England.
This week, Laws accepted an invitation to stage it again as part of Brighton Pride on Saturday, Aug. 3.
In response to Russia's recent anti-gay crackdown, no Russian products will be sold at the Brighton event — not even Russian vodka:
In response to recent draconian law changes affecting LGBT people in Russia, Brighton's gay businesses have come together to organise a walking tableau as part of Pride's LGBT community parade this weekend. The walking tableau features 100 posters declaring Brighton's support of all LGBT people in Russia. The poster, the brainchild of University of Brighton graduates Kate Wildblood and Karol Michalec has already been heavily circulated on social media such as Facebook.

A spokesperson for Brighton Pride, said: "The equality and freedom message of Brighton Pride is clearer than ever this year as we march and celebrate in solidarity with the oppressed LGBT population of Russia. We are one LGBT family and we will highlight hate, injustice and homophobia wherever we see it."

Controversial poet and activist Vince Laws is bringing his BANNED happening back to Brighton after its successful premier in February during LGBT History month at the Jubilee Library. Vince will paint the faces of seventy six people on the walking tableau with the name of one of the 76 countries in the world where it is illegal to be gay.

To highlight Prides solidarity with the LGBT population of Russia, Pride have announced they will not be stocking Russian products such as Russian vodka on the park.
Related articles