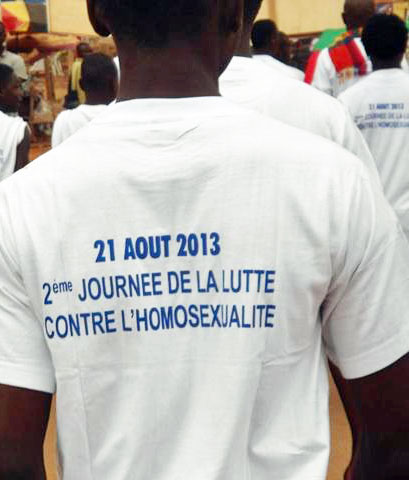 An anti-gay vigilante brigade patrols the streets of Cameroon's capital every Friday and Saturday, hunting for homosexuals.
So said anti-gay leader Sismondi Barlev Bidjocka during today's march against homosexuality in Yaoundé, Cameroon.
Just last Friday, Aug. 16, he said, the brigade arrested four gay men, who are still in custody.
His statements contradict assertions that information minister Issa Tchiroma Bakary made last month after the murder of LGBT rights activist and journalist Eric Ohena Lembembe.  On July 19, Tchiroma said:
"There is no government conspiracy and no social plot in Cameroon directed against homosexuals. …

"Many well-known homosexuals live and travel freely in Cameroon without anyone organizing beatings or punitive expeditions against them."
But Bidjocka said the anti-gay brigade "hunts faggots" with approval from the Secretary of Defense, who "has given us a mandate to track all homosexuals in Cameroon, not to torture them, but to bring them to justice."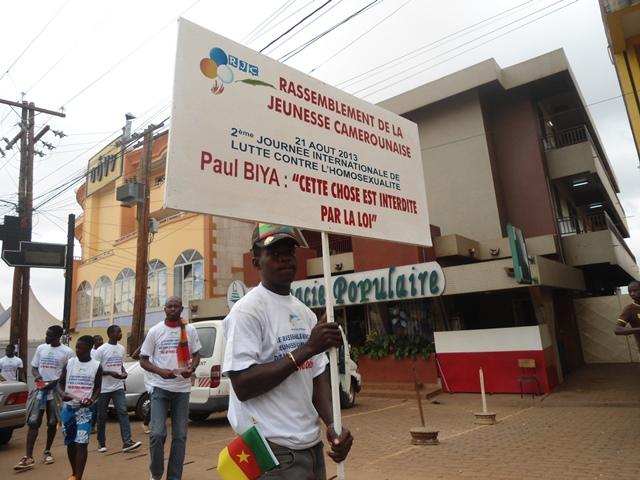 Under Cameroonian law, homosexual activity is punishable by up to five years in prison, but the law is often imposed much more broadly, subjecting people to arrest and imprisonment if they appear to belong to a sexual minority, even with no evidence of sexual activity.  Currently, at least three people are in prison in Cameroon under the anti-homosexuality law and nine are out on bail awaiting trial.  Those numbers do not include the four people that Bidjocka said were arrested on Aug. 16.
In March, Human Rights Watch said at least 28 people have been arrested under the anti-homosexuality law in the past three years.
LGBT people in Cameroon also face the prospect of beatings and lynchings.  A transgender couple has been repeatedly attacked in Yaounde since their release from prison in January. They were most recently attacked by a mob on Aug. 15.   On July 24, a man was stoned to death  by a mob in south-western Cameroon after he was found with a male lover.
Today's marchers in Yaoundé demanded even harsher treatment of LGBT people.  Bidjocka and the Movement of Young Cameroonians (RJC) have called for the maximum prison sentence for homosexual activity to be increased to 20 years.
The demonstrations, organized by Bidjocka and the RJC, had been billed as a second annual "International Day Against Homosexuality," but it was scaled down to just a "Day Against Homosexuality," since there was no evidence that it was observed anywhere but in Cameroon either today or a year ago.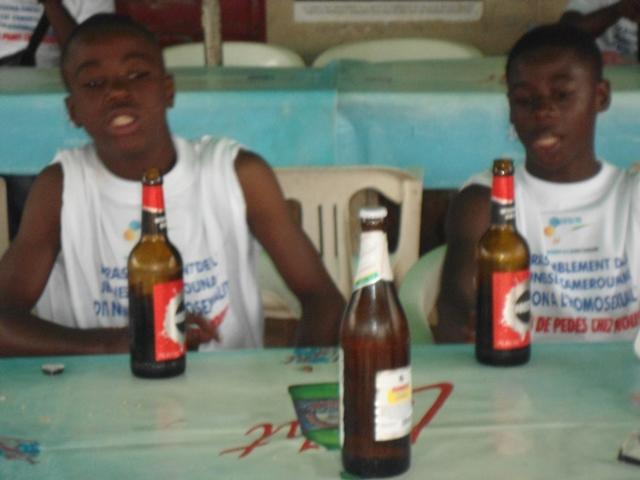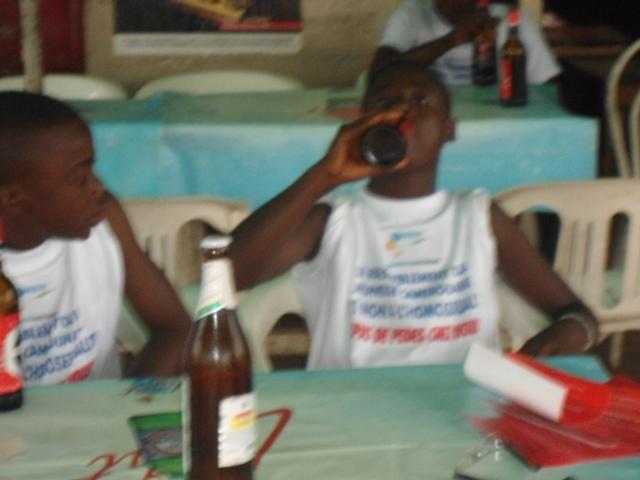 Four groups of about 40 people each took part in today's protest, according to a count cited by the Associated Press.  However, the march that started in the Essos district attracted only 16 anti-gay protesters, seven of whom were under age 21 and two of whom were under age 15.  The youths were given beer to drink at the end of the march.
The route of the march from Essos to the Mvog Ada district was chosen because those areas are often frequented by "queers," Bidjocka said.
Marchers' placards and leaflets stated:
"No to homosexuality."
"Kill the faggots. They don't deserve to live."
"Cut off the penises of fags. Plug the sex of lesbians."
"Homosexuality is a crime against humanity, a serious violation of human rights."
"Youth is fighting against this criminal behavior in Cameroon."
"Hemorrhoids, sphincter incontinence, AIDS … these and others are the consequences of homosexuality."
"Dear Parents: Protect your children against this disgusting thing that comes from abroad."
Marchers also made throat-cutting gestures, as if to encourage people to kill homosexuals.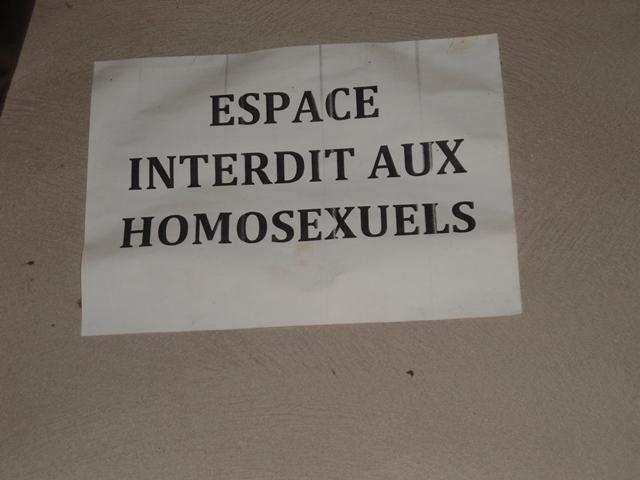 The Associated Press reported that marchers posted anti-gay signs on bars suspected of being gay-friendly.  Other signs stating "Homosexuals Forbidden" and "No Gays in Cameroon" were posted on school buildings.  LGBT activists said the sign "Homosexuals Not Allowed" has been posted for months at a bar that served as a gathering place for today's march.
LGBT activists criticized the government for refusing to allow meetings in support of LGBT rights, such as the workshop that was broken up in March 2012,  while encouraging hate-mongering marches such as Bidjocka's.
The coalition of anti-AIDS, pro-LGBT-rights organizations in Yaoundé stated:
Misbehavior, hostile actions, and homophobic demonstrations occur with the tacit or obvious complicity of the Cameroonian authorities.

They tolerate the perpetrators of homophobic violence and are complicit in hate-inciting actions like today's.

It is imperative that we issue a strong challenge to them to  prohibit such actions.
Michel Togué, one of the few attorneys in Cameroon who accepts LGBT clients, said that a number of gay rights activists have received threatening text messages in the weeks since Lembembe's murder.
"I have the impression that the persecution of homosexuals is sharply on the rise since Lembembe was murdered. A demonstration like the one today is clear proof," Togue said. "If I tell you I'm not scared, then I'm joking. I'm scared for my security."
He moved his family out of Cameroon last year after they became the target of death threats.
This post includes information from observers on the scene and from the Associated Press.
Related articles
Articles about last year's Day Against Homosexuality